You've recently asked yourself:
"What role does my bedding play in the pursuit of a more sustainable lifestyle?'"
And you've set your sights on linen to reduce your impact.
It's chic, sustainable, and is the oldest textile known to man. 
Sleeping in linen sheets offers multiple benefits for you and also for the environment.
In this article, we'll analyze linen, take a look at sustainable suppliers, and help you choose the right brand. 
Where Does Linen Come From? 
Linen is a natural textile made from flax plant fibers. 
Over 30,000 years ago linen was woven into fabrics by prehistoric cave dwellers. 
It was worn by ancient Egyptians, donned by medieval knights, and brought to the Americas by European colonists. 
The word "linens" is now commonly used to refer to all cloth household goods (towels, bedding, tablecloths, cloth napkins) even if they aren't made of linen. 
But in this article, linen will refer exclusively to the textile made from flax. 
To learn how linen is made, watch the video below:
How Is Linen Sustainable? 
Linen, as a textile, is an environmentally-sound purchase, and the eco-conscious consumer's poster child.
Linen products fall in the elite ranks of the few products that don't stir up debate. 
Linen's celebrated sustainable qualities: 
Durable – Linen lasts longer than other fabrics, keeping consumption down. 
Resistant – Flax is a crop that requires fewer pesticides, herbicides, and fungicides than cotton.
To go chemical-free, you can find linen made from organically grown flax. 
Versatile – Flax can grow in off-seasons, in cold climates, requiring less land use. 
Less resource-intensive – Flax production wastes far less water than cotton.
Flax grows on rainwater alone and doesn't require an irrigation system.
Local water sources are protected and fertilizers aren't necessary. 
Biodegradable – Linen is biodegradable and recyclable when it hasn't been colored with artificial dyes.  
Fair-trade – 85% of linen production comes from Western Europe, like France and Portugal, where strict labor laws typically ensure fair wages and safe working conditions. 
Why Should You Buy Sustainable Sheets? 
No matter the sustainable material you choose for your bedding – whether it's organic cotton, bamboo, percale, Tencel, hemp, or sateen – shopping for products with a commitment to sustainability is crucial in slowing down climate change and reducing toxic plastic waste. 
Unfortunately, most modern bedding and clothing brands now weave cotton with synthetic fabrics like acrylic, polyester, and nylon.
The problem is when you wash bed sheets and clothes that contain these synthetic fibers. 
During the washing process, the microfibers – or tiny plastic threads – are released and travel to wastewater treatment plants. 
Because these microfibers are not biodegradable, many of them enter rivers, lakes, and oceans. Here, these microfibers contaminate the water systems and poison marine life. 
When we consume fish and seafood, we consume these microscopic, poisonous materials. We also have reason to believe they are making their way into our tap water. 
What is Oeko-Tex Certification? 
Oeko-Tex is one of many certification bodies for textile production.
Recognized worldwide, it analyzes a company's management of environmental, social, and occupational health factors. This is a popular certification among linen producers. 
But be careful because there are several types of Oeko-Tex certifications.
For example, if you buy linen from a company that has a "Standard 100 by Oeko-Tex" certificate, this simply means that the product does not contain harmful products.
This specific certificate does not guarantee a commitment to holistic sustainability. 
The Oeko-Tex Sustainability Certificates are: 
Made in Green
STeP
Eco Passport 
Detox to Zero  
Is Linen Good for Bedding? (5 of Its Benefits)
Apart from the fact that linen is hailed as the green god of textiles, it's also: 
Absorbent and breathable – Linen sheets are comfy no matter the temperature. You'll feel fresh and dry even on humid summer nights.
They won't leave you with that sticky, peeling the sheets off your skin feeling. And linen also helps you retain heat during cooler, winter nights.
Hypoallergenic – It's perfect for those with allergies or sensitive skin because of its antibacterial properties. 
Easy care – Linen is low-maintenance. It's machine-washable, no dry cleaning required. 
Durable – Linen gets better when washed. Rather than degrading, it becomes softer and stronger. It's a long-lasting fabric that's resistant to moths.  
Luxurious – Linen products are labor and time-intensive. All the work that goes into producing linen sheets makes for a fresh, natural feel.
The soft colors are aesthetically-appealing and the natural wrinkles make a room feel cozy. 
What Are the Disadvantages of Linen Sheets?
Wrinkles – That cozy, crinkly look that gives linen its character, isn't everybody's cup of tea. If you prefer flat, crisp perfection when you make the bed, linen probably isn't the right fabric for you.
Limited colors – Undyed, organic linen comes in four colors – ivory, ecru, oatmeal, and taupe. You can, of course, get your sheets in other colors, but your sheets will no longer be 100% biodegradable or recyclable. 
Price – Because of the time and labor that goes into making linen products, linen comes with a higher price tag than its cotton competitors. Read about the difference between linen and cotton here. 
Non-organic farming – Even though flax doesn't need pesticides or fertilizer, there are still farmers using both.
Just because your sheets are linen sheets, doesn't guarantee they were produced under ideal conditions.
The good news is – that's an easy fix. Check your sheets for an organic certification before you buy them. 
How Often Should You Wash Linen Sheets? 
As often as you wash any other sheets! 
And if you're going to give your sheets the recommended weekly washing, it makes sense to look for a material that's easy to care for. 
Washing Instructions 
Pretreat any stains 
Wash separately from other fabrics and other colors
Wash in cold water on a gentle cycle – for example, the permanent press cycle has a short wash cycle with low-speed spins
Don't overload the machine 
Use a mild, liquid detergent 
Don't use bleach 
Don't use fabric softeners
For a step-by-step visual, you can watch the video posted below:
What Do You Wash Linen Sheets with? 
Linen should be washed separately from other fabrics. 
Linen sheets can be washed with other linen items such as linen napkins, linen towels, linen clothes and linen tablecloths.
But make sure if you do this, you are washing like colors together. 
If you buy dyed linen instead of the four natural colors make sure you do not mix colors.
Many sustainable linen brands do not use chemicals to set the dye. That means that the colors can run a little and fade over time.
Use a mild, liquid laundry detergent. Don't use bleach. Don't use fabric softeners.
Can You Put Linen Sheets in the Dryer? 
Because high temperatures can weaken the fabric, the best way to dry your linen sheets is by air-drying them with a drying rack or clothesline. 
You can use a dryer if you tumble dry on low heat. Ideally, you would remove the linen sheets from the dryer while they're still slightly damp. Next, you let them finish drying by air drying. 
If you air-dry your sheets outdoors, do so in the shade to keep colors from fading. 
You don't need to iron your linen sheets. The tumbled look is part of linen's charm. But if you must iron, do it while the sheets are still damp, and use low heat. 
How Much Do Linen Sheets Cost? 
A full set or bundle can run anywhere from $180 to $590 USD, depending on where the company is located, how the sheets are made, whether the sheets are organic, and the quality. 
A sheet set or bundle varies from company to company. Most sheet sets include a flat sheet, a fitted sheet, and two pillowcases. Although some companies include extras. 
You can also buy pieces individually. 
Where Can You Buy Sustainable Linen Sheets? (9 Great Brands)
All of the options mentioned here are 100% pure linen and do not contain harmful plastic fibers.
1. Snowe
Founded by a New York couple on the premise of luxury, yet practical design. 
Commitment to Sustainability: 
Italian linen
Belgian flax
Paper-based, recyclable packing materials
2. Parachute
Launched in 2014, Parachute is a woman-owned company based in the state of California. 
Commitment to Sustainability: 
European flax
Woven in Portugal in a family-owned factory 
Standard 100 by Oeko-Tex Certified
3. Plush Beds
Plush Beds was created after the founder's father was diagnosed with Parkinson's disease. 
Because studies suggest that exposure to certain chemicals in our environment are associated with an increased risk of developing Parkinson's disease, he set out to find toxin-free mattresses and bedding.
He was shocked at how hard they were to find back then and decided to make his own. 
Commitment to Sustainability: 
French flax
Global Organic Textile Standard (GOTS) certified
4. Coyuchi
Established in 1991 in California, Coyuchi's design is inspired by the Pacific coast. All of their products are 100% organic. 
Commitment to Sustainability: 
Global Organic Textile Standard Certified (GOTS)
Made Safe Certified 
French flax
Woven in Portugal
Fair Trade
Partnered with the Chetna Coalition 
Partnered with FiberShed to promote carbon-neutral farming 
5. The Citizenry
Located in New York, they're dedicated to handmade, quality goods at affordable prices.  
Commitment to Sustainability: 
Fair wages 
Hand-made products 
10% of proceeds invested back into artisan communities
6. MagicLinen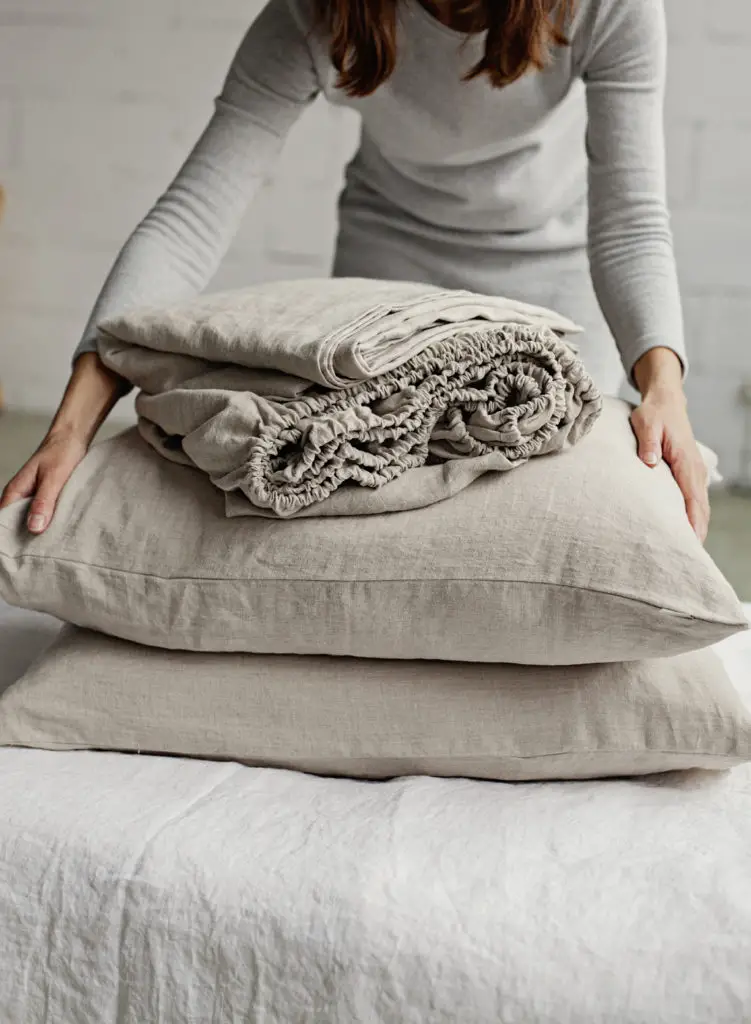 MagicLinen is a small Lithuania-based, family-run business with a big focus on sustainability.
They focus on producing hand-made home textiles from OEKO-Tex certified high-quality linen, one of their specialties is linen sheets.
They come in different sizes, colours and patterns. 
Commitment to Sustainability: 
Small family-run business
All of the materials are locally sourced in order to minimize greenhouse gas emissions
All of the products are hand-made
Products are packaged in biodegradable packaging
Sorting and recycling textile leftovers
​​Oeko-tex® certified materials
7. Brooklinen
Founded by a couple with a simple business philosophy:
Quality is the most important thing.
Use responsible manufacturing with top quality materials.
Offer products at accessible prices.
Commitment to Sustainability: 
Belgian and French flax 
Woven in Portugal 
Oeko-Tex Certified
8. Made Trade
Made Trade is a woman-owned, family-run company located in the state of Oregon.
Founded in 2018, today they partner with hundreds of small businesses and independent artisans to offer their customers sustainably-made and ethically-sourced products.
Commitment to Sustainability: 
All shipping and returns are 100% carbon offset 
Fair Trade 
Responsibly-sourced
Women-owned 
People of color owned
Standard 100 by Oeko-Tex Certified 
Global Organic Textile Standard Certified (GOTS)
Sedex Members Ethical Trade Audit (SMETA)
1% donated to a grassroots organization
9. Rawganique 
Founded in 1997 by off-grid homesteaders, Rawganique's products are shipped from warehouses in the U.S. and Canada.
Commitment to Sustainability: 
Organic 
Sustainably-sourced 
French flax 
No dyes are used, making these sheets biodegradable 
Conclusion 
Linen is a chic yet sustainable textile.
When purchasing, make sure you buy 100% linen, otherwise, your fabric could be combined with harmful plastics.
Any of the options listed in this article are brands committed to ethical and sustainable production. 
Linen is perfect for bedding because it keeps you cool in the summer and warm in the winter. It's breathable, long-lasting, hypoallergenic, and machine washable.
Sustainable fabrics such as linen reduce your carbon footprint and protect marine life.
Make sure to shop smart and find the perfect set of bed sheets because they're sure to last you for a long time.
If you're interested in other eco-friendly and ethical linen products, check out our articles on sustainable linen clothing, curtains, napkins and duvets.
You Might Also Like…