Did you know the average person in the U.S. spends 11 hours a day lying in bed? 
It's our personal haven to escape from the daily grind. We head to bed to relax, read, binge Netflix series and scroll through social media. 
But if we're going to spend anywhere from a third to half of our lifetime in bed, it should at least be comfortable… and non-toxic.
Linen bedding has been a big hit with eco-conscious consumers because it's easy to find organic, vegan, free-trade, and biodegradable options from companies that are dedicated to ethical and low-impact production. 
In this post, we'll talk about the quality and comfort of linen duvet covers.
We'll compare this textile to cotton and we'll suggest some organic brands doing great things. 
Are Linen Duvet Covers Good?
Linen is made from the fibers of the flax plant. These fibers must first be separated and removed from the plant. They're then spun into yarn before they can be woven into a textile. 
Despite being the oldest textile known to historians, linen is still highly regarded as a luxurious product.
This is due partly to the fact that production is a labor and time-intensive process.
Duvet covers made of linen are: 
Durable – flax fibers are more durable than cotton. Buying an organic cotton duvet cover may save you some money, but it's sure to wear out before a linen duvet cover. 
Hypoallergenic – linen is naturally antibacterial. It's the perfect choice for people who suffer from allergies and skin sensitivities. 
Breathable and absorbent – Linen can absorb 20% of its own weight in moisture without feeling wet, keeping you cool during humid, summer nights – while it also retains heat in the winter. 
The Oeko-Tex and GOTS Certification
The OEKO-TEX and GOTS are two of the most common certifications used by textile producers committed to selling safe and sustainable products.
There is a rigorous auditing process that companies go through at every step of farming and production to attain these certifications.
The OEKO-TEX® Standard 100 certification guarantees that your linen has been tested for (and is free from) over 100 harmful substances to human health.
GOTS is the Global Organic Textile Standard Certification. If you see a GOTS label, you can assume the following about your linen duvet cover: 
It's at least 95% organic. 
It hasn't been treated with toxic substances like bleach or formaldehyde, nor colored with toxic dyes. 
Farmers and mill workers labor under fair and safe working conditions. 
Do Linen Duvet Covers Wrinkle?
Natural linen has a crinkly, wavy texture. For many, that's part of linen's cozy, signature charm.
But for those who prefer a sleek look, linen might not be right for you.
You can control the creases with the way you dry your linen duvet cover.
To reduce wrinkling, air dry it after washing or remove your duvet from the dryer when it's still damp. Either lay it on a flat surface or hang it to air dry to complete the drying process.  
If your duvet cover is folded for storage, it will have marked creases in the folds. To get rid of any deep creases, simply wash and dry as mentioned above. 
For further instructions on washing and drying linen, read here. 
Are Linen Duvet Covers Hot?
Linen bedding is a versatile fabric that works well for any season thanks to the flax plant's natural temperature-regulating properties. 
Linen is commonly used and worn in the summer because it doesn't retain moisture.
This means that your duvet cover won't get sweaty, sticky, or stuffy on a hot, humid night. This moisture-wicking property keeps you cool and comfy. 
If you are too hot, it could be because of your duvet insert. You can always remove the duvet insert and use the duvet cover as a light blanket during the summer months.
Is Linen Bedding Good for Winter?
The same moisture-wicking property that cools you down in the summer also helps keep you warm in the winter months.
Look at cotton, for example, it helps you feel warm when you're snug under the covers. But if you start to sweat, cotton traps that moisture and you feel cold again.
In this case, the breathability of linen actually keeps you warmer. 
Is Linen Bedding Good for Summer?
Why is linen famously associated with the summer months? 
The way linen is woven allows for airflow and thanks to this airflow, you sweat less. 
If you sweat, linen doesn't hold the moisture and make you feel wet. In fact, it can absorb up to 20% of its weight in moisture before it feels damp. 
Because linen is breathable and dries quickly, it doesn't allow bacteria to breed.  
The natural fibers cause less friction and irritation against your skin compared to artificial fibers. 
Is Linen Cooler Than Cotton?
Yes, linen is cooler than cotton because cotton doesn't breathe as well as linen. And cotton doesn't absorb moisture as well as linen. 
On the upside of things, more sustainable brands are using organic cotton each year. And they are making a move toward using rainwater instead of resource-intensive irrigation systems. 
This step towards organic, conscious cotton is great news for anyone who finds organic linen outside their budget. 
An organic cotton bedding will get the job done, but organic linen bedding will last longer and keep you cooler (and warmer!). 
Can You Sleep with Just a Duvet Cover?
Yes, you can use a duvet cover as a blanket, without the duvet.
But using just a duvet cover isn't going to keep you as warm as a blanket. 
Using the duvet cover is a great hack for hot summer months when the duvet insert is too thick.
How Much Do Linen Duvet Covers Cost?
100% linen, organic duvet covers can run you anywhere from $78 to $548 USD. On average, you can expect to spend around $300.
4 Sustainable Brands That Sell Linen Duvet Covers
All of the options listed here are 100% pure linen and are at least 95% organic.
For even more eco-friendly brands that also sell sustainable linen duvet covers, read here.
1. Plush Beds
The Plush Beds founder began a journey to eliminate as many harmful chemicals from his life as he could after his father was diagnosed with Parkinson's disease. 
While researching the disease he found studies suggesting exposure to certain chemicals in our environment increase our risk of developing Parkinson's. 
A soon-to-be father, he set out to find toxin-free mattresses and bedding.
Unable to find the transparency he was looking for, he created his own mattress and bedding company, Plush Beds. 
Plush Beds uses 100% French flax, maintains a GOTS certification, and partners with 8 different charitable organizations.
2. Coyuchi
Breezy, beach designs inspired by the Pacific coast since 1991, this California company's products are 100% organic. 
Their French flax is woven in Portugal. Coyuchi is GOTS certified, Made Safe certified, and Fairtrade.
As part of their commitment to people and the planet, they partner with the Chetna coalition and FiberShed to promote carbon-neutral farming. 
3. MagicLinen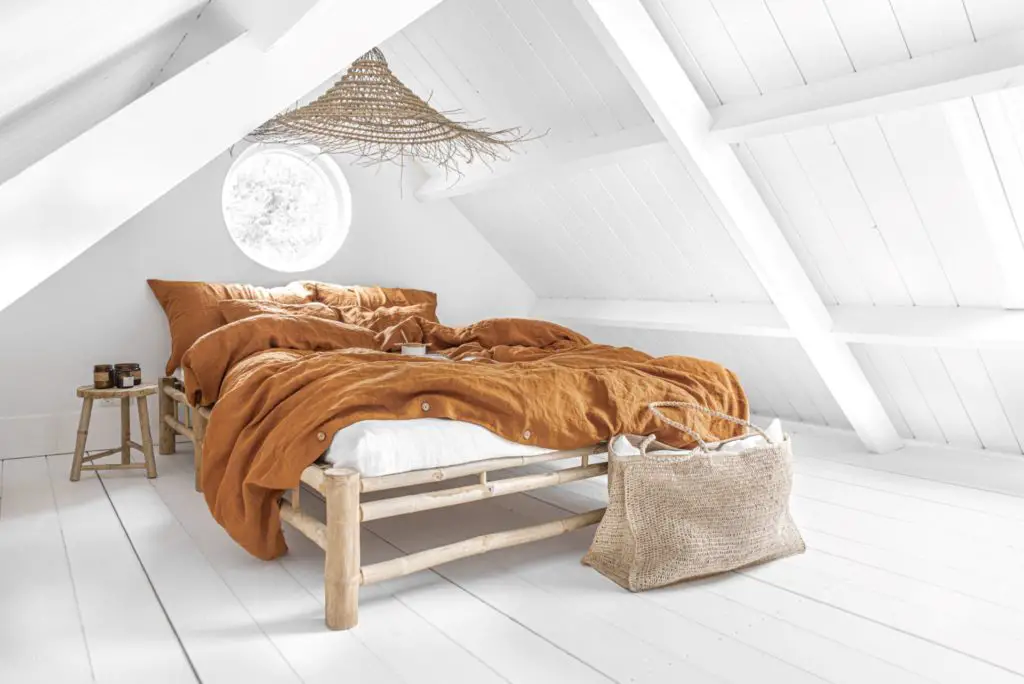 MagicLinen is a family-run business from Lithuania offering hand-made OEKO-TEX certified linen home textiles, including linen duvet covers and duvet cover sets.
The duvet covers come in a rich color palette and a variety of sizes (you can request a custom size free of charge as well).
All of the products come in biodegradable packaging as well.
4. Made Trade
Made Trade is a family-owned company based in Oregon, USA. 
New on the market, they've been dedicated to offering sustainably-made, ethically-sourced products since 2018. 
All shipping and returns are 100% carbon offset.
Their linen duvet covers are fair-trade, responsibly sourced, women and/or POC owned, and they donate 1% of their earnings to a grassroots organization. 
Their certifications include: Standard 100 by Oeko-Tex Certified, Global Organic Textile Standard Certified (GOTS), and Sedex Members Ethical Trade Audit (SMETA).
Conclusion
Linen bedding is good for your skin, helps regulate your body temperature, and has a lower environmental impact than most textiles.
If it's in your budget and you love the cozy, creasy look, then yes, invest! 
When shopping for linen bedding, make sure it's 100% linen, otherwise, your fabric could be interwoven with harmful plastic fibers like acrylic, polyester, and nylon.
You should be able to rest with the peace of mind that the place where you spend one third of your life is free from substances that can be toxic in the long run.
For a comprehensive list of sustainable linen FAQs, read here.
And check out this post for sustainable linen sheets to match your linen duvet cover.
You Might Also Like…