For most people, clothing is about style. They care about the way a piece looks.
However, clothing is more than a fashion statement. Clothing is also a lifestyle choice.
Think about it. Clothing may be the first thing people see when they meet you, but clothing is also the thing you feel all day, every day.
When you wear clothing, it is in constant contact with your skin. This makes the integrity of the fabric extremely important.
That is why you need to know about organic linen clothing and how to find the best brands for your fashion needs.
Why Linen Is a Great Material for Clothing
Most of the time, people only check the label of their clothing for care instructions.
However, those labels also have critical information about the composition of the fabric.
In this context, linen is quite distinctive when compared to many other fibers.
To make linen, you start with the flax plant. Flax has been farmed for years.
In fact, it was a common crop in ancient Mesopotamia, Egypt and Greece. Its widespread versatility also made flax an important part of the early economies in Russia and China.
Among the many uses of flax is the creation of linen. Linen is a fabric made from flax, and it is completely natural.
This is why linen is used in the production of ethical clothing and environmentally friendly clothing.
The Many Benefits of Linen
While the natural element may be important to modern consumers and environmentalists, that is not why linen has traditionally been so popular.
There are many advantages to linen:
Absorbency: Linen can actually absorb up to 20 percent of its own weight.
Strength: Flax fibers are more durable and resilient than comparable cotton alternatives.
Comfort: Linen is a comfortable fabric. For this reason, people all around the world luxuriate in linen bedding.
Permeability: Linen is a breathable fabric, which means it does not retain moisture and lets air pass easily. This is why it is a summer staple in warm climates.
Care: Linen can be washed easily. In fact, the Chicago Tribune reported that linen was even stronger when wet. The trick is to be careful when drying to avoid shrinkage.
The Difference Between Cotton and Linen
One common misconception is that cotton and linen are the same fabric.
The truth is that these fabrics do have some things in common. Both are natural fibers. Both are commonly used for clothing.
That is where the differences really start. First of all, cotton and linen come from different natural sources.
Linen, as previously explained, comes from flax. Cotton, by contrast, comes from the cotton plant.
Therefore, despite the fact that both fabrics are totally natural, they have a different composition and feel. They also carry different environmental footprints.
Cotton may be a natural fiber, but the majority of cotton produced relies on less organic measures based on a report from the United Nations.
Pesticides are far more common in the growth of cotton than flax. Water usage is also increased for cotton.
Therefore, while sustainability will vary between producers, linen does tend to be a better choice for sustainable clothing options.
The Importance of Eco Friendly Clothing
If you have never thought about where your clothes come from, you are not alone. Most people do not think twice about how their clothing was sourced.
However, clothing production can have a huge environmental impact. A report from the Guardian was quite damning.
From the chemicals used to grow the fibers to the emissions used in mass manufacturing, clothing takes a toll on the environment.
Worse, synthetic fibers like polyester add to the growing plastic pollution problem.
The problem is only getting worse. According to a report from Reuters, as of 2014, American clothing imports were primarily synthetic.
The total imports that year were 19.43 billion square-meter equivalents. Of that total, 9.87 billion were made from synthetic fibers, which are not biodegradeable.
The news worried cotton producers who have a large share of the clothing market, but the impact carried far more threatening implications for all of mankind.
At some point, the question of fashion must give way to the question of sustainability.
Fortunately, with linen, you can achieve on both fronts.
Linen Is Your Choice for Ethical Clothing
There is simply no debate needed. If you are interested in environmentally friendly clothing, then you should start with linen.
Everyone has their personal preferences for fabrics and textiles, but the science supports linen for environmental reasons.
One study published by ISRN Biotechnology studied linen with some depth to analyze its overall production and sustainability. The results deemed linen to be "most useful."
Critical findings from the report are:
Linen has better structural properties.
Linen is easier to process.
Linen fibers are lower in cost.
Linen fibers are biodegradable.
Linen production requires 80 percent less energy.
Linen production uses less pesticides.
In short, linen is arguably the ideal choice for your ethical clothing.
6 Great Brands for Ethical Linen Clothing
If you are new to linen or if you are just looking for the best sustainable clothing brands out there, then this list is for you.
This list features some of the best brands for ethical clothing made from linen.
Use this list to inspire and guide your shopping habits. That way, you can find clothing that looks good, feels good and you feel good about wearing.
1. MagicLinen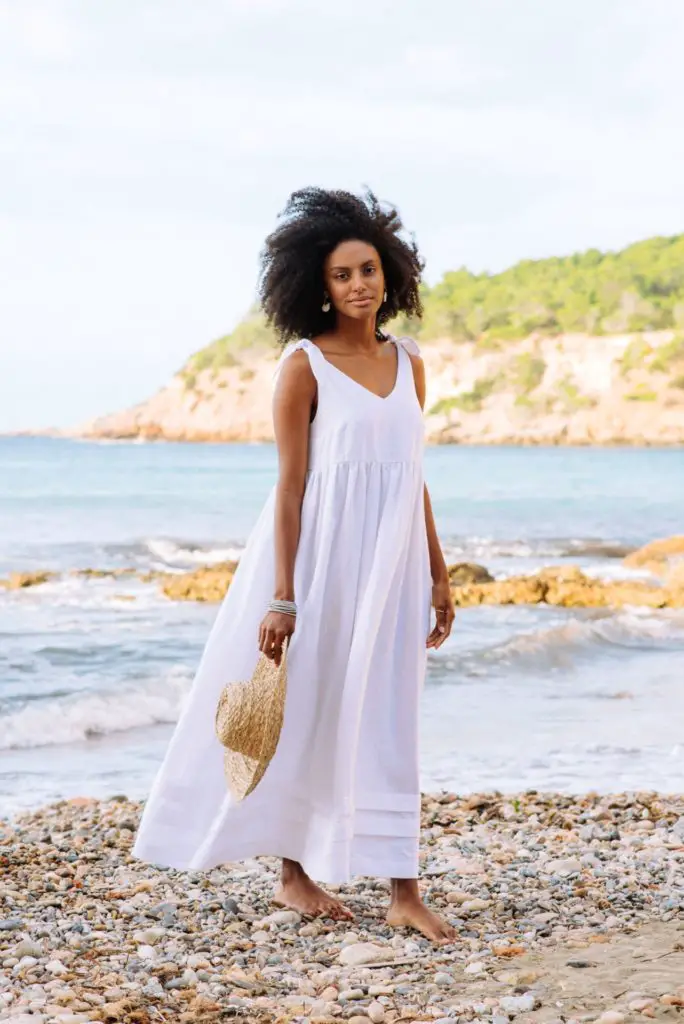 Based in Lithuania, MagicLinen goes to impressive lengths to keep their environmental footprint as small as possible.
This includes using a local supply chain to keep the CO2 emissions to a minimum, minimizing waste by reusing textile leftovers in their production, and shipping their products in 100% compostable packaging.
All of their textiles are Oeko-Tex certified, which means they are completely free from harmful chemicals or other substances.
In addition to elegant home textiles, MagicLinen also offers a collection of linen clothing for both men and women.
All of the clothing is hand-made from beautiful and sustainable 100% linen fabric which is very practical and chic at the same time.
All of the items are stone-washed for maximum softness, and the designs are effortless and stylish made to stand the test of time. 
MagicLinen's clothing has already gained public recognition – in fact, MagicLinen's Toscana dress was seen worn by such celebrities as Meghan Markle.
2. Linenfox
Linenfox is a relatively new company started by a husband and wife duo. The couple went out in search of quality linen clothing at prices they could afford. When their search yielded more frustration than results, they founded Linenfox.
Based in Lithuania, Linenfox is a small company with 15 employees. Given this small size, everyone in the company is fully committed to the principles behind the brand. Every garment made and sold by Linenfox is toxic-free and Oeko-Tex certified.
Therefore, when you shop at Linenfox, you can be confident that every selection is ethical and environmentally friendly. In addition to using the best linen, Linenfox believes in fair trade and honest wages.
Even its packaging is 98 percent plastic-free. The company sells its fabric scraps and uses scrawls for packing.
Plus, Linenfox has attractive, versatile clothing. Its line of jumpsuits and dresses is particularly hard to resist.
3. Omness
Another excellent linen brand is Omness. The modern world moves quickly, and that movement often leads to cut corners and compromised outcomes. That is why Omness takes things in a different direction.
Omness values a more thoughtful approach. Production is dealt with in a conscious manner, being handled mostly by a single tailor and his family. This allows the brand to minimize waste while promoting quality and sustainability.
The company is the brainchild of Jules, who is a revered textile designer based out of Australia. Through Omness, Jules is able to focus on quality designs that are brought to life with precision and care. Every Omness linen garment is made by hand, and the company only uses natural fibers and organic seaweed dyes.
On top of the company's selection of environmentally friendly clothing, Omness also delivers on comfort and style. The simplistic designs are surprisingly sophisticated. These looks are timeless for your wardrobe and the environment.
4. Pyne & Smith
For many, linen is a beach fabric. While linen has many other uses, it can be agreed that it is ideal for beach climates. Therefore, it is no surprise that the next linen brand is based in a beachfront community in California.
Pyne & Smith was founded by designer Joanna McCartney. Although McCartney is at home in California, she is actually a native of England. However, when she met her husband, she settled in California.
The warm weather was quite an adjustment for McCartney. In her new beach life, she struggled to find cool, comfortable dresses without compromising on style or sustainability.
This led McCartney to solve the problem herself with the creation of Pyne & Smith. The company started small with McCartney sewing all the garments by hand for local buyers. Now, McCartney runs a sewing production studio in Los Angeles for worldwide delivery.
Pyne & Smith has garnered this worldwide following with good reason. The company exclusively uses pure European flax linen. This breathable natural fiber will actually soften over time.
In terms of sustainability, Pyne & Smith is entirely upfront with its process. The brand's linen can be tracked from its source in a flax field all the way through its final production in Los Angeles.
Because flax requires minimal water to grow, the environmental impact of the brand's linen is minimal. Any remnants are repurposed as seat covers for planes and cars.
5. I Love Linen
I Love Linen is slightly different than the other brands on this list. While these other brands are primarily known as fashion brands, I Love Linen got its start in bedding back in 2013. However, as the brand found its market, it quickly expanded to include other linen products.
Today, I Love Linen carries a range of household linens for the kitchen, bathroom and beyond.
The brand also has a vibrant selection of linen clothing items. You can shop for shirts, pants, jumpsuits and more. There is even a section just for kids.
Although I Love Linen is operated exclusively online, the company strives to provide a personal touch to its service and designs. This starts with the brand's commitment to ethical clothing.
Founder Lauren Roe makes routine visits to her production line, and she has even visited her suppliers in India and Turkey to ensure that ethical and sustainable practices are always being used.
The brand is certified as ECOCERT, Oeko-Tex and SA8000. This means that the linen fibers are organically grown, and that no toxic chemicals are used in any part of the production.
The production is completed by workers protected with fair working conditions. Even the packaging at I Love Linen is made with the environment in mind.
6. Annika Deboer
Annika Deboer is a designer based out of New Zealand. Although she is noted for her sense of fashion, she has defied many standards within the industry in terms of timelessness. While most fashions are rapidly changing, Deboer pursues things that last.
This permanence is both stylistic and environmental. In terms of style, Deboer opts to ignore fashion seasons. Instead, her designs are intended for year-round usage.
This flies in the face of standard fashion production, wherein a designer typically releases new selections every season.
Her commitment to sustainability is no less impressive. Since Deboer produces timeless fashions, her production can go at a much more intentional pace.
All of the fabrics used by Deboer are natural, which includes her selection of quality linens. Deboer is very conscientious about her production line, and she uses mills with strict ethics standards.
The facts behind each design may be impressive, but Deboer's linen garments speak for themselves.
Deboer uses thick and durable linens that are designed to fit comfortably and look attractive. Her designs are livable and practical. The linen Grace Dress even has pockets!
FAQ About Linen Clothing
If you are new to linen clothing, then you probably still have questions about this fabric and why it is such a good choice for real, comfortable, sustainable living.
Keep reading to answer some of your most frequently asked questions about linen.
Is Linen Clothing Eco Friendly?
There are different factors that impact clothing production. First, there is the fabric. Linen is generally a more environmentally friendly fiber.
Linen is made from flax, which is a plant that requires far less water than other comparable options like cotton. This allows the harvesting of flax to occur with less environmental impact.
However, there are other parts of the production. The method of harvesting, the way the flax is spun, the mode of shipping and the overall manufacturing of the garments will also have an effect on how sustainable your linen clothing may be.
Therefore, do your research about specific brands to better understand if you are buying ethical clothing or not.
Is Linen Non-Toxic?
Linen is a natural fiber. This means that no synthetic fibers are used.
However, keep in mind that linen fibers may still be dyed with artificial dyes. To be confident that your linen clothing has no toxic chemicals, look for reliable brands with the Oeko-Tex label.
What Is Organic Linen?
Although all linen is made from natural flax fibers, not all linen clothing is organic. Organic is a label that is given to plants grown without the use of chemicals.
Many large farming operations rely on chemicals to keep weeds and pests at bay. This allows them to produce better yields, but it can leave toxic traces of those chemicals behind.
This is true for linen production. Some flax farmers use chemicals to ramp up their production.
Therefore, to be certified as organic, the flax must be grown without the use of such chemicals.
To find out whether your linen clothing is organic, check with the brand to see where its linen is sourced. You can also check for an organic certification label.
How Long Does Linen Take To Biodegrade?
Linen is a natural fiber. Therefore, it is biodegradable. In fact, linen breaks down faster than most other fabrics on the market.
According to a report from Vogue Business, linen can break down in just two weeks. This makes it more biodegradable than cotton.
There is one caveat. Linen breaks down best when it is not treated or dyed. When artificial dyes or treatments are used, the time it takes to break the fabric down can be increased.
This is because artificial dyes use variants of plastic, which resist breaking down for years.
Is Linen Vegan?
The vegan lifestyle is one that does not harm animals in any manner. There are many fabrics that rely on animals in some form.
However, linen is not one of them. Linen is made entirely from flax, which is a natural plant.
Finally, check to make sure that there are no dyes or embellishments that use animal products. However, most linen garments are completely in step with a vegan lifestyle.
What Is the Best Linen for Clothing?
Across the board, linen is a versatile and durable fabric.
However, there is some variation in linens based on where the flax is grown and how the linen is woven. Therefore, certain linens are better options for your sustainable clothing.
Irish linen is particularly popular. Grown and spun in Ireland, this linen is considered extremely pure.
It is especially renowned for its use in shirts. Other good options for clothing include Belgium linen and Japanese linen.
How Can You Tell the Quality of Linen?
Like any clothing fibers, linen clothing will vary in terms of quality. If you want to be sure you are getting good linen, there are a few things to look for while you shop.
First, consider the origin of the linen. As mentioned before, Irish linens are generally better regarded than much of the competition.
If you cannot identify the source of your linen, give the garment a closer inspection.
Check to see how well the linen is woven. In particular, problem areas may include the folds or creases around the cuffs, underarms or pockets.
If you are paying a lot for your linen clothing, checking these areas can ensure quality.
Moreover, look at the color of your linen. Some linens are prone to color changes throughout the fabric due to uneven dyeing.
This can indicate that poor tactics were used, and this can compromise the integrity of your garment. Yellowing can also be a problem on white linens.
Mostly, if you want to be confident in the quality of your linen garments, work with brands and suppliers with a proven reputation.
Does Linen Breathe Better Than Cotton?
Many people think that cotton breathes more than linen. This is because cotton is a more lightweight fabric.
However, sources explain that linen features a much wider fiber. This allows more air to pass through the garment for a breezier feel during warm weather.
Why Is Linen So Popular?
Linen's popularity has persisted for centuries. For modern consumers, linen may be preferred for a variety of reasons.
Some people prefer linen because it is comfortable and breathable. Other people like the look and feel of the fabric.
Still more people choose linen because it is a more sustainable and ethical option.
You will have to try linen for yourself to discover all the reasons for linen's popularity.
Why Is Linen Expensive?
Linen is often regarded as a luxury fabric by modern consumers. The cost of linen can be traced to its production.
In particular, it is known that flax is more difficult to spin than other fabrics.
This slows down production and minimizes yields. Because of this relative scarcity, prices for linen tend to go up.
Can I Wash Linen in the Washing Machine?
In most cases, linen can be washed in the machine.
However, linen can shrink in hot water. Therefore, use a cold water wash. Also, consider avoiding the dryer.
What Are the Disadvantages of Linen?
Linen can be a more expensive fabric, which can make it inaccessible for some people.
Moreover, linen does require some special care. According to experts, linen is best stored hanging.
Linen is especially prone to wrinkles, which some people believe makes you look untidy.
Is Linen Only for Summer?
Because linen is breathable, it is often associated with warmer, beach climates.
However, a good linen garment can be worn at any time of the year.
In fact, many linen designers are focused on sustainable fashion that endures throughout the changes in season.
What Are the Different Types of Linen?
Experts explain that there are several main types of linen, which are differentiated by the type of weave used.
Damask linen is the most intricate and ornate. Plain-woven linen is commonly used for kitchen towels.
A looser weave is used for reusable diapers and sanitary napkins. Most linen clothing is made from sheeting linen, which features a close weave and soft finish.
Does Linen Tear Easily?
Linen is a durable, sustainable clothing option. According to many qualified sources, flax fibers are stronger than cotton.
However, linen can start to degrade along fold lines over time. Therefore, take care to wash your linen properly, and hang your linen when it is not in use.
Conclusion
Your clothing is more than a fashion statement. Your clothing is also part of your environmental impact.
If you want to reduce your impact on the world around you, then consider investing your time and fashion in sustainable clothing from the top linen brands in the world.
You Might Also Like…