When it comes to summer essentials, the shopping list is often typical, even for those maintaining a sustainable lifestyle.
Sustainable Sunglasses? Check. Ocean-friendly Sunscreen? Check. There are many commercially available and environmentally friendly options for both.
However, one item that's often replaced year after year can be difficult to find for the eco-conscious shopper.
We're talking about eco-conscious swimsuits. It's easier to stick to fast fashion alternatives when you're shopping for outerwear pieces that you can mix and match.
Finding sustainable or vegan swimwear that's both flattering and within your price range is a whole other story.
Are fashionable bathing suits that won't increase your carbon footprint even possible? There aren't many eco-friendly swimwear manufacturers out there, but the movement is growing.
Let's go through a quick FAQ and check out some sustainable brands that have come out with swimwear collections.
From Traditional to Eco-Friendly Swimsuits: A Quick FAQ
You might be wondering why the search for ethical swimwear is such a big deal.
Replacing most – if not all – our necessities and luxuries with sustainable variants is the general goal.
However, bathing suits and bikinis are particularly damaging to the planet. Their relatively short usable lifespan and typical material makeup are definitely not compatible with eco-friendly living.
Below are some common questions about swimwear and how they impact the environment.
What Kind of Fabric Do Traditional Bathing Suits Use?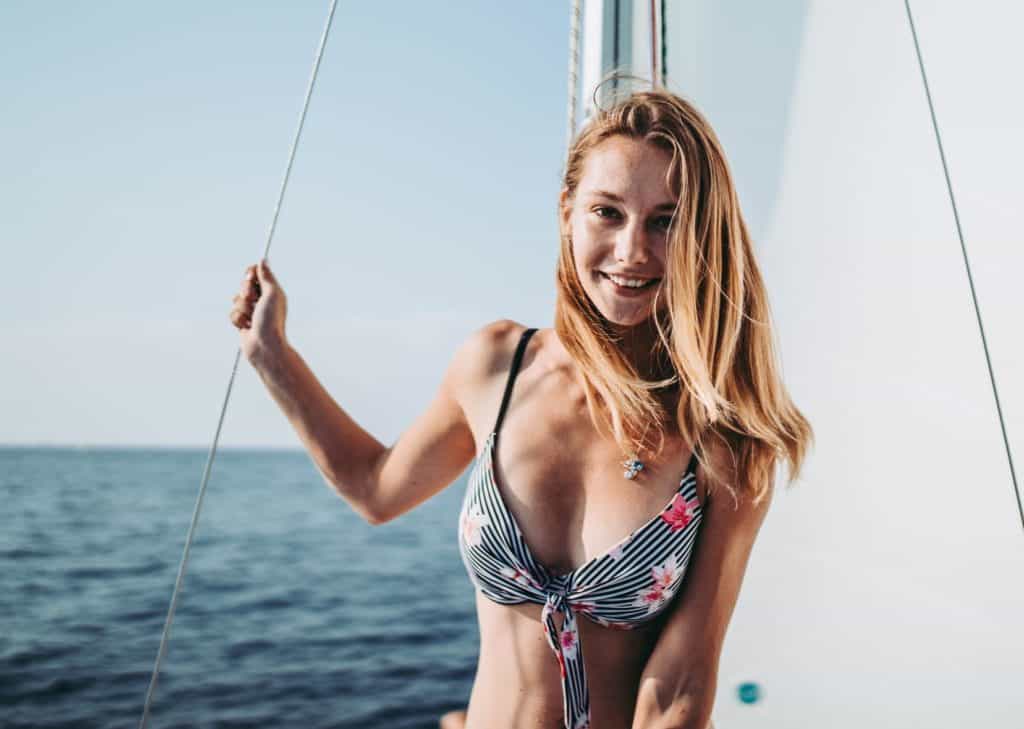 The average swimsuit today is made from one or several types of plastic: nylon, polyester, polyurethane or a synthetic fiber blend. Using these materials helps bathing suits absorb less water, dry quicker and cling better to the curves of your body.
Unfortunately, plastic-based fabrics like these shed microfibers. The man-made debris makes their way from resort shores and wastewater plants to marine environments. Here, microfibers not only negatively affect plant and animal life but also enter the human food chain – because they're ingested by the ocean inhabitants we eat.
In 2011, a study found that 85 percent of human-generated debris that ends up on shorelines across the globe is in the form of microfibers.
More recently, samples from markets on opposite sides of the world – California, U.S., and South Sulawesi, Indonesia – revealed that about a quarter of the fish being sold for human consumption contained plastic or synthetic fibers in their guts.
What Are Some Common Eco-Friendly Swimwear Materials?
Most sustainable swimwear collections still rely on plastic. The bathing suits are made from recycled materials like Econyl or Repreve.
Econyl is a fabric made from regenerated nylon. The manufacturing process recycles plastic waste, such as fishing nets and other industrial waste.
Repreve is a fabric made similarly, using 100 percent regenerated polyester fibers – usually taken from single-use plastic bottles.
Budget eco-friendly swimwear manufacturers use them, but they're also the stuff of luxury $300 Mara Hoffman bathing suits.
Some brands call the materials they use by proprietary names, but the idea is the same. Vitamin A's EcoLux fabric is made from recycled nylon.
It's also important to note that many brands still use a percentage of stretch or elastic material – like elastane or latex – that may not be sustainable.
To date, very few brands offer 100 percent ethical, environmentally friendly and vegan swimwear. It's not easy to eschew plastic-made swimwear entirely, but it is possible. You can choose to make or purchase cotton or hemp fabric swimsuits.
Ethical vs. Sustainable: What's the Difference When It Comes to Swimwear?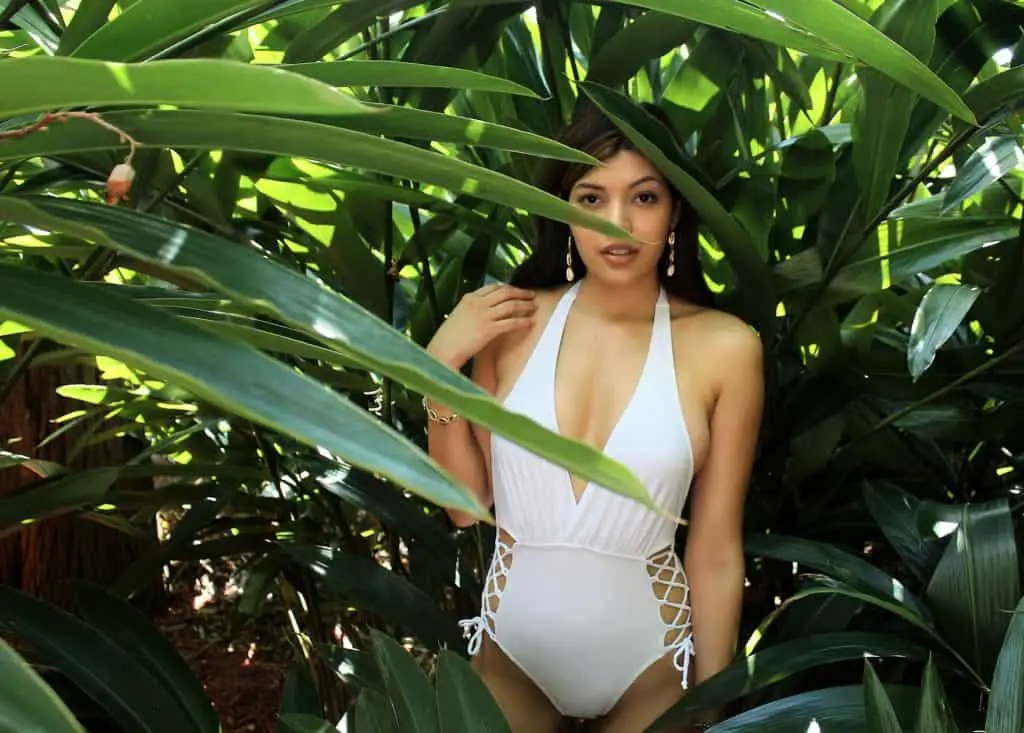 The terms are often used interchangeably, but their respective definitions are different.
Ethical swimwear counts as fair trade apparel. Any brand that claims the marketing term should pay fair wages to employees, uphold safe and legal work policies, and be transparent when it comes to material sources and manufacturing locations.
Ethical products are also often cruelty-free, handcrafted, made to promote causes or to donate proceeds to charitable organizations.
Sustainable swimwear should be made from renewable, upcycled or regenerated material. Durability is preferred, particularly with bathing suits made from recycled materials like plastic. Swimsuits made from eco-friendly fabrics are more prone to damage but are biodegradable.
When you ask questions like: Is Cupshe ethical? Is Jolyn ethical? Don't look at only their swimsuit fabrics. Check company policies and publicly available information.
Cupshe swimwear is made from plastic and their website doesn't reveal much. In contrast, Jolyn's swimwear designs are painstakingly described and the company's story is public knowledge. The latter is more likely to stand up to scrutiny.
How Long Do Traditional Bathing Suits Last? What about Eco-Friendly Swimsuits?
You probably grew up replacing your bathing suits every one or two years. Some may even go through their swimwear faster. The difference in time depends on the fabric, design, usage, and maintenance.
On average, traditional swimsuits can last more than one summer – but only if you take care of them. If you hand wash, air dry and store your bathing suits properly when not in use, they will hold their shape for longer and won't sag or wear out before the seasons change.
Expect the same reaction to normal wear and tear from bathing suits made from recycled materials, unless they're specifically designed to be long-lasting.
How Do You Dispose of Old Swimsuits? Can Swimwear Be Recycled?
We all know that plastic is not biodegradable. There is no good way to dispose of old swimwear, whether they're made from virgin synthetic material or recycled waste. Swimsuits are also not ideal for donating or reselling, as they're very personal items.
Instead of throwing away old bathing suits once they no longer fit, consider reusing the bathing suit fabric through DIY projects.
10 Eco-Friendly Swimwear Manufacturers You Should Check Out
Here, we've put together 10 brands with swimwear collections that are fashionable and fit for sustainable living.
While the vast majority of these brands design and sell bathing suits made from recycled materials instead of eco-friendly fabrics, they are nevertheless providing much more sustainable and ethical options than their fast fashion counterparts.
1. Alyned Together
What began as a compact all-female team with a mission to make size-inclusive and sustainable swimwear has turned into a fully eco-conscious brand.
Alyned Together swimsuits are affordable and made from fabrics developed to use recycled polyester.
The company is also currently working with textile scientists in the hopes of developing smarter and better material to use for their future swimwear collections.
A small percentage of Alyned Together's annual sales goes to environmental nonprofits. The brand also hosts planet-saving awareness campaigns, such as cleanups.
2. Bold Swim
Bold Swim is described as an inclusive eco-luxe brand by its founder, Tiffany Broadway. Like Alyned Together, this eco-friendly swimwear manufacturer is adamant about providing options for customers of all body types and sizes.
Bathing suits by Bold Swim are made from fabric using Amni Soul Eco thread, a biodegradable polyamide material developed in Brazil.
It is said to decompose completely in a landfill environment in less than three years. Bold Swim products are also toxin-free, cruelty-free and offer UV protection.
3. Bower Swimwear
Bower is a luxury brand founded in 2015 by a husband and wife team. They're known for their penchant for high-quality Italian fabrics, and their small-batch swimwear collections are no exception.
Bower bathing suits are made from Econyl and are proudly marketed as 100 percent vegan swimwear.
The pieces go through finishing touches in Italy and are produced in limited amounts, both to create an additional sense of opulence and to minimize manufacturing waste.
4. Davy J
Here's another company that swears by Econyl. Davy J swimwear is designed for durability as much as it is created to reflect timeless fashion.
The textile used is supported by imperceptible rubber strips that hold their bathing suits in place on your body.
However, Davy J swimwear is also described by the brand itself as made from double-lined fabric with a considerable percentage of elastane – a synthetic material you might know as Spandex or Lycra.
This makes their products long-lasting but also less eco-friendly in the long run, as they're as least partly made from virgin plastic.
5. Jolyn
This California-based swimwear brand caters to female athletes but has developed comfortable and durable designs that everyone can appreciate.
They say their bathing suits are made to last and can withstand intensive daily use. Jolyn products are chlorine-proof, offer UV protection, and won't be worn out by constant exposure to saltwater and perspiration.
As mentioned above, Jolyn uses something called Foreverever fabric, which is made from recycled polyester. Their swimwear collections also feature designs that incorporate reinforced stitching.
6. Natasha Tonic
Natasha Tonic is a US brand that features a surprising sustainable twist to their swimwear offerings.
Their products are designed, dyed and sewn locally in California, featuring an eco-friendly fabric: natural hemp fiber. The material is said to be antimicrobial, sturdy, and UV resistant.
Because the bathing suits are lightweight and breezy, they can also double as loungewear or lingerie. You may even use them as outerwear or activewear in a pinch.
The brand also donates a percentage of its sales to help various environmental organizations and efforts, like the 5 Gyres Institute and Italy's Basta Con La Plastica.
7. Reformation Swimwear
Reformation is a clothing brand that's known for its commitment to sustainability. The company has been 100 percent carbon-neutral for several years, and 75 percent of its waste is recycled.
Again, Econyl makes an appearance. Reformation swimwear is made from fabric that contains more than 75 percent of the Oeko-Tex certified regenerated nylon fibers.
Partnerships with the Bonneville Environmental Foundation Water Restoration Program and Brazilian Rosewood Amazon Conservation Project also allow Reformation to offset their natural resource consumption, as well.
8. Sézane Swimwear
Sézane is a French brand that is known for making ethical swimwear and other clothing products. The company not only believes in sustainability but also in fair trade policies.
They make sure that their internal practices and those of their suppliers support proper work conditions, on top of running their own philanthropic initiatives.
However, their bathing suits made from recycled materials don't measure up to the lengths through which other eco-friendly swimwear manufacturers go. Only 65 percent of the polyester used in Sézane swimwear is recycled, and most of their designs feature several synthetic materials: polyamide, elastane, and polyester.
9. Summersalt
Summersalt is another female-run brand focused on coming out with size-inclusive and eco-friendly swimsuits. They claim that their offerings are not only fashionable but also five times stronger than your average bathing suit.
The fabric used in Summersalt's swimwear collections is made with more than 75 percent recycled polyamide. However, like many of their competitors, the brand compromised on materials to lengthen the lifespan of their bathing suits.
Blended in with their sustainable textile is Xtra Life Lycra, which offers up to four times more compression than standard Lycra, but is still manufactured using virgin plastic.
10. Tide and Seek
Also known as Tide + Seek, this brand makes affordable and sustainable swimwear. All of their products are made from Repreve, which is – as mentioned above – made from regenerated polyester.
Tide + Seek also ensures customers that their swimwear is chlorine resistant and offers SPF 50 UV protection, similar to the claims made by Jolyn.
What Else Can You Do to Save the Planet Apart from Wearing Eco-Friendly Swimsuits?
You can always do more. They don't always have to be grand gestures, either. Every little thing counts when it comes to green practices and sustainable living – check out our 100 ideas which you can easily implement.
Going on holiday to show off your eco-friendly swimsuit? The least you can do is make sure that your travel plans match what you're wearing. If you must go beyond the local community swimming pool, try to use eco-friendly transportation.
Also, don't forget to bring your sustainable sunglasses and ocean-friendly sunscreen.
Interested in planning a truly sustainable summer vacation? Check out our list of eco-friendly hotels found all over the world.
You Might Also Like…