Have you ever been to one of the best eco-friendly hotels in the world?
The idea may sound too difficult to plan or too luxurious to consider, but don't discount the possibility yet.
You might be surprised by what's now available to sustainable travelers from all walks of life.
Current eco-friendly hotel concepts range from hole-in-the-wall hostels to five-star experiences.
The slow rise of climate change awareness in the past few decades prompted a steady proliferation of sustainable resorts and eco-friendly hotel chains.
Supporting the ecotourism trend has never been more important. Why?
In 2013, global tourism's carbon footprint was responsible for around 8 percent of all greenhouse gas (GHG) emissions. The hotel industry alone is responsible for one-eighth of that percentage.
Now is the best time to plan that life-changing, ecologically sound getaway you've always dreamed of going on.
But before you embark on this adventure, it's essential to familiarize yourself with eco-friendly hotel design musts.
Let's go through a short primer on what to look for, followed by a list of attractive and sustainable destinations across the globe.
What Features Should You Look for in the Best Eco-Friendly Hotels?
It's easy to spot obvious efforts to reduce environmental impact or carbon footprint.
Look for composting or recycling programs, energy-efficient light fixtures and appliances, and farm-to-table experiences. Ask about renewable power systems like solar panels or wind turbines.
Not all establishments have the budget or the inclination to go completely green, but even small changes can make a difference.
Barring the above features and amenities, how can a resort be eco-friendly?
Bed and breakfast places and boutique hotels can use bulk containers instead of providing single-use plastic bottles for toiletries. They may also refrain from using disposable cutlery and dishes.
Getting a LEED certification is one of the most recognized ways to highlight eco-friendly hotel design.
The Leadership in Energy and Environmental Designs (LEED) program works with a point system. It tracks sustainability features in the areas of construction and cost-effectiveness, as well as energy and resource efficiency.
What Are the Best Eco-Friendly Hotels Worldwide?
There's a perfect vacation out there just waiting for you.
Whether you're in the mood for an exotic holiday adventure or a staycation of sorts at one of the local eco-friendly hotels in the USA, we've got you.
Below is a collection of noteworthy tourist spots found in various corners of the planet. Check out our list of eco-friendly hotels and find your future favorite destination.
1. The Adler Mountain Lodge in Alpe di Siusi, Italy
Nestled somewhere in the Dolomites – a mountain range and UNESCO world heritage site – the Adler Mountain Lodge is a ski haven near the border of Italy and Austria. In fact, many locals in Alpe di Siusi speak German.
The eco-friendly hotel design follows KlimaHaus Nature standards, the requirements of which are similar to those outlined in the LEED program.
The Adler Mountain Lodge was constructed using local timber and is supported by a custom combined power and heat plant. An intelligent water management system is also in place.
Their chefs often use regional organic produce, supporting mountain farmers and reducing food transport emissions.
Conventional car use is restricted in the area, and the lodge maintains an electric vehicle fleet.
Check prices and availability on Booking.com.
2. Al Natural Resort in Bastimentos Island, Panama
If you can't decide between a jungle adventure and a seaside getaway, Al Natural Resort could be what you're looking for.
A small Caribbean retreat in the Bocas del Toro archipelago of Panama, the eco-friendly destination is tucked away in a lush tropical area right across the Bastimentos Island Marine Park.
Al Natural Resort features ancestral Ngobe-Bugle Indian craftsmanship, serves chef-prepared gourmet meals made from fresh local produce, and runs on solar power.
With access to the secluded Punta Vieja beach, visitors can go scuba-diving and relax in the privacy afforded by luxuriant vegetation and the intimate scale – less than 10 beach bungalows – of the eco-friendly hotel design.
Check prices and availability on Booking.com.
3. The Brando in Tetiaroa, French Polynesia
Named after Marlon Brando, this eco-friendly hotel is located on the late actor's private French Polynesian atoll.
Comprised of 35 villas, it's an exclusive escape favored by household names such as the Obamas and Pippa Middleton.
The Brando runs programs to preserve the heritage and biodiversity of the French Polynesian islets.
The Brando may not be affordable for most, but it is fully committed to sustainability.
More than being simply LEED-certified, the property strives to operate with a net-zero environmental impact.
It was built with local, natural or reclaimed materials. All consumed energy is renewable and all resources are recycled or reused.
Of particular note is its seawater air-conditioning (SWAC) system, which uses icy deep ocean water to lower energy demands by over 80 percent.
4. Casa de las Olas in Tulum, Mexico
Constructed in the 1970s by Austrian Carlo Shuber, the new and improved Casa de las Olas is currently the only eco-friendly hotel in Mexico with a LEED Platinum certification.
How can a resort be eco-friendly if it's decades old?
Retrofitted photovoltaic panels, rainwater harvesting systems, and a manual trash sorting process keep Casa de las Olas sustainability practices up to date.
The refreshing sea breezes from the Caribbean cool the establishment naturally.
Like many other eco-friendly hotels, Casa de las Olas sources local produce surrounding ranches and recycles kitchen waste through composting.
5. The Green House Hotel in Bournemouth, United Kingdom
The Green House Hotel is known as one of the most eco-friendly hotels in the UK.
The four-star, 32-room Victorian villa is situated right next to the enchanting Bournemouth beach.
It's also quite close to the New Forest, one of the largest tracts of unenclosed land in Southern England. The scope of the New Forest also features pasture land and heathland alike.
The boutique inn features bat and bird boxes in its garden, encouraging local wildlife to flourish.
Its wood furniture is made from felled trees and its wallpaper is certified by the Forest Steward Council (FSC).
Many of the Green House Hotel's appliances have eco-friendly settings, and its parking garage also offers free electric vehicle charging ports.
Check prices and availability on Booking.com.
6. The Hix Island House in Vieques, Puerto Rico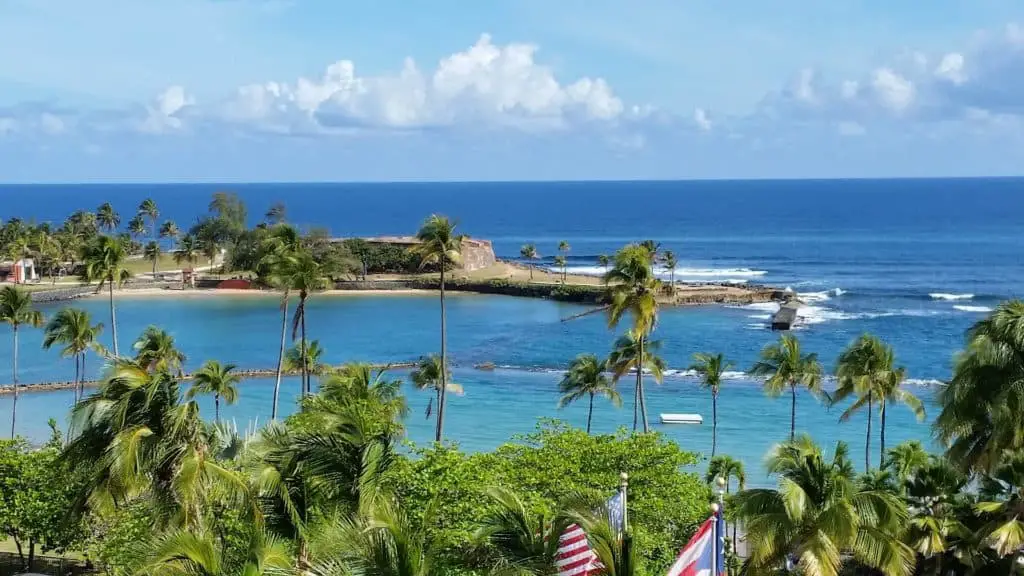 Far from the hustle and bustle of San Juan is the Hix Island House, a 13-apartment structure on a hillside property in Puerto Rico.
The sturdy and energy-efficient eco-retreat was built by architect John Hix 20 years ago in a remote location to maximize the benefits of its natural surroundings.
Because of its hilltop location, the wind flows through and cools the solar-powered buildings.
Rainwater and gray water collection systems serve nearby fruit gardens that yield produce for guests, such as guavas and papayas.
The Hix Island House was designed not to only be sustainable but also to withstand extreme conditions such as earthquakes and hurricanes.
It is also known as an adults-only establishment, mainly catering to couples.
Check prices and availability on Hotels.com.
7. The Jalakara in the Andaman and Nicobar Islands, India
Rainforest-surrounded Jalakara is one of the most charming eco-friendly hotels in India.
Located within the Bay of Bengal, the resort is closer to Myanmar than the Indian capital city of New Delhi.
Less than five kilometers from Havelock Ferry Ghat and near the Govind Nagar Beach, Jalakara is an upscale boutique hotel on a former betel nut and banana plantation.
Green initiatives here are quiet but all-encompassing.
There are no chemical cleaning products, no plastic containers, and no disposable utensils. You will find no TVs but may request air conditioning if needed.
Outdoor activities include hiking with local rangers, picking wild fruit, playing badminton or table tennis, snorkeling with turtles, swimming in rainwater pools, and taking yoga classes.
Check prices and availability on Mrandmrssmith.com.
8. The Jumeirah Vittaveli in the Maldives
Like several other eco-friendly hotels on this list, Jumeirah Vittaveli is located on a private island.
The resort features Maldivian architecture and benefits from the combined natural beauty of both the beach and the jungle.
Low-energy LED light fixtures and pools warmed with eco-friendly heat recovery systems decrease the energy demands of the property.
Sustainable fishing and ethical produce purchasing support the resort's busy kitchens.
The Jumeirah Vittaveli also employs a cleaning system that transforms seawater into water fit for drinking. This is served to guests in reusable glass bottles, which saves the five-star hotel from using more than 50,000 plastic containers per year.
Additionally, the Maldives' first ice rink is in the Jumeirah Vittaveli. Synthetic and not dependent on water or electricity, the ice rink is the first of its kind in the world.
Check prices and availability on Booking.com.
9. ParkRoyal Collection in Pickering, Singapore
The ParkRoyal Collection in Pickering is well known as Singapore's first green hotel.
Built with planter terraces, reflecting pools, sky gardens, and waterfalls, it's a modern marvel situated right near Hong Lim Park.
Unlike many entries on this list, the ParkRoyal Collection is right in the middle of an urban landscape. It's not near a private beach or a remote forest. Instead, it's more of a man-made oasis.
Rainwater harvested on the structures upper floors irrigates planters naturally as gravity pulls the water down.
Solar panels power light fixtures and grow lamps. The artificially designed tropical setting includes various plant species and is meant to promote biodiversity.
Although the ParkRoyal Collection in Pickering feels like 15,000 square meters of resource-heavy construction, it's actually constructed to follow a self-sustaining design.
Check prices and availability on Booking.com.
10. Proximity Hotel in North Carolina, United States
When it comes to eco-friendly hotels in the USA, the best can be found in North Carolina. Proximity Hotel in Greensboro was the first American hotel to be LEED-certified with a Platinum rating.
Constructed in 2007 with recycled materials, the 147-room establishment uses over 35 percent less energy and over 30 percent less water than its conventional counterparts.
100 solar panels adorn the Proximity Hotel's rooftop, generating enough energy to heat water for its guests.
The hotel also uses geothermal energy to power its refrigerators and boasts of the first regenerative drive elevators in all of North America.
Guests may enjoy locally sourced food and take advantage of free bicycle rentals.
Check prices and availability on Booking.com.
11. Rancho Margot in El Castillo, Costa Rica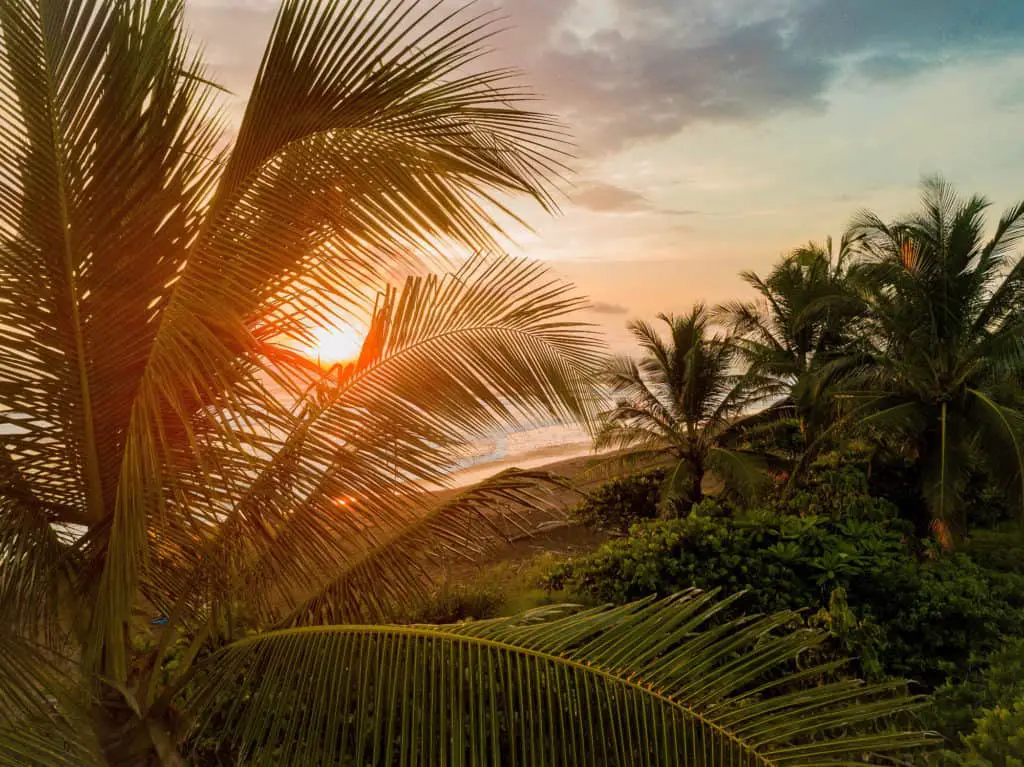 400-acre Rancho Margot is an example of one of the most enchanting eco-friendly hotel concepts.
If you choose to vacation here, get ready to learn from hands-on and ecotourism activities.
Although Rancho Margot offers typical hotel amenities like Wi-Fi access and an in-house bar and restaurant, the real charm is what lies beyond the main hotel's walls.
The self-sufficient farm is right by Lake Arenal and features a rainforest with a river running through it.
More than 10 natural waterfalls and hundreds of wildlife species thrive in the environment. Medicinal plants grow uncultivated on the grounds.
Guests can hike, go horseback riding, or enjoy farm tours that include cheese making and cow milking. You can even go kayaking.
Check prices and availability on Booking.com.
12. Secret Bay in Portsmouth, Dominica
Before anything else, don't confuse Dominica with the Dominican Republic.
The former is part of the Windward Islands of the Lesser Antilles, while the latter is half of the island of Hispaniola in the Greater Antilles. Both are Caribbean nations.
Secret Bay is a boutique hotel in Dominica committed to preserving the pristine nature of the land and water around it.
The establishment is equipped with energy-efficient appliances, doesn't allow single-use plastic bottles, and only distributes biodegradable food packaging.
Custom irrigation systems support over 1,500 plants cultivated by the staff.
Guests may go on boat trips or nature walks to see Dominica's dramatic landscapes filled with hot springs, mountainous terrain, volcanoes, and waterfalls.
Other available activities include hiking on trails, medicinal herb classes, scuba-diving or whale watching outings, and yoga classes.
Check prices and availability on Booking.com.
13. Six Senses Con Dao in Vietnam
If you're looking for a green resort in Asia with a five-star rating, you may fall in love with the Six Senses Con Dao.
As one of the most well-known eco-friendly hotel chains, Six Senses operates in 20 countries – but Vietnam's Six Senses Con Dao is special.
The usual eco-friendly features are in full force: local produce preference, sustainable materials, architecture that maximizes airflow, solar panels, and gray water recycling.
Like the Jumeirah Vittaveli in the Maldives, the Six Senses Con Dao uses reusable glass bottles to provide drinking water to guests.
Besides relaxing by the seashore, guests can get involved in improving the environmental health of the resort's surroundings.
You can participate in supervised wildlife feeding, seagrass planting, and beach cleanup activities.
If you're curious, you can even visit dugongs and sea turtles at the nearby national park.
Check prices and availability on Booking.com.
14. The Spice Island Beach Resort in Grenada
Grenada is another small Caribbean nation with stunning ocean views and a humid climate.
The Spice Island Beach Resort is named after the sovereign state's nickname: "Island of Spice." This is due to the proliferation of mace and nutmeg crops throughout the territory.
The eco-friendly establishment boasts of solar panels, water desalination plants, tree replanting projects, and beach cleanup initiatives.
Non-chlorinated pools and easy access to Grand Anse Beach make the Spice Island Beach Resort an ideal summer destination.
Smoking of any kind is also prohibited throughout the premises.
Check prices and availability on Booking.com.
15. Zuri Zanzibar in Tanzania
Relatively brand new to the tourism industry, luxury resort Zuri Zanzibar opened its doors in 2018.
Located on the northern coast of Unguja, an island in Tanzania, the eco-friendly hotel was built to overlook a private beach with turquoise waters.
The 55 bungalows, suites, and villas of Zuri Zanzibar were constructed with local materials to complement the natural landscape. The end result simulates the look of an African village.
Zuri Zanzibar's custom energy-efficient air conditioning system uses 75 percent less energy than a conventional setup.
Its water system is self-sufficient, using on-site wells and seawater desalination processes.
Guests are provided with organic toiletries and are encouraged to bring over and donate much-needed materials to the local community.
Check prices and availability on Booking.com.
Does Staying in the Best Eco-Friendly Hotels Make You A Sustainable Traveler?
Not completely. Choosing a green hotel helps, but sustainable travel must also include using environmentally-friendly infrastructure to reach your destination – not to mention the trip back home.
Air travel may be unavoidable if you're crossing great distances, but you can offset your carbon footprint a little by booking direct nonstop flights. If you can manage it, consider using mass transportation such as railways and buses.
Are you an active and outdoorsy type?
Consider researching or calling ahead to check if eco-friendly vehicles like electric cars or bicycles are available for rent where you're going. You don't want to be stuck taking fossil fuel taxis everywhere.
Curious about green technology-influenced traveling and its limitations? Learn all about eco-friendly transportation from the Sustainable Citizen.
You Might Also Like…