When you buy a new pair of sunglasses, it is usually for at least one of the following two reasons: to protect your eyes from the sun's harmful UV rays, or to look stylish.
While those are perfectly valid reasons to buy sunglasses, there's a catch: conventional sunglasses also contribute unnecessarily to the pollution of the environment.
And that's probably not a result you wanted to achieve with your purchase.
Because they are made from a combination of materials (plastic, metal, paint,…), most sunglasses are very hard to recycle – and therefore usually end up in landfills.
And since they are mostly made of non-biodegradable plastic, they'll sit there for hundreds or even thousands of years – releasing toxic chemicals into our environment along the way.
9 of the Most Sustainable Sunglasses
So what if we told you there are companies out there that make sunglasses which protect your eyes perfectly, look awesome and are eco-friendly at the same time?
Of course, as you probably know, we wouldn't recommend them to you if they were "only" good products.
That's why each of the companies we'll show you in this article is committed to doing more – by helping people in need or taking responsibility for the environment.
And here's the best thing: getting your new pair of great-looking, eco-conscious sunnies and supporting a good cause at the same time doesn't even have to be expensive, as you will see in a moment.
So without further ado, let's explore some of the top companies that offer truly sustainable sunglasses.
1. Ozeano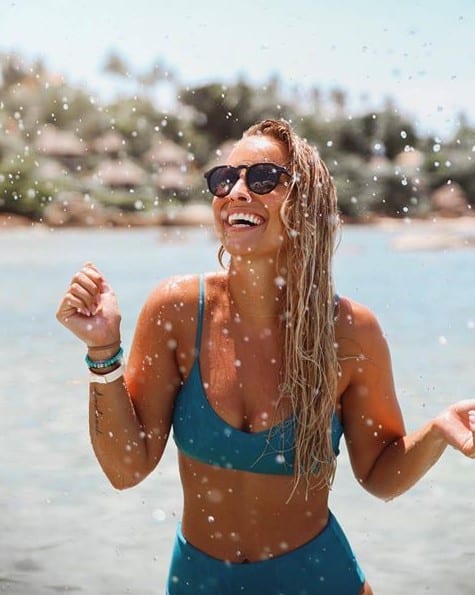 Based in Sydney, Australia, Ozeano is a young company with the mission of cleaning up our oceans from plastic and other trash – all while making you look great with their stylish handmade sunglasses.
Ozeano is actually a certified B-Corporation, meaning their environmental and social impact as well as transparency have been independently audited and meet the highest standards.
With every pair sold, about 12 kg of marine plastic are removed from our oceans and waterways. That amount is equivalent to about 900 plastic bottles.
How exactly does it work, you ask?
Ozeano are partnered with the Australian company Seabin Project, who invented the "Seabin", a revolutionary ocean cleaning technology that helps create cleaner oceans with healthier marine life.
See the Seabin in action in this short clip:
​With each purchase of Ozeano sunglasses, you fund the operation of a Seabin for at least 3 days, during which time it will remove those 12 kg of plastic and marine litter.
Made to operate in calm waters like marinas and ports, the Sea Bin works as a great addition to big offshore projects like The Ocean Cleanup (read more about it here).
Since Seabins operate on a smaller scale and in a calmer environment, they are much easier and cheaper to deploy. There are already thousands of them in operation worldwide.
One single sea bin can capture an impressive 1.4 tons of plastic debris each year.
What's more, it also catches microplastic, fuel, oil and detergents – thus cleaning the ocean water thoroughly.
All of Ozeano's sunglasses are ethically handmade in their ISO9001, ISO14001 and SA8000-certified facility and made from a 100% biodegradable (in 110 days under compost conditions) plant-based material and fitted with polarized UV-400 lenses.
Ozeano offers worldwide shipping and only employs a carbon-neutral shipping service. 
Moreover, with every sale Ozeano funds carbon projects to ensure their products and business are 100% carbon-neutral, and they only use home compostable courier bags to avoid any unnecessary plastic packaging.
To reduce waste even further, you get 25% off your next purchase for life as part of their circular economy and get free lens replacement within the first 2 year, and only $80 to replace the lenses thereafter.
In addition to their commitment to cleaner oceans, Ozeano is a registered member of the 1% for the planet organization and donates 1% of total revenue to support their environmental initiatives.
Every pair of their sunglasses is PETA-approved vegan, and comes with a 100% GOTS-certified organic cotton pouch and cleaning cloth, and a 100% FSC-certified cork case.
Check out Ozeano's full collection here.
Special offer for our readers: use the following coupon code to get 5% off your purchase: CITIZENSUS5
2. Waterhaul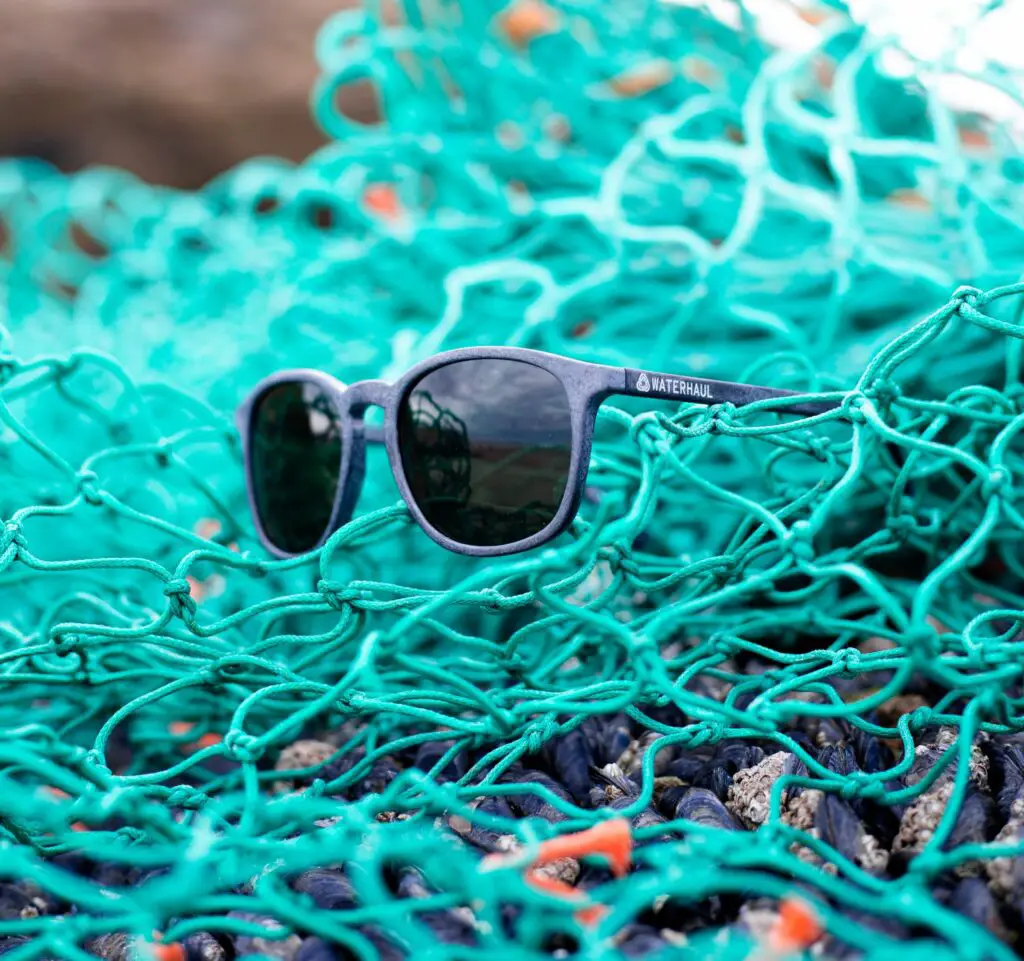 Founded by a marine biologist and product designer, the company Waterhaul transforms the most harmful form of ocean plastic into eyewear with exceptional performance and sustainability credentials.
Waterhaul's mission is to tackle 'ghost gear' – fishing gear that is lost, abandoned or in some cases, intentionally discarded at sea – which makes up about 46% (by weight) of all oceanic plastic waste.
Made from plastic, fishing nets never biodegrade and persist for centuries. And since fishing nets are designed to catch and kill marine life, that's exactly what they keep doing – virtually indefinitely.
Waterhaul break this cycle, by directly recovering nets from the ocean (you can watch the dramatic net recoveries on their Instagram) and through net amnesty programs with fishermen, to give this 'waste' a new value and purpose.
The recovered fishing nets are then washed, shredded, turned into pellets and molded into high-quality, 100% recycled frames by their specialized Italian factory.
Another thing that sets Waterhaul sunglasses apart is the fact that their lenses are made from mineral glass instead of virgin plastic – usually only found on sunglasses with a $250+ price tag.
These Italian premium lenses (made by Barberini) offer vastly superior optical clarity to plastic lenses, have much greater scratch-resistance, and are polarized and UV400+.
Prescription (Rx) sunglasses, and prescription glasses, are also available directly from Waterhaul.
What's more, these will be the last pair of sunglasses you'll ever buy: Waterhaul offers a warranty and lifetime buyback guarantee on all of their frames.
This is part of their circular economy to recycle all of their frames and make sure none end up in landfills.
Being a social-enterprise means the proceeds from the sale of their eyewear help fund the expansion of their ocean plastic recycling programes, such as their programes recently launched in Ghana.
It also supports PlaNET Action educational workshops – where their portable ocean plastic recycling machines are used to inspire the next generation of ocean innovators.
There's also opportunities to join their global network and be part of tackling ocean plastic with their recycled clean-up equipment!
It's hard to imagine how high-quality sunglasses could be any more environmentally friendly.
Check out Waterhaul's collection here.
3. Warby Parker

The New York City-based company Warby Parker was founded with the goal of alleviating vision impairment at the heart of their business model while offering affordable, high-quality glasses.
Their slogan "buy a pair, give a pair" exactly describes the simple and yet impactful idea – for every pair of sunglasses (or eyeglasses) sold, one pair is gifted to someone in need.
Thanks to this socially responsible model, more than 4 million people with vision impairment in over 50 countries worldwide have received a pair of glasses since the beginning of Warby Parker. To that end, they partner with experienced non-profits like VisionSpring.
Especially in developing countries, alleviating vision impairment is a crucial factor which often leads to significantly higher productivity and thereby a higher income for those people, as studies by the WHO have shown.
A few years ago, the company additionally started projects which provide free eye exams in schools and distribute free glasses to those schoolchildren who need them.
Aside from prescription eyeglasses, Warby Parker offers a wide variety of stylish – and surprisingly affordable – quality sunglasses. Naturally, all of their lenses protect you from 100% of UVA and UVB rays.
Additionally, the lenses are treated with an anti-scratch coating, and the company will replace your lenses free of charge should any scratches appear within one year of your purchase.
All frames are either made from plant-based acetate or titanium. Warby Parker has its glasses manufactured in Italy with Mazzucchelli, renowned for its quality acetate production.
A very convenient service is their Home Try-On service: you can have 5 frames sent to you for free, try them on for 5 days, and buy your favorite online. They'll send you a fresh pair of your favorite. Then, you simply return the trial frames with a prepaid shipping label.
Check out Warby Parker's full collection here.
4. Proof Eyewear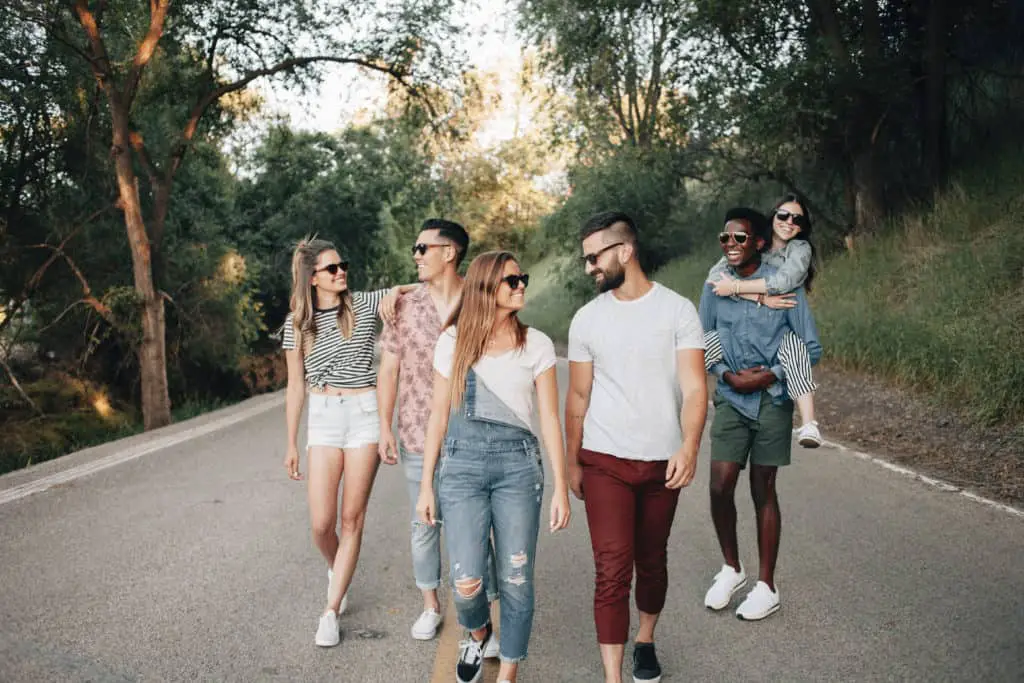 Founded in 2010 by 3 brothers from Idaho, Proof has since become one of the leading brands when it comes to environmentally and socially conscious sunglasses.
The American company embraces the idea of being a global citizen. As a result, giving back and doing good is an integral part of their business model.
Ever since their founding year, they have donated and helped in a variety of ways: tsunami relief in Japan, child soldier rehabilitation projects in Africa, reforestation in Haiti, building two eye clinics in India, and other projects.
When you buy a pair of Proof sunglasses, $10 of every purchase goes to support an environmental or social cause.
Which cause will your money go towards? That depends on which collection you purchase from:
Collection
Made from
Supports
Wood Collection
sustainably sourced wood, including bamboo, lacewood, ebony or mahogany
Health and Vision projects worldwide.
This includes health screenings, cataract, club foot, and cleft lip surgeries.
ECO Collection
cotton-based acetate and wood
Empowerment projects around the world.
Aim to provide long-term solutions like micro-loans or Safe Houses for women and children.
Skate Collection
recycled Canadian maple skateboards
Environmental protection projects worldwide.
Reforestation efforts and partnership with the Nature Conservancy.
Aluminum Collection
recycled aluminum
Education initiatives around the globe.
This includes rebuilding schools or covering school fees and supplies.
As you can see from the table above, all of Proof's handcrafted sunglasses and optical frames are made from either renewable resources or recycled materials.
No matter which collection you choose from, your new pair of Proof shades will have a minimal ecological footprint but a big positive social or environmental impact.
Check out Proof's full collection here.
5. Costa Sunglasses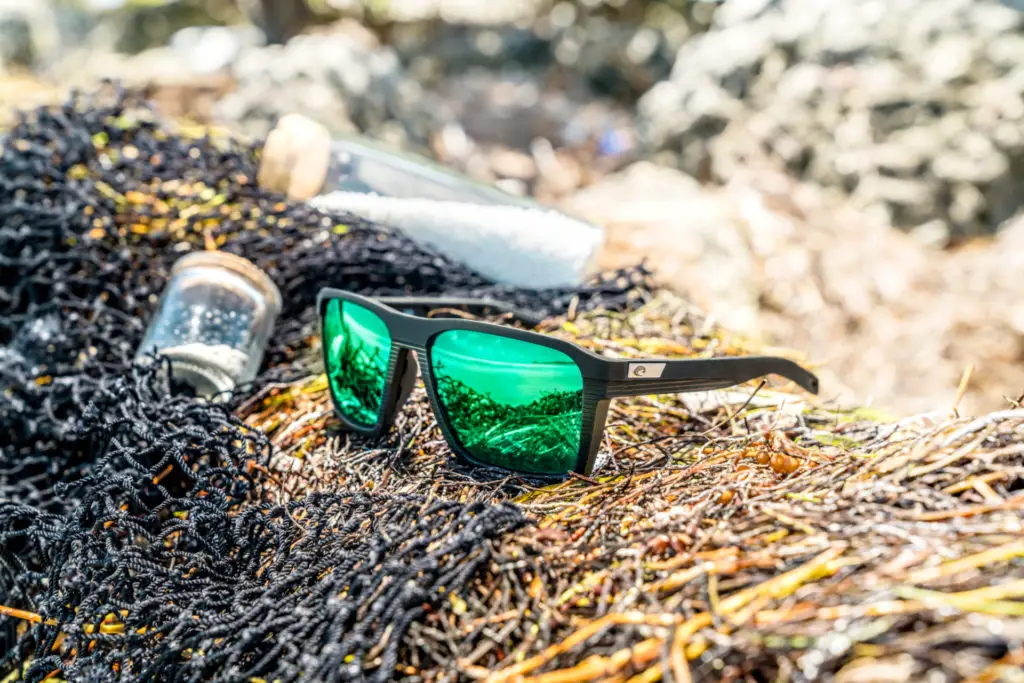 Founded in 1983 by a group of fishermen, Costa Sunglasses have been supporting our oceans and beaches for several decades now.
They've been doing this by organizing beach cleanups, supporting non-profits like the Coastal Conservation Association and projects like OCEARCH, as well as by using Bio-Resin in some of their sunglasses.
With the latest generation of their Untangled Collection, they are going one step further in tackling the increasing problem of ocean pollution.
To that end, Costa partnered up with BUREO whose aim is to reduce fishing net pollution in our oceans.
In simple terms, BUREO's process consists of collecting discarded fishing nets from coastal communities, cleaning them, separating them by material, shredding, and then melting them into pellets.
Those pellets can then be used to make high-quality products like sunglasses and many other products which are conventionally made from virgin plastic.
Costa's latest Untangled Collection improved on its original iteration from 2018 by improving the recycling and molding technology and establishing a 100% traceable supply chain for the material.
In addition to being made of at least 97% recycled fishing nets, all sunglasses in the new Untangled Collection feature recyclable, polarized mineral glasses as well as logos made from recycled aluminum.
6. Zeal Optics
Based in Boulder, Colorado, Zeal Optics is an American company providing outdoor enthusiasts with quality sunglasses and ski goggles.
Their simple and yet effective motto is "Use less, give back, explore more", which summarizes their core values brilliantly.
The company's intelligent designs use plant-based materials as an alternative to plastic.
All of their frames use castor oil as starting material, which is derived from castor beans. The coating on their polarized lenses is made from a plant-based polymer called Ellume.
Using natural materials instead of petroleum-based materials, the production of Zeal Optics' sunglasses has a much lighter ecological footprint than conventional production based on fossil fuels.
They have many designs, including classic sunglasses designs such as wayfarers and even some more interesting, unique, and modern looks.
Furthermore, Zeal donates to charities and supports projects of all kinds, including preservation charities, environmental charities, and children's charities, continuing their holistic work every time a pair of their sunglasses is purchased.
7. Blue Planet Eyewear
Based in California, Blue Planet Eyewear's business model is to combine eco-friendly sunglasses with social responsibility.
All of their products are made with recycled and/or natural materials like bamboo or wood. By reclaiming and repurposing excess plastics and metals from conventional production, the company gives those materials another life and saves them from going to landfills.
With every pair sold, the company donates one pair of corrective eyeglasses to a person in need through their partnerships with organizations such as SEE International, Feed the Children, Direct Relief, and Best Day Foundation.
Through this project, which the company calls Visualize Change Program, more than 750,000 pairs of eyeglasses have already been provided to people struggling with vision impairment.
A few years after the start of their Visualize Change Program, Blue Planet Eyewear felt like they wanted to do even more, so they additionally started their project Random Acts of Kindness.
As part of this program, the company's staff volunteers spend one day each month to helping to improve and grow their local community. From beach cleanups, to animal shelters, to gleaning oranges to donate to welfare groups, the types of volunteer projects are as diverse as their community.
8. Swell Vision
Swell Vision's products are an expression of their mission: to promote sustainability across our globe.
All of their sunglasses are handcrafted, and their frames are made from sustainably sourced bamboo and equipped with polarized lenses. Some of their models are made with both bamboo and plant-based acetate.
Did you know that some of the more than 1,000 species of bamboo are the fastest growing plants on earth, growing up to 91 cm (35 in) per day? But the super-fast growth rate is not the only reason that bamboo makes an excellent building material.
Bamboo, which is actually a grass, also reaches its full height and diameter within 1 growing season of just a few months, has a higher compression strength than wood, brick or concrete, and has a tensile strength similar to steel – all at an unrivaled strength-to-weight ratio.
So as you can see, Swell Vision's sunglasses clearly speak the language of sustainability. But the company does more than "just" make eco-conscious products.
Children are, in general, the most creative and optimistic people on earth. Educating the next generation of green leaders and changemakers is the goal of the Green School.
With every pair of sunglasses you buy from Swell Vision, the company pays for 2 weeks of tuition for a local student. A sponsor of the local scholarship program since 2014, Swell Vision's support today enables 40 Balinese children to attend the Green School full time.
Through a holistic, natural education based on sustainability, this greenest school on earth on Bali has been helping students develop the skills necessary to solve our planet's most urgent problems since 2008:
Investments into education in order to come up with eco-friendly solutions to our current environmental issues are probably the most underrated – and yet surely the ones with the greatest potential for meaningful change.
9. Dick Moby
The European company Dick Moby started their first collection of sustainable sunglasses in 2014 after a successful crowdfunding campaign on Indiegogo.
The founders of the Amsterdam-based brand are two Dutch surfers who were appalled by the plastic pollution in our oceans during a surf trip – that's how the idea to tackle pollution came about.
All of their sunglasses are fitted with UV400 ZEISS lenses, which protect your eyes against 100% of all harmful UVA and UVB rays. Furthermore, these lenses come with a hardened anti-scratch and anti-reflection coating for maximum durability and comfort.
All of their colored frames are made from bio-acetate, which in turn is made using cellulose from wood pulp, which is a renewable resource. No toxic chemicals like plasticizes are added, which is often the case with conventional acetate products.
The glasses are produced in Italy by the well-established company Mazzucchelli, known for its quality. All Dick Moby glasses are partially handmade. Here's a short video of the production process (narrated by one of their sunglasses):
All of Dick Moby's black frames are made from 97% recycled acetate and 3% black ink, which is a great way to further reduce waste and recycle as many resources as possible.
Speaking of recycling, every pair comes with a recycled microfiber cleaning cloth and a recycled leather case. The cleaning cloth is made from 7 used PET plastic bottles. That's 7 plastic bottles which won't end up in our oceans or elsewhere, polluting our environment.
The leather cases are made from tanned leather scraps that would have otherwise ended up in landfills. Instead, they are reused and given a new life and purpose – which is to protect your new pair of Dick Moby shades.
Conclusion
Let's be honest: we don't need another brand of conventional plastic sunglasses which only exists for its own profit.
Instead, what we and our planet need is more businesses like the ones that we have explored in this article – businesses that use their products as a vehicle to make this world a little bit better of a place.
When you see the wonderful work being done by these sustainable brands, it is hard to justify purchasing a pair of sunglasses anywhere else.
Which one is your favorite?
P.S.: Don't forget to bring your sustainable swimwear as well as ocean-safe sunscreen to protect your skin from harmful UV rays.
You Might Also Like…