Did you know that harmless looking bottle of dish soap sitting by your kitchen sink could contain up to 8 toxic chemicals?
It's true.
In fact, things like phosphates, chlorine, formaldehyde and more make dish liquids one of the biggest offenders in chemical-ridden cleaning products.
And while it may not be your favorite household chore, washing the dishes shouldn't be a health risk!
In this post you'll learn which brands of dish soap are some of the safest for you, your family, and the environment.
Dish Soap's Dirty Secrets
Most commercial dishwashing soaps are sold with the promise of making clean-up easy while improving your home and protecting your health by removing grime and germs.
Their pleasant fragrances also claim to enhance the chore by providing a fresh lemony or other  "natural" scent.
Look at the label, though, and you'll see these cleansers more often than not contain toxic chemicals that can harm your health.
This is particularly concerning for a product that's typically used three or more times a day.
There are seven chemicals you should look to avoid when purchasing dish soap:
Another red flag to look for on a label is "fragrance added."
Because manufacturers are not yet required to list what goes into their products' fragrances, you have no way of knowing if the scents are derived from chemicals and potentially toxic.
4 Environmentally-Friendly, Sustainable & Safe Dish Soaps
It's probably safer to avoid these regular products and choose one of these fragrance-free or naturally fragranced, plant-based dish soaps.
They don't contain harmful chemicals, which makes them kind to your and your family's health as well as to our waterways and marine life.
1. Dr. Bronner's – Pure-Castile Liquid Dish Soap
Dr. Bronner's was founded in 1948 by an original fair trade leader, Emanuel Bronner. The company has been spreading its ecological message ever since, making socially and environmentally responsible products for a wide variety of uses.
Its mission is to embrace constructive capitalism, give back to the community, practice earth-friendly production, and use sustainable packaging (all of their plastic is 100% post-consumer recycled).
In fact, you'd be hard pressed to find a company that is more committed to making our world a better place. Each year a small group of Certified B Corps are honored "Best For The World" in recognition of their outstanding ethical and sustainable approaches to business. And each year since becoming a B Corp, Dr. Bronner's has been honored to be among that select group.
In 2018, Dr. Bronner's actually earned the third-highest B-Corp score ever achieved by any B-Corporation in the world.
The owner's capped their own salary at a ratio of 5:1 compared to the lowest wage paid to employees, and a huge part of the company's profit are invested in social and ecological projects worldwide.
Made from safe, simple plant oils, the brand's dish soap is considered harmless for even the most sensitive skin types. It's so natural, many people actually use it as body wash and shampoo as well.
Biodegradable and super effective, it comes in eight pleasing scents, including relaxing lavender and the line's most popular fragrance, peppermint.
2. Common Good Dish Soap
This Brooklyn-based company has been making eco-friendly cleaning products for nearly a decade.
Its concentrated bergamot, lavender, and unscented dish soaps are 100% biodegradable, paraben and sulfate free, and scented with pure essential oils.
Gentle on your hands, the soap is still powerful enough to tackle a whole sink full of dishes.
And it's a triple hitter when it comes to safety, with kids, pets, and the environment all protected by its gentle, plant-based ingredients that are Leaping Bunny certified.
One of the brand's biggest eco-friendly selling points?
Refillable bottles. The company was founded by concerned parents who wanted to reduce the amount of single-use plastic generated by household cleaners.
Their packaging's innovative, modern design is a terrific green alternative to single-use plastics.
3. Better Life Dish Soap
If you're a fan of TV's Shark Tank, you may remember the incredible scene when Kevin Tibbs sprayed Better Life's all-purpose cleaner in his mouth!
Since then, the company was fully funded and has expanded its reach from its Clean Happens website into retail locations both in the U.S. and internationally.
All Better Life's products are non-toxic, biodegradable, and safe for kids and pets.
The company is committed to no animal testing and post-consumer recycled packaging. It's so deeply dedicated to green practices, it even uses solar panels at its U.S. manufacturing facility.
The brand's hypoallergenic, naturally grease-kicking dish soap contains vitamin E and aloe, making it so gentle you won't need to use gloves while cleaning up.
And since all Better Life products are made from a blend of natural, sustainable plant sources, they're completely safe for septic systems.
4. The Honest Company – Honest Dish Soap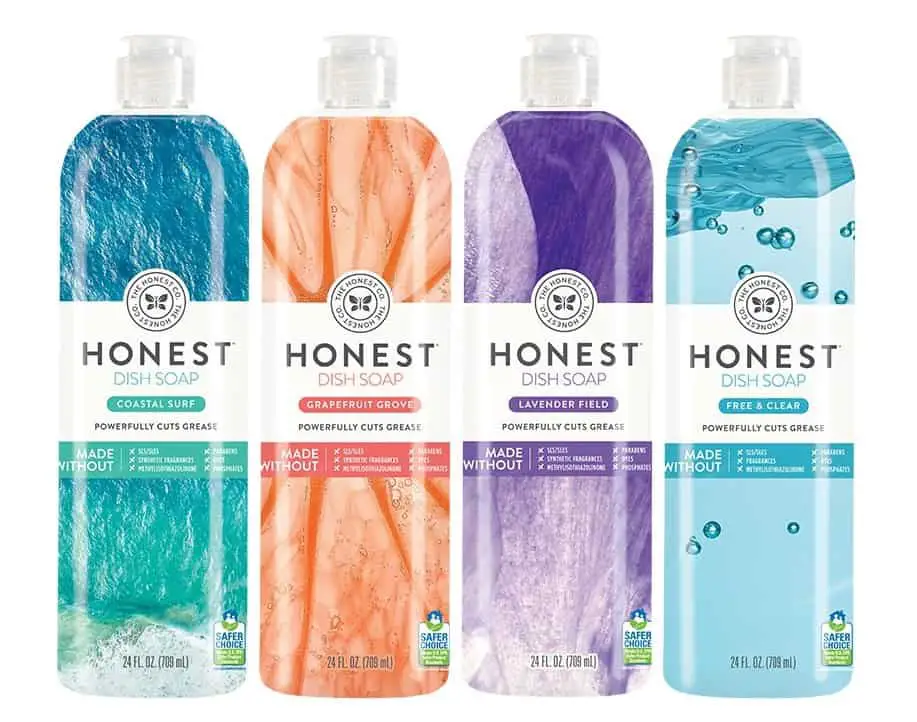 Can a gentle dish soap made with plant-derived ingredients also be tough on dirt and grime?
The Honest Co.'s dish soap is a natural and eco-friendly option that's tough on grease and gives a great clean to dirty dishes.
Free of harsh or questionable chemicals, this soap is a USDA-certified bio-based product which is made with aloe leaf juice and plant-derived surfactants.
It is dermatologist tested and hypoallergenic, so it won't dry out your hands and is available in three soft scents as well as a free and clear version.
Fairly unique to the company is a separate product made just for babies that safely and effectively removes milk and food residue from baby bottles, sippy cups, pacifiers and more.
The company itself is driven by a single purpose: doing its part to help create a healthy and sustainable future for all. Through its Social Goodness program, the Honest Co. works towards advancing research and education aimed at creating safe products that have a positive social impact.
Conclusion
They say hard work never killed anyone, but chemical-infused cleaning products can be dangerously toxic.
Replacing them with safer, more natural options that truly work can be the best decision you make for your dishes, your family, and planet earth.
You Might Also Like…