How's your hair looking these days? How is your skin feeling?
If the answer to either is not great, it's likely because you're using a poor quality shampoo and body wash.
However, even if you think your hair and your skin are both fine, this may not be the case long-term if you're not careful about the shampoo or body wash product that you're using.
This is because many shampoo and body wash products use potentially harmful ingredients that can damage your hair and your skin as well as possibly cause other health issues.
It's why many people go for more eco-friendly shampoo and body wash products as they typically use healthier ingredients.
Unfortunately, many of these eco-friendly products aren't as eco-friendly as they seem, especially when they are packaged in plastic tubes or bottles.
The solution?
Find yourself a shampoo and body wash that are both healthy and truly eco-friendly – meaning that they use healthy, environmentally-friendly ingredients and plastic-free packaging.
In this article, we'll show you exactly how to choose a sustainable and healthy shampoo and body wash, plus some really great brands.
8 Sustainable Soap & Shampoo Brands
The following are brands that are known for using healthy, eco-friendly ingredients as well as plastic-free packaging.
Many of these brands offer a variety of different products, including different types of shampoos and body wash products.
1. Ethique
Ethique is French for "ethical," so it should come as no big surprise that their entire company philosophy revolves around creating eco-friendly products.
Even their mission statement clearly states their desire to "rid the world of plastic waste."
Based out of New Zealand, their founder began creating beauty bars with the specific goal of providing an alternative to shampoo and conditioner products packaged in plastic bottles.
Their soaps are all plastic-free, plant-based, cruelty-free (certified by PETA), sustainable, long-lasting, and certified palm oil-free.
They also donate 20 percent of their profits to a number of nonprofit animal rescue and rehabilitation organizations.
They have a variety of shampoo bars and body wash bars available to meet different needs. For example, they have shampoo bars for dry and frizzy hair, dandruff and scalp problems, and for oily hair.
Their Pinkalicious shampoo bar is made for normal hair and uses coconut oil, vanilla oil, cocoa butter, and pink grapefruit peel oil as its main ingredients.
They also currently carry 10 different bodywash bars with different natural scents, such as their Lavender Mint bar, which uses lavender essential oil, sodium olivate (derived from olive oil), peppermint oil, and sodium cocoate (derived from coconut oil).
2. Fifth Origins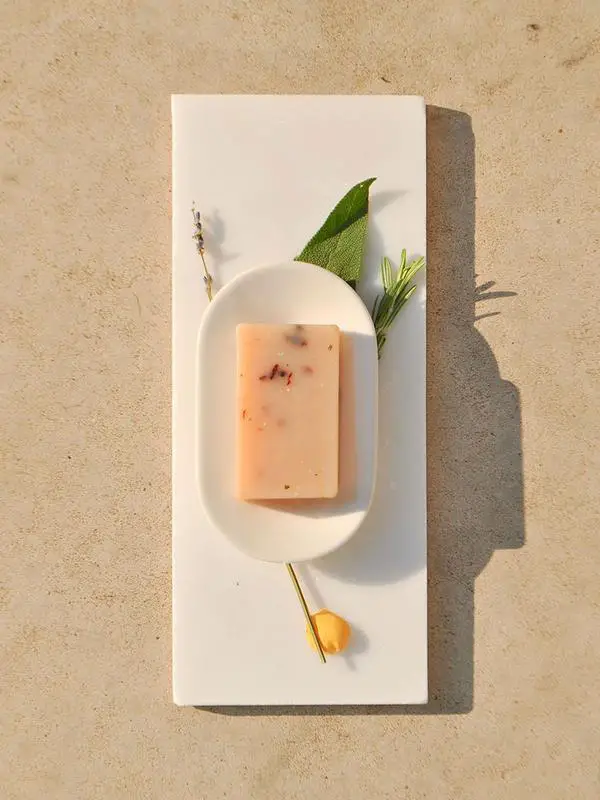 Fifth Origins, based out of the Netherlands and founded by Sindhu Holla, promise integrity and put humanity and social impact at the heart of their business.
Their products are all ethically sourced and sustainably handmade by rural Artisans.
Aside from unique ethical fashion, they also offer soap bars and scrubs.
The Himalayan Soaps + Scrubs are 100% natural, vegan and handcrafted by artisan women of the Kumaon region in the Himalayan mountains, using naturally medicinal herbs.
Some of their bestselling soaps include Neem and Turmeric and Rosemary and Apricot – Rosemary offers a fresh fragrance and is said to have antiseptic properties. The apricot kernel provides your skin with a gentle scrub.
3. Everist
Everist is a new brand of concentrated shower-care products created for eco-optimists.
Instead of shipping a traditional plastic bottle of body wash that is mostly water, Everist launched in 2021 with patent-pending waterless shampoo, conditioner and body wash pastes.
1/3 the size of traditional body wash, packed in recycled and recyclable aluminum tubes and activated by the water you're already using in the shower.
These 10x award-winning concentrates have a base of skincare ingredients (aloe vera and vegetable glycerin) to hydrate and condition, in addition to providing
a deep and satisfying cleanse.
They are scented without synthetic fragrances (instead using an invigorating essential oil blend of bergamot, orange peel, peppermint, rosemary and clary sage), made of 100% plant based and biodegradable ingredients and full carbon neutral (Climate Neutral Certified).
They are a 1% for the Planet member and have a closed-loop CapBack program to return their small caps to be upcycled into new Everist products.
In 2021, Everist concentrates were named one of Time's Best Inventions.
4. Dr. Bronner's
Founded in 1948 by the German-Jewish immigrant and master-soapmaker Emanuel Bronner, the family-owned and run business has become the top-selling brand of organic & fair trade body care in the U.S.
This stunning success is certainly not a result of clever marketing or advertising. In fact, the company has never spent a single dollar on advertising or celebrity endorsement or solicitation.
Even the label (with its 3,000-word wall of text on their liquid soap) flies in the face of everything that is considered good and effective label design. As a matter of fact, for much its history, the company was run by a blind man – Emanuel Bronner lost his eyesight later in life – without any salespeople.
Only through word of mouth and products of the highest quality, while dedicating its profits to help make a better world, did Dr. Bronner's become the best-selling ecological soap brand that it is today.
All of their soaps are made traditionally, using exclusively natural and certified organic ingredients. What's more, Dr. Bronner's is working closely with their suppliers across the world on fair trade projects that ensure fair and just treatment of farmers and workers.
And that's just the tip of the iceberg when talking about their social and environmental commitment. If you want to see in what other various ways the company invests all profit that's not needed to run the business, check out the details on their website.
Suffice it to say that in 2018, Dr. Bronner's has achieved the third-highest score ever earned by a certified B-Corp and has been honored "Best For The World" every year ever since they became a B-Corp.
While many people use their Pure-Castile Liquid Soap with great success as both, body wash and hair shampoo, their Pure-Castile Bar Soaps offer some advantages for hair washing in certain conditions.
This is because – while essentially using the same natural ingredients – hemp & jojoba oil are added after the coconut, palm, and olive oils have been turned into soap. That's why the bar soaps are slightly more moisturizing than their liquid soaps.
So if you have thick or dry hair or very hard water, you'll likely be better off with the bar soap for your hair. Otherwise, one product (liquid or bar) should be fine for hair and body.
And while the liquid soap does come in a plastic bottle, it is actually made of 100% post-consumer recycled plastic, so it not only avoids the production of virgin plastic, but also diverts already existing plastic from landfill.
5. Friendly Soap
Friendly Soap, which is based out of the UK, declares that they put ethics before profits. As such, their soaps are vegan, cruelty-free, plastic-free, and made by people who are paid a living wage.
Additionally, none of their products contain palm oil or parabens and are completely biodegradable. In addition to being plastic-free, their packaging is made from 100 percent recycled and recyclable materials.
Every aspect of their operations is eco-friendly as well. For example, they only use brown paper tape for the delivery of their parcels and use poppy seeds and hemp brain instead of microbeads to provide their soaps with exfoliating properties.
Their efforts earned them the Green Parent Natural Beauty Gold Award in 2018 and a "Best" rating from Ethical Consumer.
As far as bars go, Friendly Soap offers several shampoo and bodywash bar options.
Their Aloe Vera body wash soap bar only uses four ingredients: coconut oil, shea butter, olive oil, and aloe vera. A fifth if you count water. It's completely fragrance-free and is nourishing, moisturizing, and gentle on the skin.
As for shampoo bars, they offer two options: Lavender & Geranium and Lavender & Tea Tree. Both use castor oil (a natural conditioner and scalp treatment ingredient), olive oil, coconut oil, and essential oils.
6. Funky Soap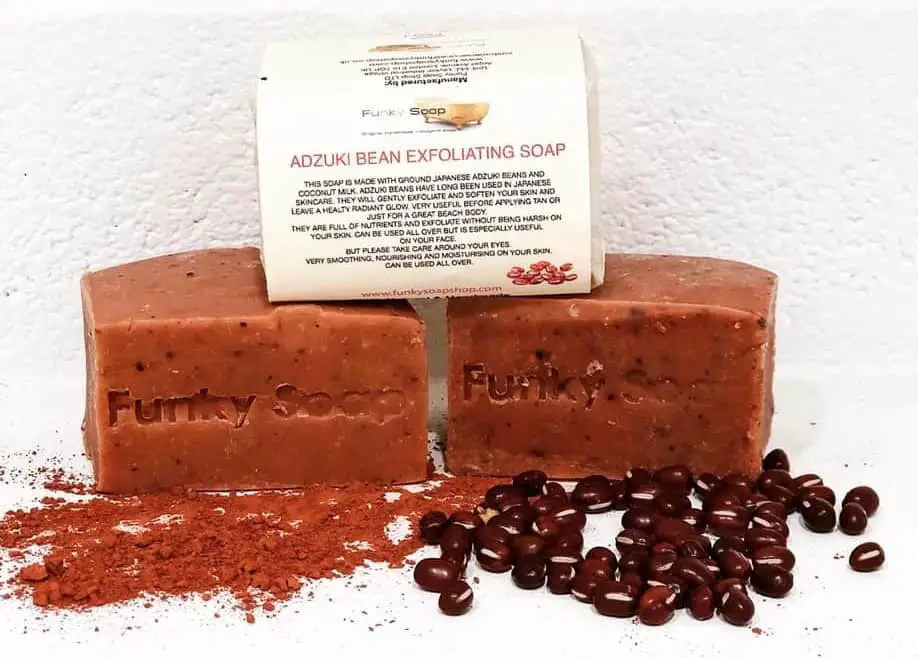 Funky Soap started off as a local London business that sold handmade soaps from a small market stall. They've since expanded, but have continued to produce their soaps by hand using the cold process method.
Their soaps are made using only 100 percent natural ingredients that are fresh and sustainable, including pure oils and butters.
It is worth noting that they do use palm oil. However, they only use 100 percent RSPO Certified Sustainable Greenpalm palm oil.
Their packaging is made using sustainable sources as well. Besides the fact that their soap products are plastic-free, they also use bubble wrap, plastic bags, and packaging peanuts that are actually biodegradable. 
Funky Soap produces a wide range of shampoo and body wash bars. They have numerous body wash bars available for dry, normal, sensitive, and oily skin. In addition, they have plenty of shampoo bar options for normal, dry, oily, and sensitive hair as well as for hair and scalp problems.
For example, their Carrot and Honey Soap, which is for sensitive skin, is made using fresh carrots. Carrots contain vitamin A and C and antioxidants, all of which help repair skin tissues.
This particular soap also contains certified sustainable palm oil, olive oil, castor oil, grapeseed oil, shea butter, Tumeric, and other natural ingredients.
7. Tom's of Maine
Tom's of Maine has been around since 1970 and their mission has always been to provide a natural alternative to the many chemical-filled products on the market.
In fact, they sold the first-ever natural toothpaste available in the U.S. They have continued to maintain a reputation for the quality of their natural products, including their body wash bars, and for their sustainable business practices.
For example, they partnered up with TerraCycle to create a free recycling program for their natural care products and packaging. Additionally, they are a certified B-Corp and give 10 percent of their profits to national non-profits as well as community organizations throughout Maine that are committed to health, education, and the environment.
All of their products use ingredients that are sourced and derived from nature and are free of artificial fragrances, preservatives, colors, flavors, and sweeteners.
Tom's of Maine only sources their ingredients from suppliers that respect human and labor rights. They also prioritize the use of recyclable and renewable materials, and support sustainable growing and harvesting practices.
They currently offer six different body wash soap bars, including Lavender & Shea, which is made using shea butter, or Coconut with virgin oil. It's worth noting that although they do use palm oil in their soap, it is Rainforest Alliance Certified.
8. Beauty and the Bees
Beauty and the Bees was founded more than 25 years ago with the goal of creating products for dry, sensitive, eczema-prone skin.
Based out of Tasmania, Australia, they make all of their soap products by hand and from scratch using only pure, natural local food ingredients. They are one of the most eco-friendly manufacturers of shampoo bars and body soap bars that you will find.
Their products are 100 percent chemical-free as well as 100 percent plastic packaging free. All of their many products are packaged in reusable and recyclable glass, tin, paper, or cardboard packaging.
10 years ago, Beauty and the Bees replaced the use of palm oil as an ingredient in most of their products with raw coconut oil and soy wax. In fact, they became one of the pioneers of the palm oil-free movement in Australia. While a few of their products do still use palm oil, the palm oil that they use is RSPO certified.
As far as their offerings go, Beauty and the Bees has one of the most extensive selections of shampoo bars and body wash bars you'll find.
This includes over a dozen different shampoo bars, such as their Voodoo Bamboo Charcoal Shampoo Bar, which is made with coconut oil, olive oil, castor oil, bamboo charcoal, Tasmanian seaweed extract, Leatherwood beeswax and honey, and essential oils.
They have just as many unique body wash bars, such as their Tasmanian Seaweed & Green Tea Scrub Bar, which is made using poppy seeds, green tea infusion, essential oils, Tasmanian seaweed extract, and other healthy, eco-friendly ingredients.
Why Plastic Packaging Is a Huge Problem
There are tons of shampoo and body wash products out there that appear eco-friendly at first glance. They may even be marketed as being eco-friendly due to the ingredients that they use.
Yet many of these products come packaged in plastic, which means that they are not truly eco-friendly.
Why is this a problem?
First of all, plastic is not biodegradable. Almost all plastic that's been produced (roughly 9.1 billion US tons) still exists today.
It's estimated that around 79 percent of the plastic that's been produced has ended up in landfills or in the natural environment.
Besides taking up space, plastic is also incredibly harmful to the environment. Plastic is directly responsible for the deaths of countless animals.
Although plastic doesn't biodegrade, it does break into smaller pieces, which animals then accidentally consume.
Plastic is not digestible, which means that this results in intestinal blockage, malnutrition, or slow poisoning caused by the chemicals contained in plastic.
Roughly 90 percent of the world's sea birds have plastic trash inside of their guts. Additionally, it's estimated there are more than 270,000 tons of plastic in the world's oceans and that its presence threatens some 700 marine species. 
So even though you might be buying body wash or shampoo that's 100 percent certified organic, vegan, and completely healthy for your hair, scalp, and skin – if it comes packaged in plastic, then it's contributing to a serious environmental problem that is threatening the existence of numerous species.
Bars or Liquid? Why You Should Switch to Bar Soap
One thing you're going to quickly realize is that if you want to purchase a plastic-free shampoo or body wash, you're likely going to have to buy it in bar form.
Very few liquids come in plastic-free packaging – although there are some products that come in plastic bottles that were made using recycled plastic, which is certainly better than nothing.
You might also be able to find shampoos and body wash products that come in glass bottles.
However, storing anything made from glass in your shower is probably not the best idea for safety purposes.
The biggest advantage that a liquid shampoo or body soap has is that it's easier to apply. You need to take a few seconds to lather up a bar of soap, after all.
Bars Are More Economical & Natural
Bars last much longer. According to the Swiss Federal Institute of Technology, people use seven times as much liquid soap as bar soap when washing their hands.
Additionally, bars don't contain many of the additives that many liquid soaps have, such as sodium lauryl sulfate and ammonium lauryl sulfate, both of which strip the natural moisture out of your hair and skin.
Besides the fact that it takes longer to apply, one other drawback of bar soap is that you can't leave it in a puddle of water. It's why leaving it on a soap dish with ridges is a good idea.
If it's left to soak in water, not only will it waste soap, but it could attract bacteria. However, this issue is an easy one to avoid.
Oh yes, and you can travel with them on a plane!
What Is the Difference Between Shampoo and Body Wash?
One thing you might be wondering is whether you can use your shampoo as a body wash or use your body wash as a shampoo.
Is there really a need to have two separate soaps for your hair and your skin?
Generally speaking, yes. They are made for different purposes. For example, liquid shampoo products are often slightly acidic.
This is done to keep the hair smooth; however, when used on your skin, it can cause irritation.
Not to mention that some of the ingredients found in shampoo products that you should avoid (such as sulfate) are going to be even worse for your skin than they are for your hair.
While you could use your liquid shampoo as a body wash, you're going to end up having to use a lot more than usual to get the job done.
Not to mention that shampoo products aren't designed to remove dead skin cells like some body wash products are (such as those with exfoliating properties).
Shampoo Bars vs. Body Wash Bars
With bar soaps, ingredients are also chosen based on whether the bar is made to clean hair or to clean skin.
Additionally, it may be easier to use a shampoo bar for your hair instead of a body wash bar because shampoo bars use more superfatting, which is the process of adding extra oils.
Superfatting improves the shampoo bar's ability to lather, making it easier to use on the hair and to prevent the hair from being weighed down.
However, depending on what the ingredients are, some shampoo bars may be suitable as a body wash substitute.
These may be particularly interesting for someone looking for an all-in-one shower bar.
But generally speaking, the ingredients used are chosen based on whether the bar is for shampoo use or body wash use.
This very short video shows how to easily and correctly use a shampoo bar (you'll find out more about the brand and their bars later in this article):
How to Choose Healthy & Eco-Friendly Shampoo & Body Wash (& What to Avoid)
There is a surprising amount of ingredients used in shampoos and body wash that you should be sure to avoid.
Many of these ingredients are chemicals that are commonly found in liquid products in particular.
There are some cases in which the amount of the chemical being used is too minor to have any real effect on you.
But it's worth keeping in mind that because you're using these products on your scalp and body, some of it will penetrate your skin and be absorbed as well.
As a result, you'll want to be very careful with what you use, especially since some of these chemicals may not have any short-term negatives but could potentially have long-term negative effects.
The following are some of the ingredients you should avoid:
Fragrances
The only kind of scent that a shampoo or body wash should use is one derived from natural essential oils.
If you see the word "fragrance" on the packaging and there's no mention of natural essential oils, it means that it's artificial.
Manufacturers use the term "fragrance" in lieu of the actual ingredients used to create the scent.
They can get away with this because the FDA considers the ingredients used in creating the fragrance potential trade secrets.
According to the Campaign for Safe Cosmetics, these fragrances often consist of both natural essences and synthetic chemicals.
The International Fragrance Association lists over 3,000 materials as being used in these fragrances.
Some of these chemicals include acetaldehyde, which has been linked to cancer and is classified as a potential carcinogen, and benzophenone, which is linked to endocrine disruption, organ system toxicity, and cancer.
Parabens
Some manufacturers will add parabens to their shampoo or body wash to prevent the buildup of bacteria and other microbes. Basically, they're used as preservatives.
However, parabens are known to disrupt hormone function. As a result, they are linked to an increased risk of developing breast cancer.
More studies need to be done to determine if there is a causal relationship between parabens and cancer, but several studies have found traces of paraben in breast tumors.
Additionally, parabens have been linked to skin irritation, neurological issues, immunological issues, and reproductive issues. So it's best to avoid them altogether.
Formaldehyde
Formaldehyde is an ingredient used in shampoo and body wash to help prevent microbes from growing.
Major companies used to use formaldehyde in their products, although many have begun removing it from their ingredients (Johnson & Johnson were one of the major companies to have done so).
However, some products still do contain formaldehyde and it's best to avoid them since it can be absorbed through the skin and has been linked to not just allergic skin reactions, but to cancer as well.
Petroleum
Petroleum is another ingredient used in a vast number of cosmetic products. For example, vaseline is basically petroleum jelly.
The original petroleum jelly was found on the bottom of oil rigs as a byproduct of oil production.
This, in itself, makes petroleum-based ingredients an unsustainable resource. 
Sulfates
There are many types of sulfates that are used in shampoos and body wash products – you should avoid all of them.
Sulfates are petroleum-based chemical detergents that are often used in household cleaning products. They are used because they help create a lathering effect that makes it easier to remove oil and dirt.
Sulfates also work as a surfactant, which is a substance that helps to reduce the surface tension of water.
This makes it easier for the shampoo to loosen the grease and sebum that's in your hair and on your scalp.
However, they are very harsh on your hair and skin and can strip away natural moisture as well.
They can also potentially cause serious long-term health issues. Take for example sodium lauryl sulfate.
According to the International Journal of Toxicology, this type of sulfate penetrates the skin with ease and can circulate inside your body for upwards of five days, leaving residue in your liver, lungs, heart, and brain as it does so. 
Then there's sodium Laureth sulfate, which often contains 1,4 dioxane, which is a byproduct of ethylation oxide and a known carcinogen. It has also been linked to kidney damage.
1,4 dioxane is never listed on the ingredients of a shampoo or body wash product because it's considered a byproduct and not a part of the formulation.
As such, avoid Laureth sulfate and avoid any type of sulfate altogether.
Palm Oil
If you're worried about your health, both long-term and short-term, palm oil isn't something that should concern you. It's just another vegetable oil, like rapeseed oil or sunflower oil.
What should concern you is that the use of palm oil in products of any kind is detrimental to the earth.
The thing is, palm oil is a very popular ingredient that's used in many, many different things.
It comes from the fruit of African oil palm trees, although these trees can now be found in Malaysia and Indonesia. While they grow naturally in tropical rainforest climates, they are also being planted and farmed specifically to produce palm oil.
As a result of the demand for palm oil, its production is estimated to have been responsible for around 8 percent of all of the world's deforestation between 1990 and 2008.
People are essentially burning down forests in order to plant more African oil palm trees. As you can imagine, this is destroying the biodiversity in many areas and displacing wildlife, like orangutans, tigers, elephants, and rhinos.
Unfortunately, a significant number of shampoo and body wash products use palm oil.
If a product you're looking at does have palm oil, make sure it has the RSPO (Roundtable on Sustainable Palm Oil) label, which indicates that the palm oil came from a sustainable source.
Don't Fall Into the "pH Balanced" Marketing Trap
All natural soaps are more or less alkaline, whereas the skin's natural acid mantle is – well – acidic.
Does this mean that using soaps – even if they are completely natural and only contain organic ingredients – interferes with the skin's pH ?
Yes, it does. But so does cleaning yourself only with water (since water has a pH of 7, which is higher than the skin's pH)
Likewise, even chemically "pH balanced" (which means slightly acidic detergents) disrupt the skin's natural acid mantle.
That's because any cleaning product, regardless of its pH, is removing some of the skin's acid mantle. Unless we stop washing, our acid mantle is going to get disrupted.
But that's actually no problem – it returns to its natural state within 30-90 minutes. Even long-term soap use does not change the skin's pH.
If you are interested in the details of the how and why as well as the research backing this up, check out Lisa Bronner's excellent article on this question.
In probably one of the best-researched blog post out there, she read through more than 40 studies and compiled the key points in that article.
Conclusion
Choosing the right shampoo and body wash requires a lot of thought, as you can see.
Not only do you want to make sure that the ingredients of the product you choose are natural and aren't linked to any potential short-term or long-term health issues, but you'll also want to make sure that those ingredients are eco-friendly.
And if being eco-friendly is important to you (which it should be), then you'll want to go plastic-free on top of that. It's why we recommend choosing bar soap over liquid soap.
While all of this might seem a little overwhelming, these brands are a great place to start.
Which one is your favorite?
You Might Also Like…