What can you wear to a day at the office, a night out with friends, or on a morning run?
What about a Sunday on the beach or lying on the couch?
Linen joggers.
The sporty, cool, and professional garment that does it all.
Joggers are casual and comfortable, but there's something about the luxury of linen that takes your typical jogger and makes it acceptable in even upscale settings. 
Minimalist wardrobes are now a key player in the movement against fast fashion and garment pollution.
It's critical to know how to style one piece in many ways and make your clothes last longer. 
8 Benefits of Sustainable Linen Joggers
Often hailed as the perfect summer cloth, linen offers us practical advantages all year round.
Here are 8 surprising benefits of sustainable linen joggers:
1. Low-Impact
Linen is a natural fiber made from the flax plant. Flax is a resilient crop that doesn't require pesticides, fertilizers, or herbicides to thrive. 
Flax also requires less land use and less water waste than the production of cotton fabrics.
Linen that hasn't been colored with artificial dyes is biodegradable.
100% natural fibers help protect our waterways and marine life because they do not release nonbiodegradable microfibers into water systems when washed.  
2. Durable 
Whereas most fabrics degrade with washing, the quality of linen improves over time. With each wash, it becomes softer and stronger. 
This doubles as a benefit for the environment and your wallet. Your joggers will last longer than cotton or synthetic fabrics, keeping you out of the frequent-shoppers' check-out line.  
3. Breathable
Flax has natural temperature-regulating properties thanks to its hollow plant fibers.
This light-weight cloth wicks moisture away and allows air to easily pass through it.
Not only will you stay cool in the summer – linen's breathability prevents condensation of moisture, keeping you warmer in the winter. 
4. Hypoallergenic
The skin-friendliest fabric around, linen has been used for bandages dating back to the ancient Egyptians.
Stuffy, chemically-dyed fabrics cause skin irritation and breakouts in people with sensitive skin or allergies.
Choose linen clothing and enjoy happy skin. 
5. Antibacterial
Thanks to linen's moisture-wicking properties, it does not foster bacterial growth.
This makes linen a supremely sanitary choice, especially in physical situations where you can expect to be sweating.  
6. Insect-Repelling 
Linen is naturally insect repelling. You can hike in your comfy joggers and worry a little less about mosquitos.
And store your joggers with the peace of mind that moths won't be nibbling little holes in them.
7. Easy-Care
That care-free wrinkled look is natural and expected in linen!
That means you don't have to go through the trouble of getting out your iron. 
Read here for detailed instructions on washing and drying linen fabrics, including joggers. 
8. Luxurious
Linen is a versatile fabric, synonymous with luxury.
The signature crinkled look makes us think of coziness and quality.
It's famously popular for summer wear, but in reality, it's suitable for every season. 
Are Joggers Considered Sweatpants?
Joggers and sweatpants, though similar, do have their differences.
Joggers are designed with style in mind, meaning they're made to look good.
Whereas sweatpants are made to be warmer and also functional, especially for exercise and weight loss. 
Sweatpants are made with a thicker material to trigger sweat.
While joggers can also be used for running and exercise, they are made of a thinner material to keep you cool.  
How Do You Wear Linen Joggers?
Linen joggers are a great piece to have in any capsule wardrobe.  
Cool, durable, and low impact – what's not to love?
Perfect for physical activity, but also dressy when paired with pumps, there isn't much a stylish linen jogger can't do. 
For a casual look – wear linen joggers with a t-shirt, sneakers, and a jacket.
For a night out – pair them with a tank top and wedges.
A vacation stroll on the beach – wear them with a white blouse and sandals. 
For photos and detailed examples of how to wear linen joggers on any occasion, click here. 
Can I Wear Linen Joggers to Work?
Yes! For work, try wearing your joggers with a button-down shirt and flats.
See the link above for a visual or watch this video:
How Should Linen Joggers Fit?
Joggers should fit closely around your ankle and end above your shoes, leaving a bit of skin (or socks) showing.
Joggers are not supposed to fit tightly like skinny jeans, but they shouldn't be too loose or baggy either.
They should fit somewhere in the middle, outlining your body in a slim fit but allowing you to move easily in them. 
You can find joggers intended to sit on your hips, but you can also find high-waisted joggers.
What Do You Wear Under White Linen Joggers?
White linen joggers are somewhat transparent and require putting some thought into what you'll be wearing underneath.
Instinct may tell you to wear white underwear, when in fact, the trick is to choose flesh tones. 
White underwear will only stand out under your white joggers, creating the opposite effect you're looking for when you want to be discreet.
With underwear that matches the color of your skin, you create the illusion that your white joggers are not transparent.   
5 Sustainable Linen Joggers 
Although linen is naturally low-impact, you still want to make sure to buy from sellers committed to sustainability as a whole – like sellers who pay their workers fairly and avoid the use of harsh chemical dyes.
For Women
MagicLinen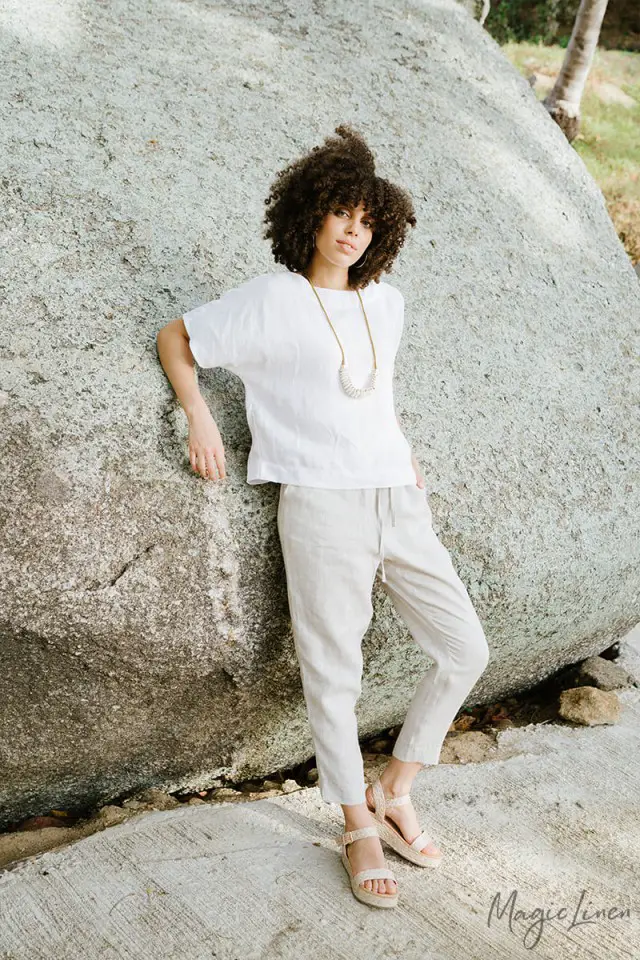 MagicLinen is a sustainable brand based out of Vilnius, Lithuania that has a local supply chain and uses only OEKO-TEX certified linen material.
MagicLinen offers hand-made linen pants in a variety of colors for both men and women.
All of the products come in biodegradable packaging as well.
Bengidesign
The total opposite of mass production, Lithuanian designer Renata Seskauskiene creates hand-sewn joggers from 100% Oeko-Tex certified European linen.
Athleta
Athleta is a certified B corporation committed to fair trade and women's empowerment. 76% of their materials are made with sustainable fibers.
Nordstrom
On the other end of the spectrum, we have Nordstrom with their 100% linen joggers.
Despite falling into the category of big business, Nordstrom makes an effort to be more socially and environmentally responsible. 
Dedicated to the HerProject, clothing donation, and reducing their energy consumption, you can find the details of their corporate social responsibility here.
For Men
MagicLinen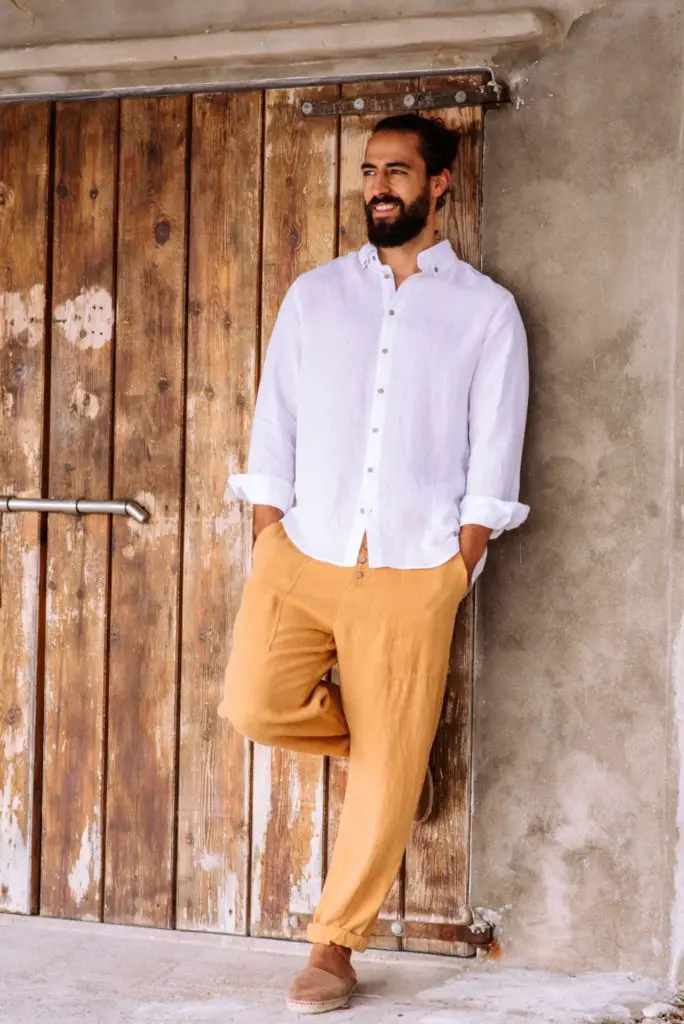 We've already introduced this great sustainable brand above in the women's section.
But fear not, men! MagicLinen doesn't only offer linen pants for women, but for men as well!
Check them out:
Linocolore
This is a family-owned online store that makes hand-made clothing from 100% Italian linen.
Their linen is Oeko-Tex certified.
Conclusion
When shopping for sustainable linen joggers, make sure to buy 100% linen.
Linen blends can contain artificial, plastic fabrics with a high environmental impact. 
When possible, shop organic linen and look for fair-trade labels.  
Linen joggers are a versatile piece that completes any eco-friendly, minimalist closet.
You Might Also Like…