How often do you shave?
Whether you're a man or a woman, odds are you shave pretty frequently.
As a man, that 5 o'clock shadow is constantly creeping up throughout the day. As a woman, keeping those legs from getting prickly has become for many a matter of comfort. 
As often we all shave (there are some exceptions of course – all the more power to those who don't shave), few of us think about the effect that we're having on the environment.
That's right, the type of razor you're using could be having a negative impact on the world around you.
If you're using disposable razors, just consider how many you go through in a year.
Although the EPA doesn't track the impact of disposable razors on the environment, over $1.2 billion in disposable razors were sold in 2018 in the U.S. alone, which means quite a few of those likely made their way into a landfill.
Fortunately, there are both eco-friendly women's razors and eco-friendly men's razors that you can switch to, thereby reducing your environmental footprint.
In this article, we'll take a look at:
What to look for in an eco-friendly razor
Why you should avoid disposable razors
What you should know about reusable and electric razors
How to establish a healthy & environmentally friendly shaving routine
What alternatives to shaving there are
The most eco-friendly & sustainable razor brands
Answers to the most common FAQ about razors and shaving
So without further ado, let's get started…
What Should You Look For in an Eco-Friendly Razor?
One of the challenges in finding an environmentally friendly razor is that you're likely going to have to buy from a smaller brand that you may not be as familiar with.
While bigger brands may have a couple of options that are eco-friendly (or at least somewhat eco-friendly), who you buy from matters as much as the product you buy.
After all, you want to support a company that not only practices what it preaches but that operates in an ethical fashion as well.
As such, you might want to avoid certain name brands, such as Gillette, Remington, and Braun, all of which were listed as "companies to avoid" by Ethical Consumer. 
So how exactly should you go about looking for an eco-friendly alternative to the name brand razor that you're probably using at the moment?
Look For Reusable Razors Made With Eco-Friendly Materials
The most eco-friendly material used in razors is metal. If you can, buy a razor that's manufactured out of metal, such as a safety razor.
Metal safety razors, such as those made out of stainless steel, will last a lifetime. The only thing you will have to replace is the razor blade itself. 
Some safety razors are also made using bamboo handles. Bamboo is a renewable resource as a result of being a fast-growing grass that grows almost everywhere throughout the world (the exceptions being Europe and Antarctica).
Are There Eco-Friendly Disposable Razors?
Disposable razors are made of plastic. They are also sometimes referred to as cartridge razors.
Because they are made from plastic, they are not eco-friendly. Not only are plastics made from petroleum products, but they are not biodegradable either. 
Add to that the fact that most disposable razors can only be used six to nine times before they become useless, and it's not difficult to come to the conclusion that disposable razors are a very wasteful product.
If you're still not convinced that such a small item can have such a big impact on the environment, consider the following facts about plastic pollution:
Less than 20 percent of all plastic produced around the world is recycled
The U.S. only recycles nine percent of its plastic garbage
Around eight percent of the world's entire oil production is used to manufacture plastic
It's estimated that by 2050, 20 percent of the world's entire oil production will be used to manufacture plastic. 
It's also worth noting that you can't just toss your disposable razors into the recycling bin since the blade part of the head cannot be recycled using traditional recycling means.
However, even though the majority of disposable razors are not eco-friendly, there are some disposable razors out there that are made out of recycled plastic.  
Additionally, there are a few companies that offer recycling programs – although this would require you to either mail your used disposable razors back to them or to bring them to a drop off center to be recycled.
For example, Gillette recently teamed up with TerraCycle to develop the Razor Recycling Program, which provides an address to which you can ship any used disposable razors of any brand for recycling.
Are There Eco-Friendly Electric Razors?
A high-quality electric razor should last for a long time, which in itself makes it a more eco-friendly alternative to the majority of disposable razors that are on the market.
However, unlike safety razors, electric razors will eventually wear out through use. A good quality electric razor should last around a decade, but then you will have to replace it.
Fortunately, there are ways to recycle electric razors. There are several electric razor recycling programs to which you can mail your electric razor, although you will be responsible for covering the mailing costs.
Still, mailing out an electric razor every ten years or so is a better option than constantly mailing out disposable razors. 
You can also find a local recycling center that takes electric razors. Recycle Nation is an excellent resource for finding a nearby recycling center where you can drop off your old electric razors.
Resource Consumption Not an Issue
As far as resource consumption goes, you might assume that its need to be powered by electricity would make it less environmentally-friendly.
However, you could also argue that while it does require electricity to run, it also doesn't require the use of water like traditional razors do.
So, in essence, you're trading water use for energy use. 
Either way, neither electric razors nor traditional razors use enough electricity or water (unless you're incredibly wasteful with your water use) to really have a big impact on the environment.
When it comes down to it, safety razors are a better bet than electric razors since they will last a lifetime; however, an electric razor is certainly a more eco-friendly option than a disposable razor.
Are Eco-Friendly Razors More Expensive?
Upon initial inspection, you might think that disposable razors or cartridge razors are cheaper. This may be true if you're just looking at the sticker price.
There are plenty of cheap disposable razors available that cost roughly $1 each, while many electric razors, safety razors, and even straight razors can cost anywhere from $10 to hundreds of dollars.
However, you have to take into consideration long-term costs.
An electric razor can last up to ten years. Safety razors and straight razors can last a lifetime.
The only additional cost would be the blades that you would have to purchase for a safety razor, which are quite inexpensive compared to the cost of continually purchasing disposable razors.
6 Eco-Friendly & Sustainable Razor Brands
Picking out an eco-friendly razor isn't that difficult when it comes down to it.
Simply switching from a disposable razor to a reusable one will reduce your environmental footprint significantly.
This is especially true if you switch to an all-steel razor. As such, we could just recommend that you pick up a stainless steel safety razor and call it a day.
However, the following are six brands that not only produce eco-friendly razors, but that also actively engage in eco-friendly and sustainable practices as a business as well.
1. Shoreline Shaving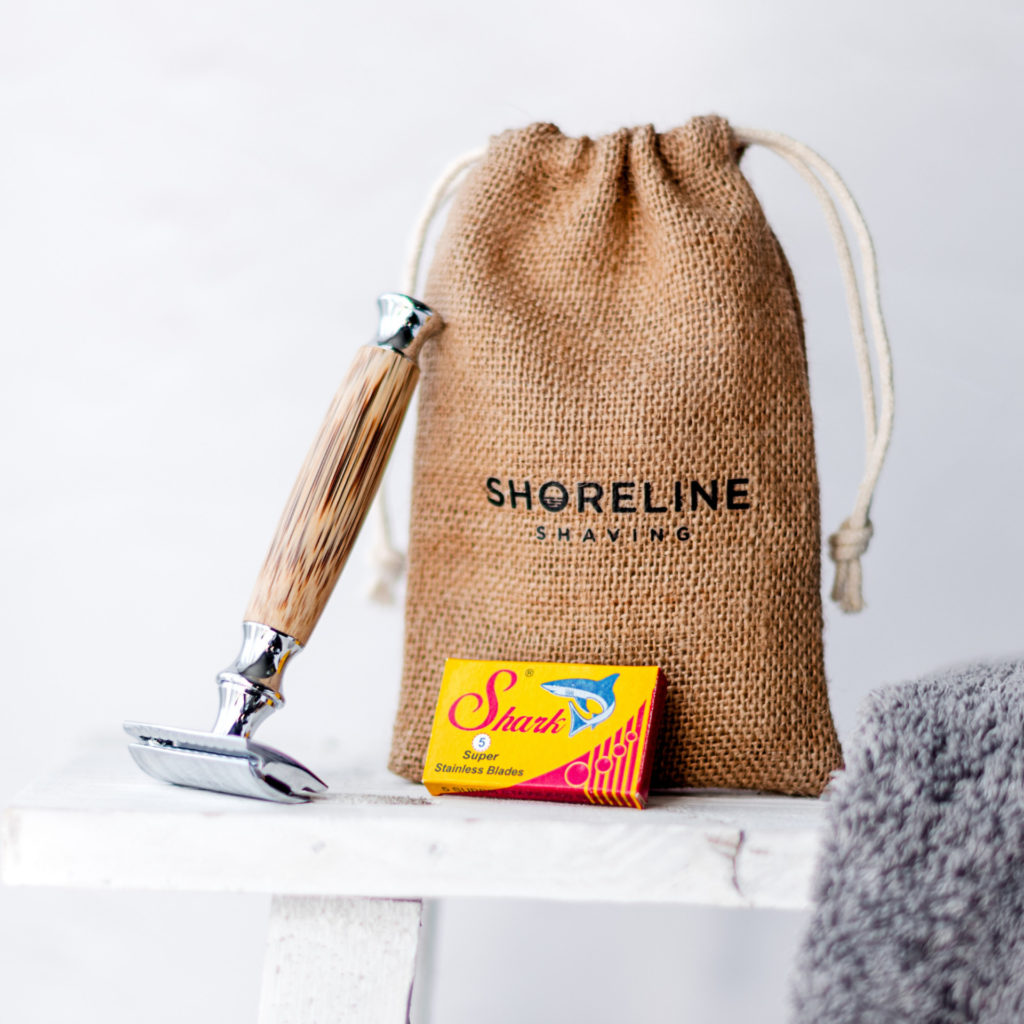 Shoreline Shaving was founded with the intention of helping to keep our shorelines clean by offering natural, plastic-free, and zero-waste shaving products as eco-friendly alternatives to the plastic disposable razors so many people are using.
If you're looking for an entire eco-friendly shaving kit and not just an eco-friendly razor, then you should check out Shoreline Shaving's Bamboo Razor Kit.
Their safety razor consists of a beautiful – and durable – bamboo handle that's attached to a stainless steel head that fits all double-edged blades.
It functions as both an eco-friendly men's and ladies' razor and is built to last a lifetime.
The eco-friendly shaving kit also comes with two packs of Shark Razor Blades, a user manual, and a bar of Shoreline Shaving Soap.
The orange and lavender shaving soap is perfect for softening beards and hair as well as lathering and nourishing skin. It's also very eco-friendly: the soap is palm oil-free, paraben-free, sulfate-free, triclosan-free, phthalate-free, cruelty-free, and vegan.
Its ingredients include olive oil, coconut oil, castor oil, kaolin clay, aloe vera, water, lavender essential oils, and orange essential oils.
In addition to their bamboo razors, they also offer a wide, colorful range of double-edged metal safety razors which are part of their Coral Collection – needless to say, they are also reusable, eco-friendly and plastic-free.
The UK company donates a portion of their profits for every bamboo razor sold to The Ocean Cleanup, a non-profit organization working to rid the ocean of plastic.
In addition to that, for every Coral Collection razor sold, Shoreline Shaving donates a portion of their profit to the Great Barrier Reef Foundation, who work against the devastating effects of coral bleaching and to protect endangered marine species.
2. Jungle Culture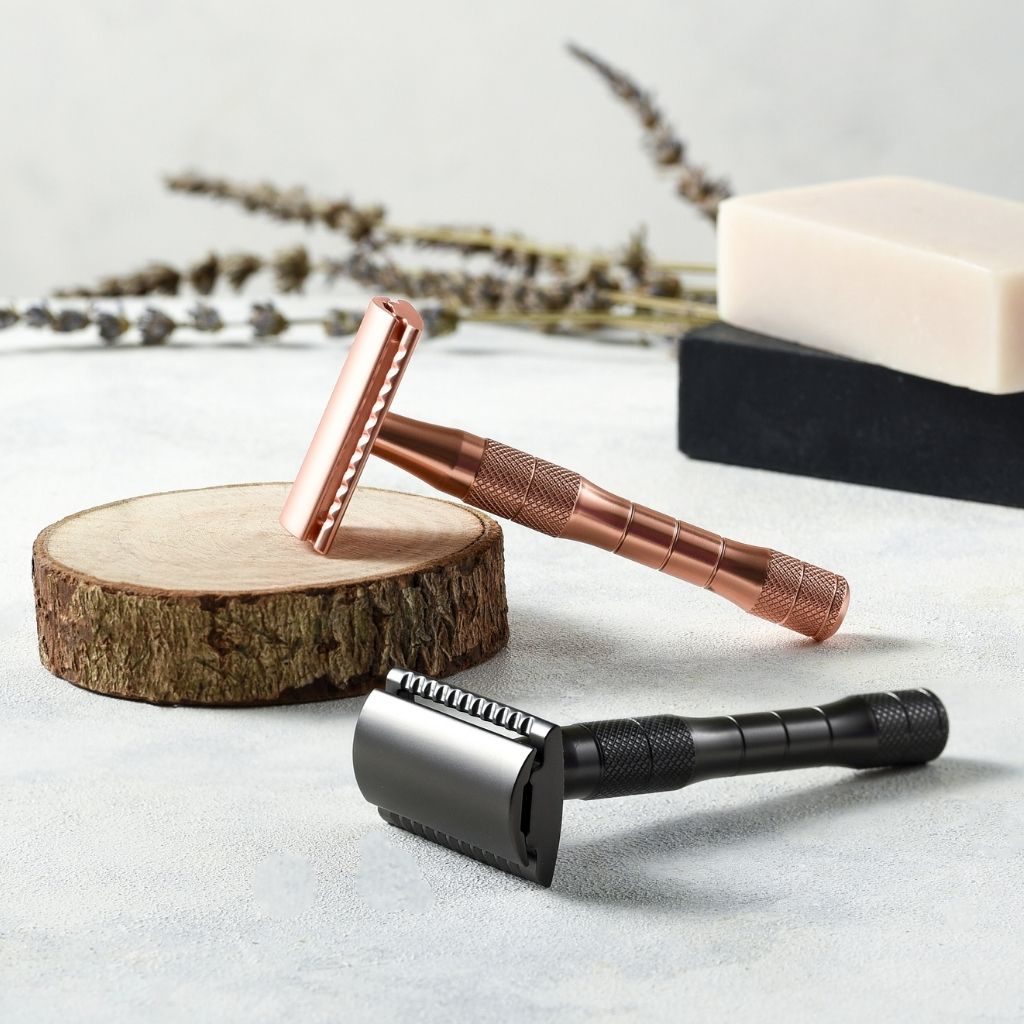 Jungle Culture was founded in Vietnam in 2018 with the aim of producing a range of eco-friendly alternatives for everyday single-use plastic items.
Their company is dedicated to creating a sustainable, transparent and ethical supply chain and works with many small crafts manufacturers around Asia.
Their range of reusable safety razors offers something for everybody. They have 6 different color options available as well as a range of bamboo razors.
All of their safety razors are accompanied by a natural jute travel pouch and solid shaving bars can also be purchased separately.
Jungle Culture's shaving soap bars come in two distinct scents, "Aloe vera & soothing mint" and "Activated charcoal & cracked black pepper".
They are produced using a coconut oil base and essential oils to add scent and texture.
Their shaving bars are 100g and designed to last between 6 months and 2 years depending on the individual user.
Jungle Culture is also a registered member of the 1% for the planet foundation which ensures that for every purchase you make, 1% of the revenue is returned to environmental charities around the world.
Every year Jungle Culture finds and donates to a new Earth-friendly charity and you can read more about who they are partnering with this year on their website.
3. Bambaw
The Bambaw Safety Razor is an eco-friendly razor that's suitable for both men and women.
Their handles are all made from bamboo, which is not only sustainable but also provides a unique appearance for every one of their razors.
Their razor heads are made out of stainless steel, which can be recycled without a loss in quality. Bambaw also offers safety razors made out of stainless steel without a bamboo handle.
While their eco-friendly razors are worth purchasing for their quality, the company itself is one you can be proud to support.
Bambaw was founded in 2015 with the goal of developing sustainable alternatives to single-use products. 
First of all, Bambaw ships all of its products in CO2 neutrality. This means that they monitor how far their products are transported in order to offset their CO2 emissions.
Their supply chain and transport are both certified carbon neutral by the CO2Logic label.
Bambaw offsets their CO2 emissions by supporting an environmental project in Malawi, a developing country in Southeast Africa, by introducing ceramic cookstoves to their people.
These stoves use 75 percent less wood and save tons of CO2 emissions.
Bambaw also reduces waste through zero-waste swaps and maintains strong environmental and ethical standards via a sustainable production process.
Last, but not least, Bambaw funds numerous research campaigns that focus on how we can produce less plastic waste. These research campaigns include 5gyres and the Plastic Soup Foundation.
4. Preserve
Preserve is a brand that has built a reputation for its eco-friendly production efforts.
It's no surprise that they are a certified B Corp, which means that their business is guided by a set of socially and environmentally focused standards. In fact, Preserve ranks in the top ten percent of all B Corps in the environmental impact category.
As far as their razors go, Preserve offers three different types of eco-friendly razors suitable for men and women that are all cartridge-based.
The handles on these razors are all made out of plastic – and they're the only plastic razors that we recommend. This is because they are made completely out of recycled plastic.
However, there's more to it than just that.
Both Preserve's Triple Razor System and their Shave 5 Razor System are made using #5 recycled plastic. What does this mean?
It refers to their Gimme 5 program, which Preserve established back in 2007 with the aim of closing the loop in the lifespans of consumer products.
The way the Gimme 5 Program works is that you can send back your plastic razor handles after you are done with them (along with any of their other plastic products). Plastic #5 refers to polypropylene, which is one of the least recycled plastics.
Preserve uses all the plastic #5 it collects from consumers to make new products. Essentially, by sending back your old Preserve razor handles, Preserve will recycle the handles and use the same plastic to manufacture new razors. 
Not only does Preserve have numerous recycling centers to receive old plastics, but they've partnered up with Whole Foods Market, which means that you can drop off your old Preserve razors there for recycling.
By using Preserve's razors, you're investing in a sustainable product and helping to cut resource usage by about half.
Preserve's third razor is the POPI Shave 5 Razor System.
This razor is a little different than the other two cartridge razors that they offer in that it's made using #2 plastic, which means that the handle was made from plastic that was recovered from the ocean as part of their Preserve Ocean Plastic Initiative (POPI).
The POPI is an initiative to recycle the plastic waste found on coastlines and waterways.
Preserve donates 25 percent of its proceeds from POPI products to numerous non-profits that focus on improving recycling systems throughout the world, are researching the impact of plastic on the ocean, are developing ways to trap plastic in waterways before it enters the ocean, and more.
Last, but not least, the packaging used for their razors can be used as a traveling case for your razor blade and is made from renewable wood sources.
5. Wahl
For men who prefer to use an electric razor to shave or trim their face or head, Wahl's line of electric razors is the most eco-friendly option. Wahl offers a wide range of different eco-friendly electric shavers to choose from.
They are built using lithium-ion technology that allows their electric razors to go months without having to be charged even with regular use.
Because of the quality of their electric razors, they should last you for a long time as well (as long as you treat your electric razor with the proper care). 
However, what really makes Wahl stand apart from other electric razor manufacturers is their continual efforts to become a more sustainable business.
Wahl's mission as an ethical global manufacturer and distributor is to reduce its environmental impact and to define world-class best environmental impact practices.
To do this, they are continually reducing energy and material consumption throughout their supply chain processes as well as actively promoting sustainability and recycling.
Of course, words are meaningless unless they are backed by action. Wahl has implemented a computerized energy management system to reduce energy, waste, and water use.
They installed a white reflective roof membrane on their headquarters campus to reduce heat load. They implemented extensive recycling and waste management practices.
They installed a 2,400-panel solar system on one of their plant buildings. Finally, they also use environmentally-friendly materials to manufacture their products and make use of recycled content for their packaging.
6. Imperium Shaving
If you're looking for a luxury razor that's eco-friendly, Imperium Shaving offers a range of beautiful, eco-friendly men's razors.
What makes their line of razors so unique is that each one is handcrafted. They offer over a dozen different razors, each of which is made using sustainable wood and ethically-sourced materials.
In fact, all of the wood used in the handles of Imperium Shaving's razors are 100 percent certified by the FSC (Forest Stewardship Council).
The FSC only certifies wood that was harvested from forests that are environmentally conscious, responsibly managed, economically viable, and socially beneficial.
Because their razors are hand-turned and hand-assembled, you'll find few razor companies that produce eco-friendly razors with this much attention to detail.
They also make it a point to support local suppliers and artisans whenever possible and employ a team of woodworkers that's mostly female.
Imperium Shaving also offers eco-friendly shaving kits, which include a razor, a stand made from matching chrome and wood elements, and a shaving brush.
Three different shaving soaps are available separately, all of which are produced in the U.S. in small batches and are both natural and vegan.
Last, but not least, Imperium Shaving offers Groomsmen Giftsets, which contain four to six matching razors that can be personally engraved.
This is a particularly suitable offering due to the fact that Imperium Shaving got their start when their owners made their own razors as gifts for their groomsmen before they got married.
Eco-Friendly Shaving Tips
One thing to keep in mind as you search for an eco-friendly razor to purchase is that the razor itself is only a part of the shaving process.
With that in mind, the following are a few additional tips for ensuring that the entire shaving process remains eco-friendly:
1. Use Eco-Friendly Shaving Cream
Shaving cream can be used for any part of the body to help make it easier to shave your hair.
Unfortunately, a lot of the shaving cream products that you find in stores are not very eco-friendly.
Many shaving cream products come in aerosol cans. While the cans themselves, which are typically made from aluminum or steel, can be recycled, they contain aerosol propellants to help push the cream out of the can.
These propellants are often hydrocarbon propellants such as butane and propane, which are another source of greenhouse gases.
Shaving products that don't come in aerosol cans often come in plastic tubes. However, this doesn't mean that there are no eco-friendly shaving products available.
Aveda Shave Cream For Men is a good option.
It's 97 percent naturally derived from plants, made without any petroleum products, and the packaging is made using 45 percent post-consumer recycled materials.
Additionally, they are the first beauty company to use 100 percent wind power in their primary facility.
There's also Dr. Bronner's soap bar. This zero waste soap bar can be used as both body soap and as a shaving soap for your face and body, which means it's suitable for both men and women.
All of the soap's ingredients are paraben-free, responsibly sourced, and cruelty-free. Additionally, their packaging is completely plastic-free, making it easy to recycle.
Tip: for more eco-friendly and natural soap bar options which can also double as shaving soap, be sure to check out our article on soap bars here.
2. Use Eco-Friendly Alternatives for Aftershave
Men who have sensitive skin will often use aftershave on their face after shaving.
Just like shaving cream, there are many aftershave products that contain ingredients that are harmful to the environment, such as artificial chemicals.
Many are also packaged in plastic bottles or containers.
One eco-friendly aftershave alternative that's worth checking out is the Organic Sandalwood Hydrosol aftershave by Biopark Cosmetics.
All of their ingredients are completely natural.
Unlike many aftershave products (even those that advertise themselves as being eco-friendly), Biopark Cosmetics now packages its products in containers made from sugar cane sourced PE, which is not only completely natural, but can also be recycled.
If you want to avoid store-bought aftershave products altogether, there are plenty of natural alternatives that you can use as well, such as coconut oil and aloe vera gel.
These are great for your skin, whether you're shaving your face or any other part of your body.
3. Recycle Your Blades
There are plenty of people who use safety razors simply because they are easy to use and they provide a cleaner shave than other alternatives.
However, they just toss the blades away after they're done using them.
Because of how sharp and small they are, it's recommended that you do not just throw them in your recycling bin.
There are blade banks available that you can purchase. You can just put your double-edged razor blades into these blade banks.
It will typically take around six months for the bank to fill up, after which you can just recycle the entire bank, filled with your used blades. 
As far as what blade bank to get, just make sure the entire bank is recyclable so that you can just recycle the entire thing when it's full.
There are plenty of good options out there, such as West Coast Shaving's Double Edge Blade Bank and Rockwell Razors' Blade Safe.
4 Eco-Friendly Alternatives to Shaving
There are a few alternatives to purchasing eco-friendly razors that will still allow you to maintain as small of an environmental footprint as possible.
The following are a few eco-friendly alternatives to razors that you might want to consider.
1. Shaving Less
Giving up shaving altogether is obviously the most eco-friendly option.
However, it's not very realistic to just stop shaving, especially for men and women who feel uncomfortable when their facial or body hair grows in.
You could try to shave less often though. Doing so can help to preserve your razor blades or electric razor so that they last longer.
2. Waxing 
Waxing is a good eco-friendly alternative to shaving different parts of your body.
This is because waxing will remove hair for a longer period of time. When you shave, it will begin regrowing right away.
When you wax, you pull the hair out from the root, which means it will take some time for it to begin growing back (often around two weeks).
The only issue with waxing is that whether you do it at home or at a salon, you need to pay attention to the wax that's being used.
Many commercial waxes contain ingredients that may be harmful to the environment (and to you), such as additives, preservatives, and chemicals.
Parissa is a good commercial wax brand. Their waxes are natural and paraffin-free.
They are made using canola oil, azulene, tea tree, aloe, and pine resin. All of their ingredients are made from natural and sustainable resources.
3. Sugaring
Sugaring is a hair removal method that's somewhat similar to waxing. It's a process that's been around for a long time.
Basically, it involves combining boiled sugar with water and lemon juice. This all-natural "solution" results in a type of softball candy.
Once it's cooled, you spread it across your skin and then use material strips to remove hair from the root. 
A lot of people prefer sugaring over waxing because it pulls the skin less, which means it hurts less and causes less irritation for those with sensitive skin.
Sugaring is an effective way to remove body hair, but you should avoid doing it on your face.
Sugaring is simple enough to do yourself. Parissa also sells certified organic sugar waxes:
But if you're trying to reach those hard to reach places (such as the back or shoulders for men), you shouldn't have much trouble finding a salon near you that can do the sugaring process.
4. Laser Hair Removal
The most eco-friendly hair removal process of all is laser hair removal.
You can have your hair permanently removed from any part of your body using laser treatment, which means you'll never have to worry about shaving, waxing, or sugaring ever again.
The way laser hair removal works is relatively simple – although the procedure itself is somewhat complex.
Basically, a certified technician will use concentrated light (the laser) to damage individual hair follicles, causing them to fall out.
The only drawback? Laser hair removal can be a very expensive procedure, especially if you want it performed on multiple parts of your body.
At the low end, it can cost around $350 (depending on where), whereas at the high end, it can be around $900.
To have laser hair removal performed on your arms, legs, and torso, you can expect to potentially pay thousands of dollars.
Environmentally Friendly Razors – FAQ
What Is a Safety Razor?
A safety razor is a razor that holds a single blade in place to shave with.
This allows for a closer shave than disposable razors or cartridge razors can typically provide. It's also designed with a protective guard that helps ensure safe use.
Is Shaving With a Safety Razor Better?
Safety razors use a single blade but are often preferred by many.
This is because safety razors can provide a close and comfortable shave without the safety issues of shaving with a straight razor. 
Are Safety Razors Eco-Friendly?
Safety razors are incredibly eco-friendly. This is because they are made out of steel and the blade can be easily replaced and recycled.
Safety razors will often last a lifetime as well – and even once they're no longer needed, they can be recycled.
Are Safety Razor Blades Recyclable?
Yes. The blades used in safety razors are typically made out of 100 percent steel.
Steel is completely recyclable and can be upcycled without any degradation in quality.
While you can't just toss them in the recycling bin, there are many razor companies that have razor blade take-back programs in place.
You can send your used blades to them for recycling.
How Do You Shave Environmentally Friendly?
Besides purchasing a razor that is eco-friendly, you should also invest in shaving cream and aftershave (if you use it) that's made using eco-friendly ingredients and packaging (no plastic, zero-waste).
If you use a safety razor, then you should be sure to recycle your razor blades as well.
Are Reusable Razors Better?
Yes. Disposable razors are generally made from plastic and aren't biodegradable.
Not to mention that they don't last very long due to their cheap quality.
As a result, using disposable razors means that you'll be generating a lot of waste.
Examples of reusable razors include straight razors, safety razors, electric razors, and cartridge razors. 
Are Disposable Razors Eco-Friendly?
No. Disposable razors generally only last between three and ten shaves before the blade dulls.
You can't just replace the blade or head on a disposable razor, which means you have to throw the entire thing away.
Since most disposable razors are plastic and you can't recycle them because of the blade that they contain, they are as "eco-unfriendly" as you can get.
Can You Recycle Disposable Razors?
No, you can't. Although you might regularly recycle plastic products at your home, disposable razors are not accepted by local recycling centers.
This is because most disposable razors not only contain plastic in their handles, but also some kind of rubber.
Additionally, because the blade (or blades) are embedded within the razor, they present a safety hazard to waste workers.
How Many Disposable Razors Are Thrown Away Each Year?
A lot. While there's no exact number, we can assume that it's over a billion since $1.2 billion worth of disposable razors were purchased in 2018.
When a disposable razor is purchased, it's going to be tossed eventually.
Is a Straight Razor Eco-Friendly?
Yes, straight razors are very eco-friendly.
However, they take some skill to use and can be dangerous if you're not careful. 
Are Electric Razors Eco-Friendly?
Yes, they can be. Although they do require energy to operate, they generally have batteries that don't take long to recharge and have a lifespan of many years.
High-quality electric razors can last on a single charge for some time as well. As a result of being reusable, they are much more eco-friendly than disposable razors.
Conclusion
Whether you shave every day, once a week, or even more sporadically, you should not only purchase a razor that's eco-friendly, you should purchase it from a company that is actively trying to improve their sustainability.
Fortunately, there are many fantastic razor manufacturers out there, whether they design and produce straight razors, safety razors, cartridge razors, or even electric razors, that happen to be of the highest quality as well.
Invest in the world by investing in your razor.
You Might Also Like…