How do you clean dirty pots, pans, dinnerware, and flatware?
If you're washing your dishes properly, there's a chance that you go through several disposable kitchen implements in a month.
Imagine how many of your discarded sponges, scouring pads, and brushes are sitting in landfills right now. Yikes!
That's why using zero-waste sponges, and other alternatives, are essential to maintaining a sustainable lifestyle.
Another option is to use a dishwasher. However, what about the environmental impact? As it turns out, handwashing with hot water and running a fully loaded dishwasher on an economy setting have comparable carbon footprints.
Handwashing can also be more time-consuming and less effective when it comes to leaving your dishes sanitized and bacteria-free.
Don't have the luxury of having a dishwasher in your kitchen or avoiding becoming dependent on a large appliance?
Then you may be interested in the different types of eco-friendly sponges and why they're better than your standard kitchen cleaning tools.
Kitchen Sponge 101: Traditional vs. Plastic-Free Sponge Alternatives
The neon yellow sponges and deep green scrubbers you're familiar with are not just incompatible with eco-conscious living, but also a threat to your physical health.
Did you know that more than 80 million bacteria could be living in just a single cubic inch of a regularly used kitchen sponge?
A plastic foam sponge may be clean right out of its packaging, but it only gets dirtier and more prone to bacterial growth with each use.
Turning to biodegradable and sustainable sponges may not necessarily solve the problem of accumulating bacteria in your kitchen cleaning tools.
A plastic-free or plant-based sponge can often be sanitized and replaced like a traditional kitchen sponge. However, unlike plastic products, they're usually recyclable or compostable.
Are Sponges Biodegradable?
If we're talking about plastic kitchen sponges, then no, they are not biodegradable.
Whether it's simple polyfoam or sturdy melamine – the kind you can use to scrub off anything from stubborn scum to crayon drawings – as long as they're made from fossil fuels, they're as good as non-biodegradable.
This material can stay buried in landfills for more than 50,000 years.
This brings us to the topic of sponge alternatives that are still made of silicone or plastic, like brushes or pads.
They may dry quickly and be easier to sanitize, but choosing them does not get to the root of the problem.
These products will still end up as waste once they're worn out and ready to be thrown out and replaced.
Are Sponges Bad for the Environment?
It's not hard to figure out that plastic sponges are probably not the most planet-friendly choice.
But even biodegradable or compostable sponges can be bad for the environment, depending on how they're made.
For example, most affordable and mainstream antibacterial and antifungal sponges are treated with triclosan.
This chlorinated compound can be classified as a pesticide and can potentially damage ecosystems if flora and fauna become exposed to it.
Some observations point to the compound helping bacteria become resistant to medical agents like antibiotics.
While triclosan is definitely not a green component, it's used in many products. Apart from kitchen sponges, triclosan can be found in other cleaning items, even textiles, and cosmetics.
Look for natural antibacterial ingredients in your next kitchen sponge, such as lavender or tea tree oils.
What Are Cellulose Sponges?
Not all commercially available kitchen sponges are made from plastic – though they may look like it at first.
Sometimes, you might mistake a cellulose sponge for a traditional sponge.
Cellulose sponges are typically made from wood pulp, sometimes mixed with cotton, heated, and treated with chemicals to form a sponge shape and feel.
They're man-made products but are biodegradable. Depending on the manufacturer, cellulose sponges can also be considered sustainable.
The problem with these particular kitchen cleaning tools is that they're not always 100 percent made of cellulose. Some brands may add a polyester filling.
What's more alarming is that the manufacturing process of cellulose sponges could leave a significant carbon footprint. Look for brands that use carbon-neutral facilities.
Another noteworthy piece of information is that cellulose-based cleaning tools like cloths and sponges are as absorbent and porous as plastic and foam.
They are just as likely to hold moisture and attract bacteria and should be sterilized or replaced often.
Are Sponges Recyclable?
The reason most kitchen sponges end up in landfills is that they're not recyclable. Not all types of plastic can be recycled.
Remember melamine? This plastic is thermoset and can't be melted down. Like polyurethane, it's not recyclable.
Any plastic with food or organic residue on it can't be recycled, either.
On the other hand, silicone is easily recyclable – but only if it's taken to a proper facility equipped to do so.
Cellulose sponges can be recycled, but are often composted instead. It's much easier to do, especially if you already have a backyard compost pit of your own.
Which Sponges Are the Most Eco-Friendly?
Apart from cellulose sponges, you can also look at plant-based sponge alternatives, such as one familiar bathroom tool: the loofah.
These natural sponges are actually the ripe gourds of a plant called Luffa aegyptiaca, usually found in Africa and tropical Asia.
The mature fruits are dried to reveal an inner fiber netting that's ideal for dish cleaning or skin scrubbing.
Loofah is organic and easily cultivated, making it an excellent zero-waste sponge.
What about sea sponges? You might think that using natural animal sources would result in eco-friendly sponges, but this option is actually not encouraged.
Sea sponges are in danger of being over-harvested. The loss of this natural form of marine life would significantly impact aquatic ecosystems.
8 Eco-Friendly Sponge Substitutes
Using biodegradable sponges in your kitchen is definitely a green practice worth incorporating into your eco-friendly lifestyle.
It requires little to no adjustment and doesn't require significant additional financial resources.
You don't even have to look hard to find great sustainable sponge alternatives.
All of the products we listed below are available online. Most are also readily found in brick-and-mortar establishments.
While not all of them are truly plastic-free sponges, all seven are much better for the environment than any melamine, polyurethane, or silicone-based product.
1. BioGo cellulose & coconut husk sponges
Made with tree cellulose for the absorbant side and coconut husks for the
scrub side, bioGo's compostable sponges truly fit the bill when it comes to
zero-waste dish sponges.
The design is identical to conventional plastic sponges in size and shape,
without adding to the growing piles of trash polluting the planet around
the world.
Functionally they work the same, but actually last noticeably longer due to
being more porous, letting you get through tough cleaning jobs without the
bad smell that develops in conventional sponges.
They can even be put in the dishwasher to maximize longevity for the most devoted to the zero-waste cause.
If everyone were to switch to plant-based sponges such as these bioGo
sponges, the huge amount of plastic sponges going to landfill could be
stopped. Wouldn't that be nice?
2. Plantish Cellulose Pop-Up Sponges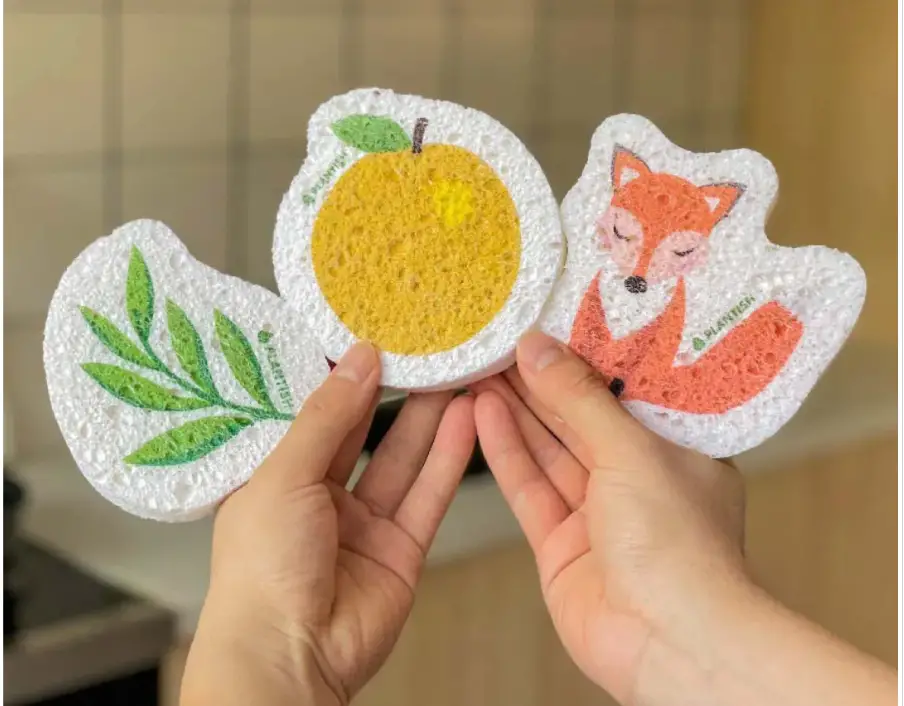 Inspired by the design of their Swedish dishcloths, Plantish have created a set of 3 'pop-up' sponges designed to emulate the feel of conventional sponges, but without the nasty plastic and microplastic impact.
Made from vegetable cellulose (wood pulp), each sponge in the set is 100% plant-based, compostable and plastic free.
They're highly durable, but unlike traditional sponges, they can also be 'refreshed' by soaking them in hot water, which re-sanitizes them, allowing them to be used over and over again.
Suitable for use on all surfaces, and for a variety of purposes, these sponges are highly absorbent, but also very fast drying, able to cut through all types of kitchen dirt, but without scratching any sensitive dishes or glassware.
3. Full Circle Squeeze Cellulose Sponge Cloths
These reusable cellulose-based cloths come in a pack of three. As durable and sustainable sponge alternatives, this colorful trio can also be disinfected via dishwasher or microwave. Because it comes in three colors, you can keep track of where each one belongs: sink, countertop, or elsewhere.
You can use these cellulose sponge cloths beyond the kitchen, too. They can function as household cleaning cloths and can mop up spills with little trouble.
Every Full Circle product is free from harmful chemicals, dyes, and plastics. The company maintains a manufacturing process that includes waste reduction and resource preservation practices. Full Circle is committed to creating sustainable cleaning implements and has been a certified B Corp since 2013.
4. Wet-It! Swedish Dishcloth Set
Did you know that cellulose-based cloth isn't a recent development? The fabric has been around in Sweden since the 1940s.
This set of five reusable dishcloths is reminiscent of the Swedish textile – 70 percent cellulose and 30 percent high-quality cotton – featuring nostalgic watercolor-based vegetable prints.
Wet-It! dishcloths can absorb more than 15 times their own weight. Durable and long-lasting, they can replace both kitchen sponges and paper towels.
They're also bleach-safe and easily sanitized by throwing them in your dishwasher or laundry machine. You can even microwave them.
These dishcloths last for about half a year with regular washing, although they may break down faster when treated with fabric softeners.
They are completely biodegradable and will break down in less than two months in a compost pit. In a commercial landfill, they decompose in about four months.
5. Mioeco Kitchen Natural Organic Cotton Sponges
The best zero-waste sponges don't have to be the result of cutting-edge technology and modern ideas. Sometimes you take what works, and you run with it.
These organic and biodegradable sponges come in a pack of four and are made from a well-known natural and washable material: cotton.
Mioeco claims that these environmentally friendly sponges provide great value, lasting much longer than their plastic counterparts.
As they're made from soft but strong unbleached cotton – both the waffle-like textured fabric outside and the thick, sponge-like terry cloth middle – they're definitely machine washable and resistant to odor clinging. The material is 100% Global Organic Textile Standard compliant.
The company also maintains a carbon-neutral facility to produce its zero-waste sponge alternatives. Mioeco's solar-powered factory is located in India.
6. Trader Joe's Pop-Up Cellulose Sponges
Who says zero-waste sponges need to be hard to find? Here's a reliable and eco-friendly product made by a familiar name.
Trader Joe's natural cellulose sponges are said to be made from vegetable-based material instead of wood fiber, but that doesn't make them any less serviceable.
They're sold in packs of 12 and are small, even when fully hydrated and expanded. These plastic-free sponges are a little over three by four inches wide and approximately an inch thick. They lather up nicely and feel good in your hand, without big pores that can potentially trap food bits within.
These Trader Joe's products are also fully compostable sponges, confirmed by both the company and verified customers.
7. Kamenoko Japanese Tawashi Brushes
You can purchase this Japanese cleaning brush individually or in a set of three. Made from palm fibers, bound and shaped into a circular brush, this product is not only a biodegradable sponge alternative but also a staple of Asian culture.
Kamenoko Tawashi has been around since 1907. The Tawashi brush is the company's flagship and most popular product. Its design hasn't changed in over a hundred years, and it still serves the same purpose: to scrub the dirt off fruits and vegetables, clean cookware and dinnerware, and to wash dishes.
The palm fibers are a renewable resource. They're also sturdy and waterproof, while also being gentle enough to not scratch most dishes – except for maybe fine china or crystal.
A tiny metal loop makes the brush easy to hang and dry when it's not in use. Cleaning is hassle-free. You can hold the brush under running water to dislodge any food residue or other foreign material.
8. Full Circle Bubble Up Brush and Ceramic Dish
With this last recommendation, we've come Full Circle – again. If cellulose sponge cloths don't feel instinctive to use, try the brand's soap dispenser and brush set.
It includes a ceramic base to hold the soap, a spring-loaded mechanism made from recycled stainless steel to create suds, and a replaceable dish brush with a bamboo handle and recycle plastic bristles.
The brush rests on the steel when not in use, facilitating faster brush drying and fewer bacteria buildup. You need to hand wash it, though – only the ceramic base is top-rack dishwasher safe.
Note that you should not soak the brush handle in water for too long, as this may damage the wood and affect its usable lifespan.
What's the best thing about brush-design sponge alternatives?
Brushes have handles, which means that your hands can avoid prolonged exposure to dish soap and hot water. The Bubble Up brush goes further than other products, as it also has an ergonomic shape.
Quick FAQ: Kitchen Sponge Care and Maintenance
Let's say you've found the perfect environmentally friendly sponge to use during your daily kitchen cleaning routine. What do you do with your old cleaning implements?
Here's a brief FAQ that can help you deal with the aftermath of instituting this otherwise uncomplicated green practice.
Is a Dishcloth Better Than A Sponge?
Dishcloths are one of the best sponge alternatives you can choose. You don't even have to buy ones made from unique materials. In a pinch, even simple cotton washcloths will do. You can launder them after each use, and they can line dry along with your clothes.
They're definitely better than bacteria-filled plastic sponges, but only if you sterilize them often. If you're not comfortable with using a thin cloth to wash dishes, you can make DIY dish sponges by bundling up washcloths and sewing them into a handy shape.
How Do You Keep Sponges Fresh?
Whether or not you use biodegradable sponges, the fact of the matter is that if they are porous and absorbent, they will be bacteria magnets.
Always keep them moisture-free when you're not washing dishes. If you can, leave them to dry under direct sunlight, near a kitchen window. Proper cleaning is a must, too.
Boiling in water or microwaving can kill most bacteria living in your kitchen sponge.
You can put your sponges in your dishwasher every time you run it, as well. The effects of dishwashing and microwaving on bacterial growth are about the same.
You can even soak your sponges in a bleach and water solution, as it's considered the best course of action for eliminating harmful bacteria like salmonella or E. coli.
However, it's important to remember that even fastidious sterilization like this won't prevent bacteria from re-accumulating on your kitchen sponge.
How Often Should You Change Sponges?
Even if you wash plastic kitchen sponges and disinfect them each night, they should only last about a week. Throw them out after seven days or so – no exceptions.
What Can You Do with Old Kitchen Sponges?
Most people throw away their old and worn-out plastic kitchen sponges. While you can't expect a recycling facility to accept them, you can lengthen their lives a little bit by reusing them in your home.
After disinfecting these non-biodegradable sponges, you can still use them for cleaning. While they may not be suitable for kitchen sink duty anymore, you can still use them to scrub floors or gardening tools.
You can also keep them around to help keep your household neat. The best part? You can throw a big batch of soiled plastic sponges in the washing machine to sterilize until the next big cleanup.
Make Eco-Friendly Decisions Beyond Your Kitchen
Anyone can stick to small decisions like switching to sustainable sponges. After all, eco-friendly living is not that difficult. It just takes the right knowledge and the strength to follow through.
When each of us does our part, these little changes add up to a substantial positive environmental impact.
Curious about what else you can do? Then check out these 100 additional ideas for eco-friendly living!
You Might Also Like…