Did you know wet wipes could potentially cause harm to the environment or to your skin?
Many people overlook wet wipes and baby wipes when switching to a green hygiene or beauty regimen.
But most conventional wet wipes are not only a big problem for our environment but can also be harmful to the skin.
Fortunately, you can do your part in protecting the environment and your health by using eco-friendly wet wipes.
In this article, we'll take a look at the facts about wet wipes as well as the best environmentally friendly alternatives.
What's the Difference Between Wet Wipes & Baby Wipes?
From a technical point of view, there is no real difference. It mainly depends on what you use the wet wipes for.
Baby wipes are wet wipes, but not all wet wipes are used for babies.
Likewise, if you use them in addition to (or as a substitute for) toilet paper, you may call them toilet wipes.
Other than that, some wet wipes may include (or not include) certain ingredients like natural fragrances or essential oils, which may make them better suited for a particular purpose.
What Are Wet Wipes Made Of?
Most regular wipes may seem harmless, but actually contain plastic fibers.
Aside from that, they often contain potentially harmful parabens and other preservatives, phthalates, artificial fragrances and other chemicals.
If you wish to avoid those materials and ingredients, choose one of the brands mentioned in this article (or a similar one) which are made from plant-based materials and free of harsh chemicals.
Are Wet Wipes Biodegradable?
Most wet wipes and baby wipes contain plastic and are therefore not biodegradable.
But there are plastic-free, plant-based options available – like the ones mentioned in this article – which are, in fact, biodegradable.
Are Wet Wipes Compostable?
Most wet and baby wipes are neither biodegradable nor compostable.
There are exceptions, though – like the wet wipes shown in this article – which are made from compostable materials.
However, keep in mind that all certified compostable products require specific conditions in order to actually biodegrade properly (see our article here for more details).
Those necessary conditions are not found in sewers or in waterways. So never flush wet wipes, even if they are compostable.
What Are Eco-Friendly Alternatives to Wet Wipes?
If you are currently using regular wet wipes which contain plastic and / or harmful chemicals, then switching to an eco-friendly wet wipes brand (like the ones shown in this article) is a huge step toward more sustainable habits.
Other than that, you can always try and avoid wet wipes altogether and use a cotton cloth instead.
But whether this will work depends on what exactly you're using the wet wipes for.
The Ugly Truth About Regular Wet Wipes
Wet wipes are not only used on babies. They may be used to clean sticky hands, dirty desks, or mucky toys.
There are also wet wipes made for use on the toilet, and some designed specifically to remove makeup.
Some outdoor enthusiasts may even appreciate wipes as a means of maintaining personal hygiene while camping or hiking. Because of this, their use has become very popular.
What many are unaware of is that they are not flushable. Flushing your wipes may not only result in serious plumbing issues.
An in-depth investigation in the UK revealed that flushed wet wipes are the main reason for blocked sewers and make up more than 90% of those disgusting fatbergs.
In recent years, the term "fatberg" has become increasingly used to describe the following:
A fatberg is a large solid mass in a sewer system which is made up of non-biodegradable solid matter such as wet wipes and grease or cooking fat.
So far, the largest of those fatbergs was found in Whitechapel, London. That monster was 250 meters (820 feet) long and weighed 130 tonnes. It took a whole nine weeks to remove it.
Fatbergs and similar problems occur not only in England, but in sewer systems all over the world. Here's an example in Fargo, North Dakota:
After they wash out of the sewers, a lot of those wipes end up in the sea, where they cause serious damage to marine life.
That's because most regular wet wipes contain plastic so they are not biodegradable. Instead, they slowly break down into microplastic with devastating consequences.
What's more, most wet wipes also contain alcohol, preservatives, and other chemicals which can cause a lot of environmental harm when disposed of in nature or landfills.
Eco-Friendly Wet Wipes As Alternatives
Because of this, it is wise to use eco-friendly baby wipes as they cause less damage to the environment.
Having said that, we want to make one thing very clear, though:
Don't ever flush wet wipes any variety down the toilet. This also goes for biodegradable or completely compostable wipes that are labeled as "flushable".
In fact, flushing anything but toilet paper down the toilet is considered littering.
"Flushable" Wet Wipes Are Not Environmentally Friendly
You may see wipes labeled as "flushable" or "fine-to-flush" and think that's the same as eco-friendly – but it's not.
Those labels simply mean that the wipes don't easily clog up the sewers or contribute to fatbergs. Manufacturers don't consider any environmental impact when labeling the wipes.
Wipes that are labeled as "flushable" sometimes contain compounds that encourage them to break down into smaller pieces once flushed, but this is not the same as biodegradation.
If anything, this is even more harmful to the environment as it speeds up the disintegration into microplastics (see the section on "oxo-degradable" in this article).
The irony about this: as the BBC found out, none of the so-called "flushable" wipes have even passed the flush test so far. The upshot: steer clear of them.
So even if you opt for truly eco-friendly and biodegradable wipes, always dispose of them properly.
The Best Wet Wipes Brands (Natural & Plastic-Free)
So while the best way to go would certainly be to avoid wet wipes whenever possible, sometimes this is just not feasible or practical.
In those cases, it is much better for our environment (and your skin) to use eco-friendly wipes.
The following natural wipes are made from renewable materials and are biodegradable or even compostable.
They are also gentle to the skin as they do not contain harsh chemicals that may be irritating.
1. Eco Pea Co.'s Natural Bamboo Wipes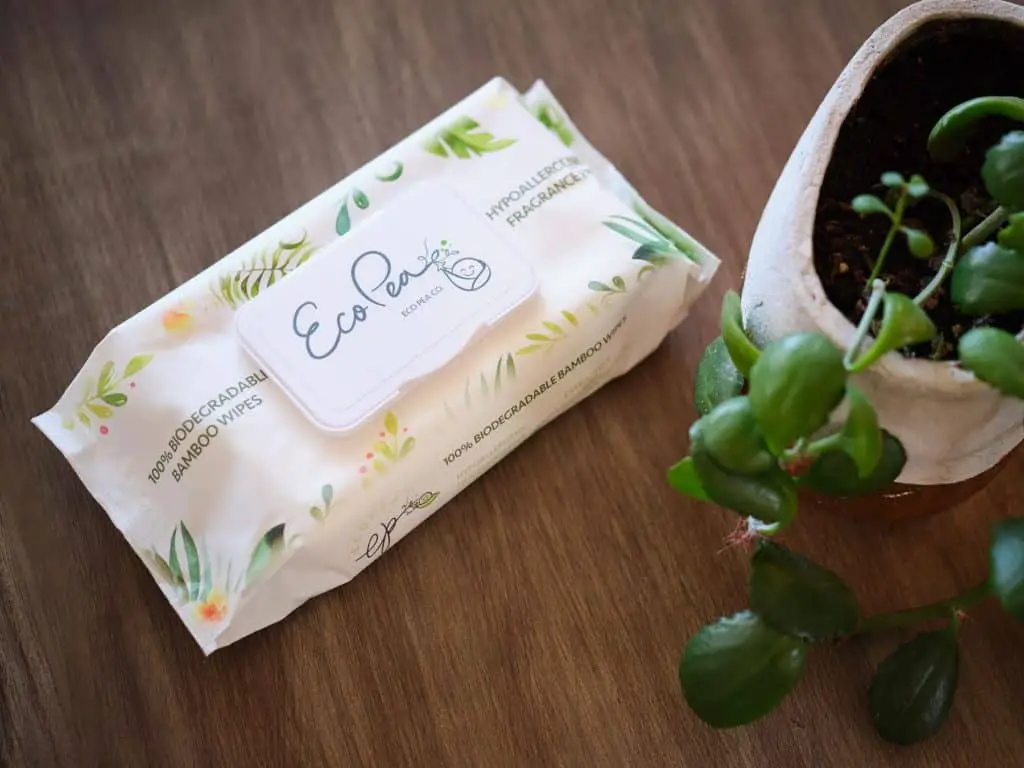 With less than 10 natural ingredients, these bamboo baby wipes are 100% biodegradable, hypoallergenic and fragrance-free.
Specifically designed for sensitive skin, these wipes were developed by a family from the West Coast who were looking for an eco-friendly alternative for their own baby's sensitive skin.
These wipes have been dermatologist tested, have a pearl grip, are never tested on animals and are free from all harmful chemicals.
Eco Pea Co. also offers a subscription and bundling service, so you can have them arrive right on your doorstep each month.
They also listen to their customers which is great to see.
Due to user feedback, their wipes are now one of the thickest in the industry and they also improved the dispensing so only one wipe is released at a time.
2. Eco by Naty – Unscented Wipes, Biodegradable & Hypoallergenic
The Swedish brand Naty is well-known for its safe and environmentally friendly baby products, especially its eco-friendly diapers.
These compostable baby wipes from Eco by Naty are made from 100% renewable, plant-based materials.
They are dermatologically tested and free from alcohol, phthalates, parabens, fragrances, chlorine, sulfates or artificial dyes. In fact, they contain more than 98% water and only a bit of soothing chamomile extract.
This makes them a great choice for sensitive skins. The materials used to make these wipes are harvested from 100% FSC certified wood, meaning it comes from forests that are managed sustainably.
3. Dr. Butler's – Organic, Chemical-Free Wet Wipes
Developed by a physician with decades of experience, these wipes are completely free of any harsh chemicals.
They are hypoallergenic and only contain filtered water and natural botanicals like rosemary oil extract, aloe barbadensis leaf extract, and vitamin E.
"Chemical-free" means they don't contain any petrochemicals, chlorine, phthalates, alcohol, formaldehyde carriers, SLS, phenols or other potentially harmful chemicals. They are also free of any preservatives.
These wipes are made from natural bamboo and thus don't contain any plastic fibers, which makes them completely biodegradable.
4. Jackson Reece – Unscented Natural Baby Wipes
Based in Northern Ireland, Jackson Reece has been providing organic and gentle baby products since 2003.
Inspired by their first son who suffered from baby eczema and unable to find wipes which wouldn't make his skin irritation worse, the parents scratched their own itch by developing the product their baby needed.
The result of many years of development, these baby wipes are hypoallergenic, pH balanced and dermatologically tested and approved.
They are made from paraben- and chlorine-free cloth that is completely biodegradable and compostable.
In fact, 99% of the ingredients in these wipes are derived from renewable plant extracts without any added chemicals or perfumes.
These wipes are unscented, but they also come in a version with herbal-derived scent, in case you prefer a bit of scent.
Conclusion
Although surely the cheapest and most eco-friendly option, using a reusable cotton cloth is not always possible and wet wipes are a very convenient alternative.
They are not only hugely helpful in the day to day care of your child; many adults also use them for their personal hygiene in a variety of situations.
Eco-friendly wet wipes are a much better alternative to regular, plastic-based and chemical-infused wipes.
You Might Also Like…