Plastic sucks. And plastic bags suck even worse. Each year, 5 trillion plastic bags are used worldwide – that's 160,000 bags per second.
Billions of those single-use plastic bags become litter each year because only 1% get recycled.
Of those 99% which become litter, the majority ends up in our oceans:
While each plastic bag is used on average for only 12 minutes, the plastic itself has a life expectancy of up to 1,000 years.
And even then it will only have broken down into micro-plastic, but not fully biodegraded, continuing to harm the environment.
So there's plenty of reasons to minimize our plastic usage as much as possible.
Sometimes it's hard to do, such as with packaged hygienic products and other sensitive materials.
But, when it comes to grocery store bags, there are such useful products out there that make sustainability easy that there's no reason not to use a reusable bag.
For the betterment of the planet, you need to make the switch to paper bags, polypropylene reusable bags, or, better still, handy tote bags that will last a long time and look cool, too.
Therefore, we've helped you pick out the best reusable grocery bag by listing the top five below.
1. Homemell – Reusable Heavy Duty Grocery Bags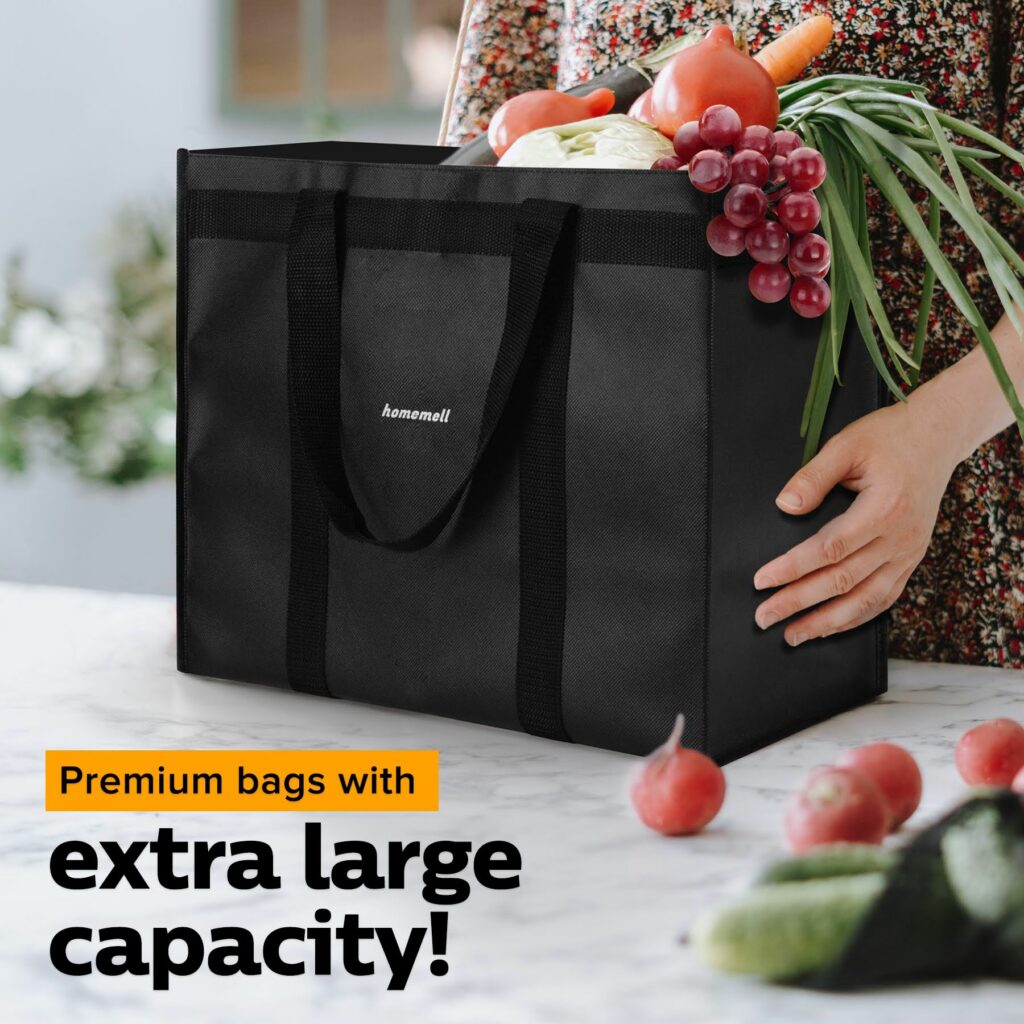 In a world where environmental consciousness and convenience intersect, Homemell presents a solution that not only benefits the planet but also enhances your daily life.
Say goodbye to wasteful paper and plastic bags at the checkout counter and make way for Homemell's innovative collapsible and reusable grocery bags.
A choice that not only saves you money but also contributes to the creation of a cleaner and brighter future.
Homemell's reusable bags are more than just shopping companions – they're versatile tools that cater to an array of needs.
From grocery runs to beach trips, from travel adventures to organizing storage spaces, these bags have you covered.
These bags are the epitome of adaptable convenience, a true companion in your day-to-day adventures.
Size matters, especially when it comes to accommodating your lifestyle:
Homemell's reusable shopping bags boast impressive dimensions – 15" W x 14" H x 10" D – providing an expansive capacity that easily surpasses traditional plastic grocery bags.
Embrace the freedom of ample space, without compromising on style or sustainability.
Crafted from lightweight yet durable materials, Homemell's reinforced grocery bags are the epitome of resilience.
With ease of cleaning, they are versatile enough to accompany you on various endeavors – be it supermarket runs, farmers market explorations, picnics, or your routine shopping escapades.
Benefits of the Homemell Reusable Grocery Bags:
Holds up to 100 pounds
Built-in snaps to keep groceries from sliding in your grocery cart or vehicle
Washable
Lightweight
Large capacity holds as much as 2–3 plastic bags
Extremely Durable
2. Organic Tendril – Reusable Cotton Tote Bag with lots of Pockets
If you've ever used a cloth grocery bag, you know that, while they're usually capable of holding a lot of stuff, the contents within the bag move around and fall over once in motion.
To keep your purchases organized and to prevent them from getting crushed, the Organic Tendril cotton tote bag has 6 pockets (7 if you count the empty space in the middle) to organize your produce, bottles, and other goods from the grocer.
Organic Tendril provides only the best for their customers. They know that finding good quality bags are hard, so they've made each of their bags consistently high-quality and premium made.
These tote bags with built-in dividers (pockets) let water and air flow through so you can be sure that when you wash the bag they dry properly, ensuring the best longevity for the bag. You are making an investment, after all.
Each bag is environmentally friendly. Not only are you forgoing plastic shopping bags, but Organic Tendril provides a certified organic 100% biodegradable muslin storage bag free from toxic chemicals. The eco-friendly tote bag is therefore safe to use with babies and food.
What's more, with each purchase of the Organic Tendril tote bag you get three additional cotton bags of small to medium to large sizes. You can make sure that smaller items, such as fruits and nuts, are contained well and organized within the pockets of the tote bag.
If you want all purpose storage that goes beyond the grocery store into traveling well and making great gifts, opt for an Organic Tendril reusable grocery store bag.
Benefits of the Organic Tendril Reusable Grocery Bag
Made from 100% organic cotton
Includes 7 compartments within the bag
Each purchase includes 3 cotton bags of small, medium, and large sizes
Washable
Contains no harsh chemicals
Biodegradable
Good air circulation throughout the bag
3. Purifyou – Reusable Mesh/Produce Bags
So, you got your grocery bags, but what if you don't want your produce to go straight onto the other contents you've purchased? Alternatively, what if you buy small loose items like nuts or grains?
You'll see rolls of produce bags in the grocery store, which still winds up littering the oceans and world around you. Thankfully, Purifyou makes durable bags to put produce and other grocery products in.
Every Purifyou bag comes with its tare weight, so you never have to pre-weigh the bag before filling it with your item—you can just subtract the tare weight from the overall weight. Each bag holds up to 11 pounds, too, so you can fill it full of bricks if you want and still be good at the register.
While being a heavy-duty design, the bags are slightly see-through so you always know what product is inside. Each bag is BPA-, lead-, and mercury-free and is free from harsh chemicals. You can rest assured that your products are not put at risk when coming in contact with the bags.
In addition, you don't have to worry about putting the bags in the wash either, since each bag is double-stitched and made from the high-quality material.
So, use the Purifyou bags in the grocery store, use the bags to store fruits and veggies in the fridge. No matter how you use them, each bag will save you time at the register and save the planet from more plastic entering fragile ecosystems. A win-win for everyone.
Benefits of the Purifyou Reusable Produce Bags
Has tare weight on the bag
Bags hold up to 11 pounds
Purchase includes small, medium, and large bags
Slightly see-through so you can see your produce
BPA-, lead-, mercury- and harsh chemical-free
Double stitched
Machine washable
4. Earthwise – Insulated Grocery Shopping Bag
Behold! An insulated bag that will keep frozen foods frozen long enough for you to get home and store them properly! This will sure come in handy when global temperatures rise due to climate change, right?
While the bags keep cold things cold, they also keep hot things hot, which is perfect for picnics, potlucks, BBQs, the beach and any other food- or drink-based occasion.
The bags are made from heavy-duty polypropylene, and the handles are sewn all the way down for maximum durability. The stitching and zipper make the bag leak proof as well.
Should something spill in the bag, the plastic lining makes clean up a breeze. Simply wipe the bags off with a rag soaked with soap and water and you're good to go.
It's good to have at least one insulated bag in your arsenal of reusable bags, as you never know when the need will arise.
Benefits of the Earthwise Insulated Reusable Grocery Bags
Insulated bags maintain the temperature of the contents longer
Heavy-duty construction
Easy to clean plastic liner
Multi-use
Waterproof
5. True Natured Co. – Zero Waste Biodegradable Cloth Shopping Bags (Washable)
Best for overall sustainability and easing your way into the zero-waste lifestyle. None of the packagings from True Natured Co will include plastic (a third-party shipper, such as Amazon, may be a different story).
The set comes with one cotton net reusable grocery bag, three mesh produce bags for fruits and veggies, and three bulk bin bags for nuts, coffee, and smaller items.
Each of these cloth grocery bags is double stitched with durable seams and has the tare weight on them for easier weighing. Rest assured knowing that your ethical consumer habits are having much better impacts on the environment.
Benefits of the True Natured Co. Zero-Waste Grocery Set
Comes with 7 bags total
Completely zero waste and plastic free
Tare weights on bags
Durable
Machine washable
Recap: Why you should get a reusable shopping bag
Better for the environment
You don't have to deal with the pile of shopping bags later on
Feel better
Support companies in improving the environment
Never fear that the flimsy plastic bag you're using will tear
It's about time more people used reusable shopping bags.
Which one will you choose?
You Might Also Like…