Have you ever wondered how your makeup routine affects the planet?
Each year, about 120 billion pieces of packaging are tossed from beauty items alone. Many of those packages are made from plastic that will sit in landfills for centuries, leeching toxic chemicals into the soil.
A lot of the ingredients used in conventional makeup are not exactly healthy, either – for you or for the planet.
For example, the FDA banned the use of triclosan in soaps in 2013, but some cosmetic companies still use it as a preservative in makeup.
It has been found to encourage bacterial resistance, ultimately making infections harder to cure with antibiotics. 
Companies that make eco-friendly and nontoxic makeup are seeking to do better. They're using more sustainable ingredients and packaging, and they're making products you don't need to feel guilty for using.
But that still means that you, as the consumer, need to know what to look for in sustainable makeup and what products are worth purchasing.
Make sure to also check out our complete guide on finding the best makeup accessories.
It's a beautiful thing, really. So without further ado, let's go.
What Is Eco-Friendly Makeup?
The term "eco-friendly makeup" is pretty broad.
When companies market their makeup as eco-friendly, they may be referring to the ingredients used to make the makeup, their manufacturing processes, the packaging they use, and even how the products are tested.
In the best-case scenario, they're referring to all these elements.
Every step, from sourcing the ingredients to disposing of the leftover product — is as kind to the plants, animals, and natural resources on this planet as possible.
Non-toxic ingredients
You'll see a lot of overlap between eco-friendly makeup and non-toxic makeup, and for good reason.
Makeup made with non-toxic ingredients is better for you, the wearer, and also for the planet.
There is a long, long list of toxic ingredients potentially found in conventional makeup, but regularly excluded from non-toxic makeup. These include:
Parabens: Parabens are be linked to hormonal disruption and may cause harm to the reproductive system. They're a common ingredient in foundation.

BHT and BHA: These preservatives may cause developmental issues and are possible carcinogens often seen in lipsticks, eye shadows, and face powders.

Phthalates: Linked to obesity, birth defects, and thyroid problems, phthalates are often found in nail polish and eyelash glue.

Octinoxate and Oxybenzone: These ingredients are easily absorbed through the skin and may be excreted in the breast milk of nursing mothers. They're often found in foundation, cream makeup, lipstick, and nail polish.

Triclosan: Triclosan may be linked to breast cancer and contributes to antibiotic resistance. It's used in some face powders and foundations. 
Nontoxic, eco-friendly makeup is made without these and other harmful ingredients. The manufacturers instead use natural ingredients like plant-based pigments and oils.
Not only is this better for you, but it's better for the planet. After all, at the end of the day, you wash off that makeup and it ends up in the water.
Cruelty-free
Animals are a vital part of the earth's ecosystems, so manufacturers of eco-friendly makeup certainly aim not to harm them.
Products labeled as "cruelty-free" have not been tested on animals, and none of the ingredients that have gone into the product have been tested on animals, either.
PETA maintains a searchable database of companies that make cruelty-free products, which is a great resource to reference as you shop.
Organic ingredients
Eco-friendly makeup companies also make sure the natural ingredients they use have been grown in a way that is good for the planet.
If a company says they make their products with organic ingredients, that means those oils, plant pigments, and other components have been grown without pesticides and insecticides.
Species like the bumble bee have experienced a terrible decline due to the use of insecticides, so buying products made with organic ingredients is really important! 
Recyclable packaging
Think about how many tubes of lipstick, palettes of eye shadow, and bottles of foundation you go through in a year.
Imagine if all of those packages sat in a landfill, slowly polluting the surrounding soil and water.
Sadly, that is what happens with conventional makeup packaging.
But eco-friendly makeup companies are beginning to sell their products in packages that will break down or be able to be recycled, reducing the amount of waste produced.
Recyclable glass, biodegradable cardboard, and bamboo are common options.
Earth-friendly resources
It takes a lot of energy to power the labs that formulate makeup, the machines that make the packaging, and even the trucks that deliver the makeup to stores.
Eco-friendly makeup companies are making sure that the energy they use comes from renewable, earth-friendly sources.
Some, like Aveda, rely on wind power to run their plants.
Others harness the sun's energy with solar panels. Still others buy their ingredients locally to cut down on the gas used in vehicles.
What Are the Benefits of Eco-Friendly Makeup?
So why should you go out of your way to buy eco-friendly, sustainable makeup instead of just grabbing your old stand-bys from the drugstore shelf?
Here are a few reasons to make the switch:
1. Keep landfills small!
In the United States alone, in 2017, 139.6 million tons of trash ended up in landfills.
That's a lot. By buying makeup in recyclable packaging, you're reducing the amount of trash that gets carted off to a landfill. 
2. Go green for the planet!
Sustainable living is all the rage these days, and for good reason. Maybe you've made changes to your lifestyle, such as eating less meat or buying organic groceries.
Why not extend the same practices to your makeup routine?
When you buy makeup made with natural, organic ingredients, you're reducing the harm done to plants and animals, and you're supporting farmers that utilize these earth-friendly practices.
3. Save the animals!
Did you know that more than 115 million animals are used in scientific experiments each year?
This testing is not even necessary, as evidenced by the many cruelty-free makeup brands that are out there making wonderful products without hurting a fly — literally.
By supporting cruelty-free brands over those that still conduct animal testing, you're helping take a stand against this outdated and exploitative approach.
4. Be kind to your body!
Rashes from harsh ingredients. Itchy eyes. Headaches.
So many people do not even realize these symptoms are coming from their makeup until they make the switch to non-toxic products.
Your body deserves safer makeup, and eco-friendly brands deliver on that promise.
How Can You Make Sure Your Makeup Is Eco-Friendly?
Finding eco-friendly makeup is getting easier as more brands enter the market.
Some brands are widely advertised as eco-friendly, while others may be great for the planet even though their labels don't proclaim it so loudly.
To find eco-friendly beauty products that are better for you and the planet, you have to play detective.
When shopping for makeup, pay close attention to the following:
The Leaping Bunny Logo
Brands that are certified as cruelty-free feature the Leaping Bunny Logo, which shows a little black bunny jumping through a blue hoop with some stars.
This symbol is recognized internationally.
Makeup companies can only put it on their product after making a pledge to the Coalition for Consumer Information on Cosmetics not to conduct testing on animals or use ingredients that are tested on animals.
The Fair Trade Seal
People are part of this planet, too, and you want to buy Fair Trade makeup from brands that treat their workers well.
The Fair Trade Certified Seal features a green circle and the words "Fair Trade Certified." It is only awarded to companies that support sustainability, empower their workers, and protect natural resources.
Check out the following short video to learn more about Fair Trade:
The Rainforest Alliance Certified Seal
The planet's rainforests are being destroyed by human activities such as logging, agriculture, and harvesting. This destruction is contributing to climate change at an alarming rate.
Some makeup products are made with palm oil, sugar cane, and other ingredients from companies that contribute to rainforest destruction!
Sustainable makeup that carries the Rainforest Alliance Certified Seal, which is a green circle surrounding a frog, is made by companies that have pledged to help take care of the rainforest and its creatures.
Saving our rainforests doesn't have to be hard, as you can see in the following video:
Ingredients lists
When trying to determine if a makeup product is earth-friendly and natural, always pay close attention to the ingredients list.
Do you see any long chemical names you cannot pronounce?
Then chances are, you're looking at harmful makeup, not a natural product. Keep an eye out for the ingredients discussed above, especially.
There are plenty of eco-friendly makeup brands making products without parabens, phthalates, and BHA, so why take your chances with toxins like these? 
Pay attention to packaging
The packaging your makeup comes in is almost as important as the product itself. Here are a few tips for finding makeup in eco-friendly packaging.
Choose glass over plastic: Most glass makeup containers can be recycled. The type of plastic used in compacts and foundation bottles is not usually recyclable.

Avoid pumps: Yes, they might be a convenient way to dispense products, but the plastic they're made from is not recyclable. Makeup in pots is more eco-friendly; you can dispense what you need on a little spatula.

Say "no" to mirrors: There's just no good way to recycle a compact with a built-in mirror. Who really uses these tiny mirrors, anyway?

Buy larger sizes: For products you use every day, buy a larger size when possible. You'll have fewer packages to throw away or recycle overall.
How to Use Makeup Sustainably (5 Tips)
It's not just about the makeup you buy. How you use it also matters!
Here are 5 tips to make sure you're not sacrificing the planet for your pretty face.
1. Research before you buy
Don't wait until you're standing in the makeup aisle with only 5 minutes to spare to check into the brands you're thinking of buying.
Most natural makeup brands offer copious information about their products on their website, so you can find out all the juicy deets before it's crunch time.
Look up brands you're considering to see what other organizations have to say about them.
How are their products made?
Are they good for people with your skin type?
What do the beauty vloggers have to say?
Doing good research helps you avoid buying harmful products or products that you don't end up liking or using, and this cuts down on waste.
If you don't feel like doing the research yourself, no worries! We've done the work for you – keep reading and check out the best brands out there further down in this article.
2. Use products up before buying new
Every gal has done it. You buy a new foundation and end up loving it so much that your old one sits in the cabinet for 6 months before you remember it was there.
Then, you have to toss it because it expired. What a waste! Get into the habit of using your products up before buying new.
Most online makeup companies these days offer two-day shipping, so you can easily wait until you have just a few applications of lipstick left before clicking that "re-order" button.
3. Simplify your routine
Unless you work as a model, you probably don't need to wear three different foundations, an illuminator, a bronzer, six shades of eye shadow, and three different shades of lipstick every day.
Work on simplifying your beauty routine and reducing the number of products you use on a daily basis.
When you take the time to find natural makeup that really works with your skin, you can cut back on a lot of the extras.
Simplifying your routine means you'll end up throwing away less expired makeup. You won't be tossing as much packaging or rinsing as much product down the drain, either! 
4. Don't overuse products
Pay attention to how you're applying your makeup to make sure you're not over-applying and wasting product.
For example, if you're using traditional makeup sponges to apply your foundation, a lot of the makeup is probably getting absorbed by the sponge.
Switching to a brush or Beauty Blender may cut back on waste. 
5. Donate partially used products
No matter how carefully you research products, it's going to happen once in a while: you're going to buy makeup you don't end up liking.
Maybe it does not sit well on your skin or the color doesn't complement your skin tone well. Instead of just tossing it in the trash, consider donating it. 
There are a number of companies that take partially used beauty products and give them to women in need:
Project Beauty Share operates drop-off locations across the country, and you can also mail them your new and gently used items. They give the products to non-profits that serve women overcoming homelessness and poverty.

Share Your Beauty collects cosmetic items for women and teens in crisis. You can send items to their address in New York.

Many local women's shelters and veterans support groups accept donations of unopened and gently used makeup.
5 of the Best Eco-Friendly Makeup Brands
There are new brands entering the natural and organic makeup marketplace every week, but here are a few of the front-runners: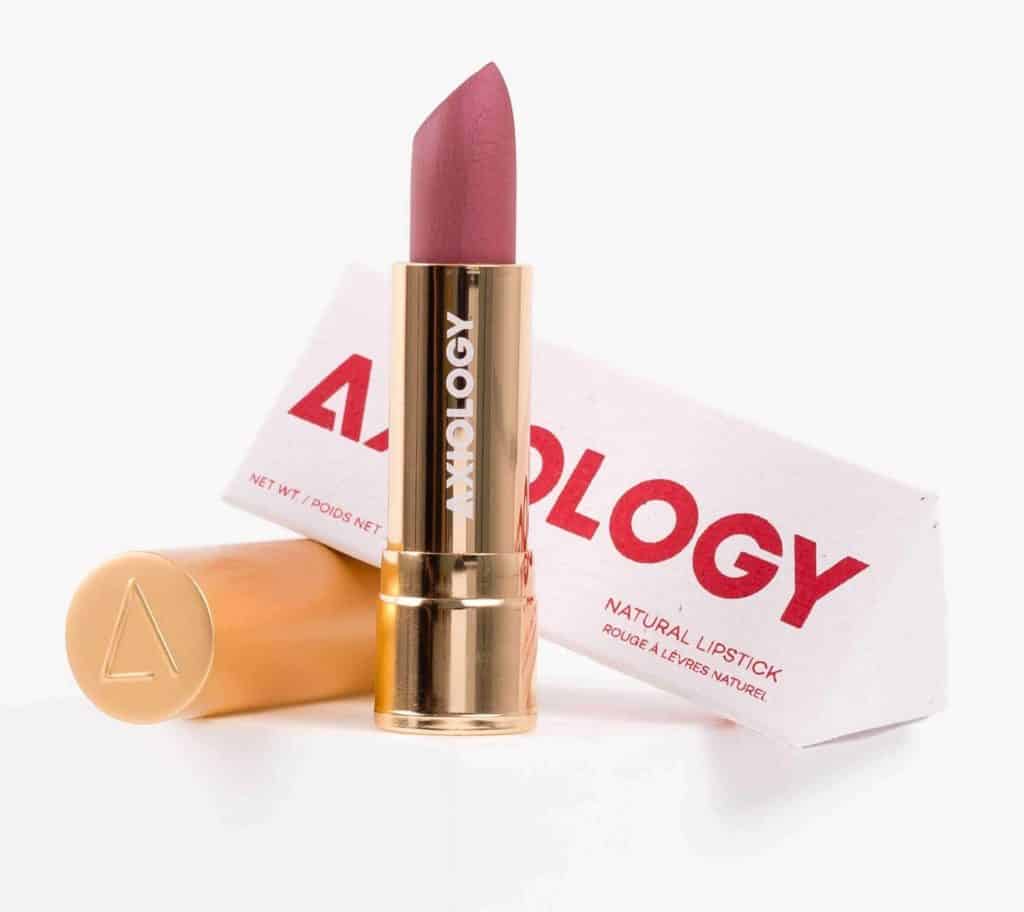 Axiology's founders wanted to make the cleanest, most ethical lipstick on the planet. They refer to their products as "100% evil-free."
They don't test on animals, use palm oil associated with rainforest destruction, or imbibe their lipsticks with synthetic fragrances.
So, what does Axiology put in their lipsticks?
They're very honest about that on their website. There are 10 ingredients: Avocado butter, vitamin E oil derived from sunflower oil, candelilla wax, elderberry extract, organic orange oil, organic neem oil, organic avocado oil, organic grapeseed oil, organic coconut oil, and organic castor oil. That's it.
If you're worried you won't find a shade you love, don't be. Axiology offers pinks, reds, oranges, and everything in between. From creamy to shimmery, they have your lipstick game covered.
Reviewers have great things to say about Loyalty, a flawlessly pink lipstick crayon with a creamy texture.
Check out Axiology's full collection here. (Use this discount code to get 10% off: EvilFree)
Ilia creates bold, colorful products from active botanicals and organic oils. Their products are cruelty-free and carry the Leaping Bunny logo.
Ilia never uses phthalates, sulfates, or parabens, and their products are mostly vegan, though some do contain beeswax.
One of Ilia Beauty's best sellers is their Limitless Lash Mascara, a buildable, flake-free formula made with organic shea butter.
Their Color Block High Impact Lipstick makes quite a statement, providing hydrating color in a single swipe.
Check out Ilia's full collection here.
The name says it all. 100% Pure products are free from toxic ingredients. They're also cruelty-free and sustainably sourced. The company uses pigments derived from fruits, veggies, and tea, and they donate to organizations that plant trees and care for shelter pets.
100% Pure makes foundations, eye shadows, nail polishes, lip pencils, and so much more. Their Fruit Pigmented Eye Shadow has won several awards, as have their Bamboo Blur Powder and Green Tea Fiber Brow Builder. 
The company offers free domestic shipping on orders of $50 or more, so shop away!
Check out 100% Pure's full collection here.
Juice Beauty is making a name for themselves with their sustainable manufacturing processes. They use wind and solar power in their factories, and they source their ingredients locally whenever possible.
Juice Beauty uses all USDA Certified Organic ingredients, and they never include endocrine disruptions, like parabens or phthalates, in their products. You'll see the Leaping Bunny logo on all of their products, too. They're not only cruelty-free, but vegan.
So what are some of your best buys at Juice Beauty? Definitely check out their Phyto-Pigments Flawless Serum Foundation.
With hydrating coconut alkanes, it offers full, flawless coverage and blends beautifully into the skin. Plus, it comes in a generous range of shades to match all skin tones!
5. RMS Beauty
RMS Beauty was an early pioneer in the sustainable makeup industry. All of their ingredients are non-GMO, cruelty-free, and soy-free.
Their boxes are made from 80% post-consumer recycled fibers, and their glass pots are fully recyclable. They even power their manufacturing plant with wind-generated power!
Another great thing about RMS is that many of their products are dual-purpose, which helps cut down on waste. Lip2Cheek is a multi-tasking pigment that you can use as a blush or lip stain, and it comes in 9 shades. 
RMS is also known for their "Un" Cover-Up Cream Foundation, which comes in 16 shades and offers flawless coverage with a dewy finish. They offer detailed descriptions of each shade to help you choose the right one.
Conclusion
With so many great brands continuing to innovate and create exceptional, eco-friendly makeup, why not make the switch?
Toss your harmful makeup, and choose something that is better for the planet and for your health.
You deserve the best — and the earth does, too.
You Might Also Like…