When it comes to lugging your stuff around, there are few things that are as useful as a backpack.
Do you really want to carry your books to class in your arms?
Would you rather drag a suitcase to work?
How convenient is it to haul a duffel bag to the gym?
A backpack makes it much easier to do all of these things – especially since it allows you to keep your hands free and makes it easier to carry heavier items. This is especially true if you're traveling or going for a long hike.
However, there are tons of different types of backpacks to choose from – and unfortunately, many of them are made with materials and processes that aren't exactly eco-friendly.
Since the last thing you want is to contribute to environmental waste or destruction, you'll want to find a high-quality backpack that's truly eco-friendly.
So in this article, we'll take a good look at the following and more:
How to choose the right backpack for your needs
Which features you may want your new backpack to have
What you need to know about leather backpacks
How to choose a truly eco-friendly backpack
Some of the most sustainable backpack brands out there
But first, you'll want to figure out how to actually choose a backpack that fits your general needs.
How do you choose the right backpack?
When looking for a backpack, you're going to want to find one made with high-quality materials that will suit your needs. There are a lot of different types of backpacks out there produced by countless brands.
A poor quality backpack will not only wear down quickly, but it could end up causing physical injuries if used improperly.
With that in mind, the following are a few questions that you should ask when buying a backpack.
What will you be using your backpack for?
Different types of backpacks suit different needs. For example, if you need to carry books to school, then a basic day backpack with a 20 to 40-liter capacity should be appropriate.
If you just need a backpack to carry a change of clothes, a towel, and a water bottle to the gym, then a drawstring backpack (which typically has a 10 to 25-liter capacity) or a tote backpack (15-35 liters) will work fine.
However, if you plan on using your backpack to travel or go out into the wilderness, you may need a hiking backpack. These come in a variety of different size capacities depending on your needs. Some of the larger hiking backpacks come in capacities of 80+ liters.
How do you pick the right size backpack?
The size of your backpack doesn't refer to its capacity – instead, it refers to how it fits your torso. If a backpack is too long or too short, it could cause serious strain on your back, shoulders, and neck.
You'll want your backpack to match the length of your torso to ensure a good fit:
For a 15" torso length, you'll need an extra small backpack
Small backpacks fit 16" to 17" torso lengths
Medium (or regular) backpacks fit 18" to 19" torso lengths
Finally, large (or tall) backpacks fit 20"+ torso lengths
It's worth noting that some backpacks do have adjustable torso lengths, which means that the distance between the hip belt (which most hiking backpacks have) and the shoulder straps can be lengthened or shortened. 
Does the backpack need to be water-resistant?
If you're investing in a backpack to go hiking or you live in an area where it tends to rain a lot, then having a backpack that's water-resistant will be helpful so that its contents don't get wet.
Some materials, such as polyester, are more water-resistant than others (such as nylon). However, many of these materials aren't exactly eco-friendly (both, polyester and nylon are petroleum-based and neither is biodegradable).
Fortunately, there are other materials that are water-resistant that are more eco-friendly, such as leather and canvas.
Additionally, you could always invest in a waterproof liner for the inside of your backpack or purchase an external rain cover. Many hiking backpacks even come with rain covers.
What backpack features do you need?
Depending on why you're buying the backpack, you may want certain features.
If you're getting a backpack for day use (such as for class) or for carry-on items when traveling, then you may want a pocket inside of your backpack for your laptop.
If you need your backpack for hiking, traveling, or for going to the gym, then water bottle holders can be very useful. Hiking backpacks tend to come with numerous pockets that can be used to store smaller items.
Whether you need these pockets or not depends on what you plan to use the backpack for. In some cases, too many pockets can end up just being a waste of space and material.
Are leather backpacks eco-friendly?
When looking at backpacks – especially non-hiking backpacks – you'll find that many are made using leather.
Leather backpacks tend to be extremely durable because of the fact that leather is water-resistant, heat-resistant, and won't experience nearly as much wear and tear under harsh conditions as other materials.
This means that they can last for a very long time. Not to mention, they also look great.
But are leather backpacks eco-friendly?
This depends. Because real leather is made from animal hide, it is biodegradable. But it all depends on how the leather was tanned.
Leather tanning – the good & the bad
In order for the skin or hide of an animal to be processed into leather, it must be tanned.
The issue is that conventional methods for tanning leather make use of a high level of chemical agents, including chromium. When oxidized, chromium becomes a known toxin and carcinogen.
Even though this conventional chrome tanning causes severe water and air pollution as well as worker health problems, it still accounts for 90% of tanning production.
Fortunately, there are eco-friendly tanning methods, such as vegetable tanning.
Vegetable tanning has been around since the middle ages and is a process in which plant-based elements, such as fruits or small tree branches are used to tan the leather.
This means that even if water that was used in the vegetable tanning process is discharged into nearby bodies of water, it won't have a negative effect on the environment. Rose tanning is another environmentally-friendly alternative.
Is vegan leather a good alternative?
If you're vegan and you're looking for products that use leather which isn't made out of animal skin, you might stumble upon something called "vegan leather."
It's important to understand that this is a misleading name – it's not real leather since it's not made from animal skin. It's also not an eco-friendly option in the least bit.
Vegan leather is a petroleum-based textile. It's therefore not biodegradable, although it can be made from recycled plastics.
Last, but not least, vegan leather tends to be of much poorer quality than real leather, which means it won't be as durable and you'll have to replace it sooner and more often.
How long will a backpack last?
The quality and durability of a backpack matters. You don't want to have to replace your backpack right away because it wore down too quickly, after all.
Materials such as leather and canvas will withstand a lot of wear and tear. However, it's usually in the straps where a backpack will experience damage.
A good indication of quality is the stitching – double stitching will help keep the shoulder straps intact.
Additionally, look for a manufacturer that offers a warranty. The longer the warranty is, the longer your backpack is likely to last.
How much does the backpack cost?
Cheap backpacks generally cost less than $100. In fact, cheap kids' backpacks can cost less than $50.
However, a high-end backpack can cost upwards of $600. The larger the backpack is, the more features that it has, and the higher quality the materials are, the more it's going to cost.
Generally speaking, expect to pay between $100 and $300 for a good backpack. While it can be expensive, you should think of your new backpack as an investment. The better the quality, the longer it will last.
If you buy a cheaper backpack, not only is it likely not very environmentally friendly, but it won't last very long, which means you'll end up spending more money replacing it in the long run.
How to choose a sustainable backpack?
When buying products of any kind, odds are that you would like to have as little negative impact on the environment as possible.
There are many brands out there that put a lot of effort into designing and manufacturing backpacks that are as eco-friendly as possible. They do this by using recycled materials and/or organic fibers as well as by implementing various dying or leather tanning processes that are more sustainable than conventional methods.
However, it's important to note that very few backpacks are completely sustainable. As such, look for companies that not only use eco-friendly materials and processes whenever possible, but that are continuously looking for new ways to make their backpacks more sustainable in the future.
Additionally, looking at the brand behind the product is as important as looking at the product. There are plenty of companies out there who use the terms "sustainable" and "eco-friendly" very loosely as a marketing gimmick.
You'll want to make sure that the brand that's selling the product is both environmentally and socially responsible:
How committed are they to implementing sustainable practices throughout their supply chain?
Are they just trying to limit the damage that they do or are they actively trying to improve the environment and/or social conditions around the world?
Do they support any environmental or social initiatives?
The 8 Most Sustainable Backpack Brands
Keeping all of this in mind, the following are brands (both big and small), that have earned a reputation for the quality of their products and their efforts to implement socially responsible and sustainable business and manufacturing practices.
1. Fjallraven
Fjällräven (a Swedish company whose name we don't know how to pronounce) has a line of 18 different backpacks that include everyday backpacks as well as trekking backpacks.
They are a company that's committed to making nature more accessible while maintaining the utmost respect for the environment. They focus on a design that embraces simplicity and practicality.
Whenever possible, they use materials sourced directly from the environment, including wool, cotton, and down. Fjällräven stresses the importance of balancing the functionality and efficiency of a material with its environmental impact.
As such, many of their materials are organic, renewable, or recycled – and they prioritize traceable natural materials. Some of the materials that they use include recycled polyester, organic hemp, and G-1000 Eco and traceable wool.
Additionally, their Kånken backpack is made from polyester recycled from 11 plastic bottles. These backpacks are dyed using SpinDye technology, which significantly reduces the amount of chemicals, water, and energy that is used.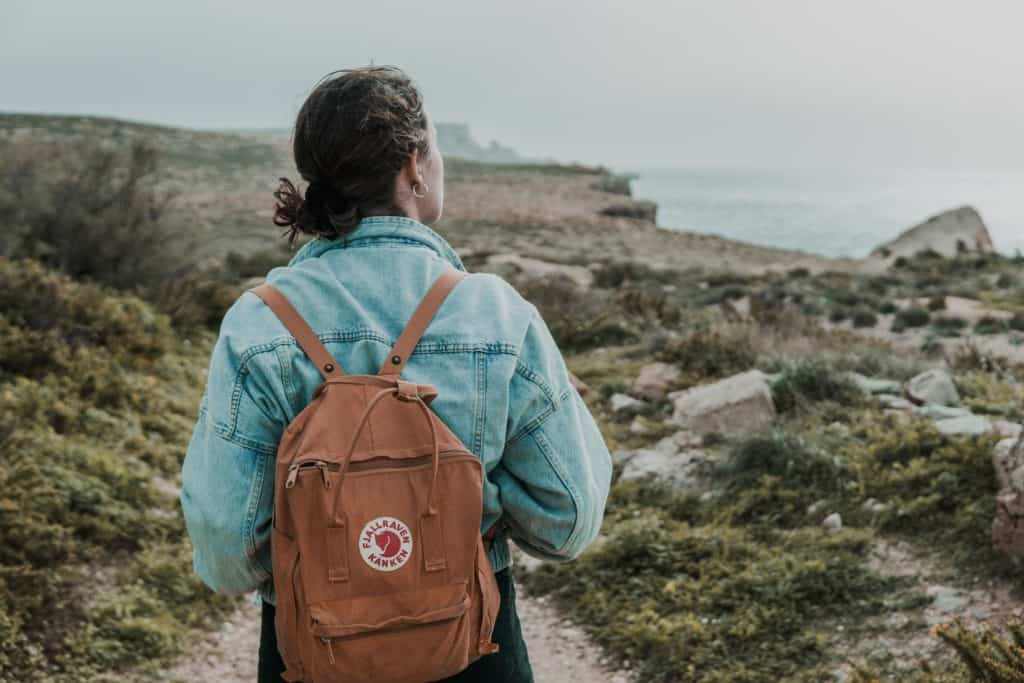 Fjällräven has a code of conduct based on the Fair Labor Association's Workplace Code of Conduct, which covers human rights, environmental protection, sustainable development, and animal welfare. They require their suppliers to follow this Code of Conduct as well.
While their long-term goal is to reduce their environmental impact as much as possible, they are transparent about the fact that they cannot completely eliminate their emissions. Because of this, they climate compensate for their products by supporting renewable energy projects that have been verified by the UN. Their goal is to become completely carbon neutral by 2025.
2. Patagonia
As far as outdoor gear goes, Patagonia is known as one of the top tier brands. They have an enormous line of backpacks that include both day backpacks and hiking backpacks.
What makes Patagonia particularly impressive is the lengths that they go to reduce their impact on the environment.
For example, their line of Black Hole backpacks are manufactured with body fabric and webbing made 100 percent out of recycled plastic bottles. So far, they've used over 10 million plastic bottles on this season's Black Hole line of bags.
Their normal backpacks use eco-friendly materials as well. For example, many of their daypacks are built using 100 percent recycled nylon (obtained from post-industrial waste fiber) and polyester materials.
Their backpacks are also dyed using a solution that saves half a gallon (1.9 liter) of water per bag and that uses 96 percent less CO2 than conventional dyes.
There aren't many companies as big as Patagonia that put as much effort into being environmentally and socially responsible. It's even part of their mission statement, which states that "We're in business to save our home planet."
Patagonia has taken great strides to become 100 percent sustainable. They have either switched to sustainable, eco-friendly materials and processes wherever possible or are researching ways to do so.
They take a holistic approach to becoming a sustainable company as well, implementing sustainable practices throughout their facilities whenever possible. They are also very transparent about materials or processes that they use that aren't sustainable.
Patagonia is Fair Trade Certified and is committed to promoting fair labor practices and safe working conditions throughout its supply chain.
Additionally, they donate the larger of one percent of their sales or 10 percent of their pre-tax profits to environmental groups.
3. Tentree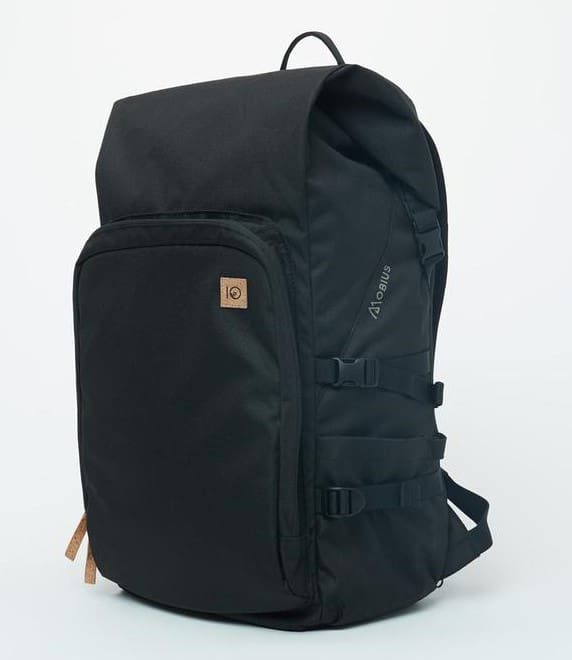 Tentree only has two backpacks, but they are both excellent options. The Mobius 35 l backpack is more of a hiking backpack, while the Motion 24 l backpack is their day backpack.
Both are made using 100 percent REPREVE® Recycled Polyester and BLOOM Foam Padding, which is the first plant-based foam. It's made using excess algae – algae that is currently damaging ecosystems as well as harming plant, animal, and human life.
Not only does the use of BLOOM Foam Padding improve the backpack's quality, but it also helps clean up the environment and minimize the risk of algal blooms as a direct result.
Tentree is also unique in that they provide an eco-log for all of its products, so that you can see exactly how much water was used, how much CO2 was emitted, and how much waste was created for each product compared to more conventional products.
By buying a Tentree backpack, you're supporting an environmentally and socially responsible company (they are B-Corp certified). You'll also be giving back to the environment. This is because Tentree plants ten trees (hence their name) for every item that's purchased.
Tentree's mission is to become the most environmentally progressive brand on the planet by not only reducing the negative impact the apparel industry has on the environment, but also by revitalizing the environment. Their goal is to plant 1 billion trees by 2030.
4. United By Blue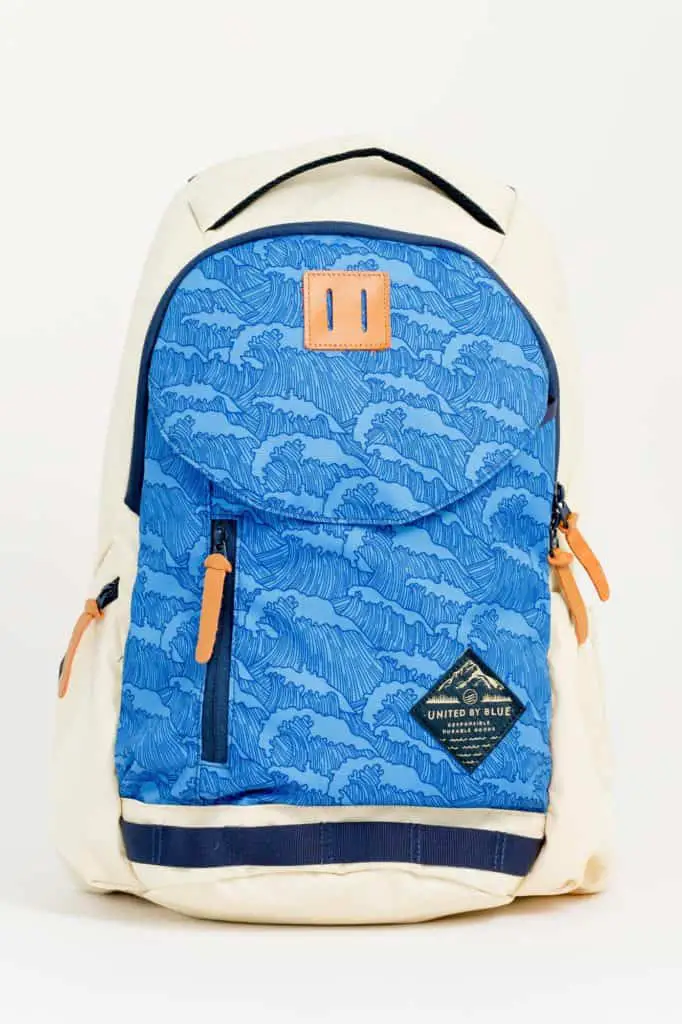 United By Blue touts its line of backpacks as being eco-friendly backpacks with multiple uses. The idea is that their backpacks can be used for hiking, traveling, camping, or even morning bike rides.
One look at their backpacks and you'll see that they have a unique style that sets them apart from more traditional backpack brands.
Materials used in their backpacks often include recycled polyester and organic cotton; however, be sure to look at the details. Some of their backpacks may use 100 percent recycled polyester, while others use 44 percent.
Many of their backpacks are made using REPREVE®, which is a fiber made out of recycled plastic bottles.
Some of their backpacks do have leather elements. It's important to mention that the leather they use is vegetable tanned as opposed to the more conventional (chemical) method of tanning leather which is really harmful to the environment (as we've learned earlier in this article).
United By Blue is a certified B-Corp, which verifies that they meet the highest standards of social and environmental performance as well as public transparency and legal accountability.
Additionally, for every product that they sell, United By Blue removes one pound of trash from oceans and waterways around the world. So far, they have removed 1,756,888 pounds (796,911 kg) of trash and counting.
5. Lo & Sons
You won't find any hiking backpacks at Lo & Sons (although you could use a few of their backpacks for shorter hikes).
This is because, for the most part, they focus on backpacks meant for daily use, such as backpacks for work, class, or short trips (they're designed to fit perfectly as carry-on items).
Many of their backpacks also have flexible functionality; for example, one of their backpacks can convert to a tote back while another can convert to a suitcase. 
In addition to focusing on design and functionality, Lo & Sons is also committed to becoming a more sustainable company.
They have already implemented eco-friendly materials into their backpack design, including their recycled poly collection, which uses technical fabric made from recycled plastic bottles.
Another eco-friendly choice is their organic canvas collection, which uses limited-supply cotton that was grown without chemicals or pesticides.
As of 2018, 15 percent of their products were made using eco-friendly materials. They plan on doubling that amount by 2020. They've set many sustainable goals for themselves over the next few years as well.
They will begin using more sustainable materials made from plant-based fibers, switching nylon products to 37.4 percent recycled nylon, and they will begin packing their products in biodegradable poly bags.
Last, but not least, Lo & Sons has partnered with a number of eco-friendly organizations in its aim to become more sustainable. Some of their partners include the Sustainable Apparel Coalition, The Renewal Workshop, and the Yale Center for Business and the Environment.
6. Qwstion
QWSTION is a company that produces bags of all kinds out of Zurich, Switzerland. They have several backpack options, including a Mini Backpack that's made just for kids.
Their aim was to create bags that were designed to be used in both formal and casual settings, such as in the office or while going for a bike ride.
Although designed in Zurich, their backpacks are manufactured in China and other parts of Europe. To ensure that ethical manufacturing takes place, the factories that produce their bags are audited by the Business and Social Compliance Initiative (BSCI). The goal of the BSCI is to implement European manufacturing standards in factories located in non-European countries.
In order to achieve the highest sustainability possible, QWSTION develops its own materials and uses natural fibers whenever it's possible.
This means that many of their bags are produced using organically grown fibers (close to 100 percent of the fibers used are natural and renewable) and are coated with PFC-free water-repellent solutions.
Some of the materials used in their bags include organic cotton canvas and Bananatex®, which is a shell fabric made out of banana plant fibers.
Many of their bags do have leather components; however, all of their leather is tanned using the eco-friendly vegetable tanning method.
7. Got Bag
Got Bag is a young German startup that only recently launched its line of eco-friendly backpacks; however, they are well worth looking into.
It took the two founders almost two years to research and develop their sustainable backpack design.
The result of that in-depth research was the world's first backpack made out of recycled ocean plastic.
Watch this short video clip to see what Got Bag is all about and what makes it a great backpack:
Got Bag obtains the ocean plastic it needs to produce its bags by partnering with SEAQUAL and with a network of 1,500 fishermen who extract plastic from the water they fish in.
By purchasing one of their backpacks, you're directly contributing to the clean up of the ocean. Each backpack is the result of 3.5 kg of plastic that was removed from the ocean.
The backpack itself is also 100 percent waterproof and is made using a sustainable BIO-PU coating. The quality of the backpacks is backed by a two-year warranty.
8. Rewilder
Rewilder is a small business that handcrafts its backpacks out of Los Angeles. What makes their operation unique is that their backpacks are made using 100 percent salvaged and upcycled industrial trash.
For example, they regularly use old beer filters used by American beer manufacturing plants to produce a tough, durable, and lightweight cloth for their backpacks. These beer manufacturing plants go through roughly 100,000 tons of filters every year.
Other types of industrial trash that Rewilder repurposes for its backpacks include mesh used as outdoor backdrops for large entertainment events, car cover fabric used by the container shipping industry, and high-tech airbag material sourced from factory end rolls that are usually trashed during the production of airbags. 
As you can imagine, their backpacks have a very unique look to them. They are also affordable considering the fact that they are handmade with their most expensive model available for less than $100.
If you're unsure about their quality, Rewilder even offers a 30-day return policy, meaning that you can try it out for 30 days and return it if you don't like it, no questions asked.
Once you purchase a Rewilder backpack and it's damaged or experiences wear and tear to the point where it's time to get it replaced, then Rewilder will take it back from you.
They will either repair the backpack for you or repurpose/recycle its materials. If you want a new Rewilder backpack, they will make one for you using as much of the material of your old Rewilder backpack as possible.
As a reward for sending your old Rewilder backpack back to them, they will give you a 35 percent discount on your new Rewilder backpack along with free shipping.
Conclusion
A backpack can be one of the most effective and efficient ways to carry your things, whether you're going to class, going to the gym, traveling, camping, or going for a hike (just to name a few situations in which a backpack can come in handy).
Not only do you want to make sure that you invest in a high-quality backpack that fits your needs and that will last for a long time to come, but you'll want to look for a backpack that was made using sustainable materials and manufacturing processes.
Be sure to check out some of the backpacks offered by these environmentally and socially responsible brands.
Which one is your favorite?
You Might Also Like…